When L'Oréal's Carol Hamilton took on the monumental task of creating their west coast headquarters, she made things as wildly innovative — and inviting — as its chillaxed location in Southern California.
By Andrea Nagel
It seemed like a wild idea at the time, but the notion of establishing L'Oréal West seemed perfectly logical to Carol Hamilton, L'Oréal's Group President, Acquisitions, when she first pitched it in 2013. Her idea came on the heels of the beauty behemoth scooping up Newport Beach, California-based beauty brand Urban Decay — and she had a hunch that this was just the beginning of the newest gold rush in the industry: the buying up of SoCal-based brands.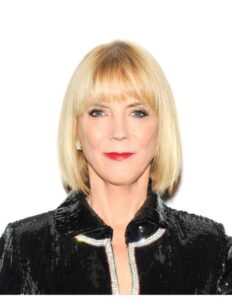 "He looked at me like I was crazy," Carol said, referring to the reaction she got from then CEO, Frédéric Rozé, when she shared her idea.
Still, her fight for the west was won, and Carol was hand-picked in October 2021 to oversee the enormous role of building and designing the site — which turned out to be pretty enormous itself. In August 2022, L'Oréal unveiled its 110,000-square-foot headquarters in Los Angeles County (El Segundo, to be exact), housing not only Urban Decay, but plenty of other SoCal beauty brands it's since snapped up, including NYX Professional Makeup (2014), Pulp Riot (2018), and Youth to the People (2021).
"I was floored but thrilled that the company, after 37 years of service, was giving me another opportunity that was so huge in scope, overseeing both the design and organization of the building. Creating this in California was one of the biggest statements we felt we needed to make — and wanted to make. We wanted to invest in these beautiful brands that we had acquired over the years, as well as our residents [aka employees]," Carol said in a recent interview with Beauty News.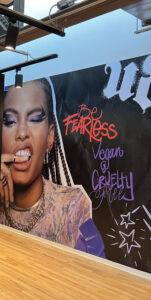 L'Oréal is the largest beauty company in the world, with sales of 32.28 billion euros globally in 2021. North America is the company's third largest zone (behind Europe and North Asia) with sales of 8.15 billion euros, driven by 30-plus brands, such as L'Oréal Paris, Maybelline, Lancôme, Garnier, and of course, its West Coast portfolio.
Creating a space that oozed California vibes and that was worthy of such successful brands was Carol's ultimate goal. That was followed closely by building a complex employees would want to leave home to come to. But investing in a west coast space turned out to be an immeasurable morale boost, more than anything.
"Maybe the most significant thing for our employees is that before this office, they didn't allow themselves to dream of having a long-term L'Oréal career because they thought that if they're in Orange County, they're probably going to have to move to New York [where L'Oréal's U.S. headquarters have been since 1953, with its latest address being at Hudson Yards since 2016.] The overwhelming response we got from people was that they could now have a full L'Oréal career."
Another challenge was predicting what the future of work would look like post-pandemic while building, planning, and designing during waves of COVID. "There were so many strategic articles speculating on how to get people back to work, and whether or not people would ever come back to work. We knew we wanted people to come to the office, but that it would look completely different than it's looked in the past."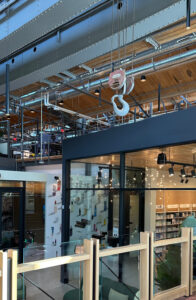 A little back story on Carol's journey as a pandemic-era architect… The site in El Segundo, home to The Los Angeles Times, Beyond Meat, and an Air Force base, was selected in February 2020. A lease was signed in October 2020, "showing the guts L'Oréal had, along with a strong belief in its brands and the beauty industry," Carol recounted. And the first time Carol actually saw the building in person was in March of 2021, right after she was fully vaccinated. "It was totally gutted, filled with dirt. The windows were falling out," she recalls.
Well, not for long. "We wanted to make sure that if you walked into the building blindfolded, and we took off your blindfold, you knew you were in California," Carol said, hence the sunset/sunrise color palette, indoor/outdoor workspaces, and gardens galore.
Some of the more "can I work here?" details of L'Oréal West include rainforest-worthy plants and trees; a mind & movement exercise studio; wellness rooms; oh, and a concierge who offers services like car washes, taking cars for gas, picking up your dry cleaning, and bringing your dog to and from daycare.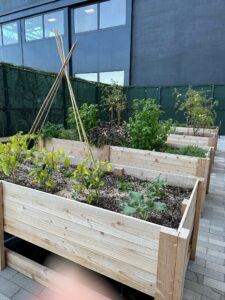 Not enough? You're also free to bring your pooch to work if daycare isn't his or her jam. And they've got professionally managed gardens dotting the outside of the office, with five huge troughs growing everything from peppers and tomatoes to basil and mint, for when the supermarket's not your jam. "When I'm out for a walk, I'll pick a tomato and just eat it as I'm going along," said Carol, who's an avid gardener herself.
Makeup and hair inspo, product imagery, and floor-to-ceiling brand mantras printed on vinyl ensure that everyone knows they're at a beauty company when they visit, and also serve to define each "Brand Neighborhood." (That's what each brand calls their area.)
Next up?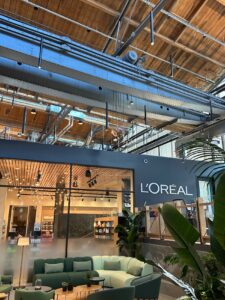 "There's much focus on building the internal culture, which is under my leadership, as well as the external reputation [of the company]," Carol said.
Last week, for example, Carol visited Stanford University to meet with representatives and students from the business school, a place L'Oréal sees as a strong center for recruitment. Enhancing ties with the entertainment and tech industries, as well as key government stakeholders, is also a priority. Just as important is making sure L'Oréal West's employee base reflects the region's demographics. "Over 50 percent of the population in greater L.A. is Latinx. Fifteen percent is Asian. The stats are much higher when you think about the importance of diversity and inclusion. We want our office and employee base to reflect the culture in which we're living."

Here, all the other fun facts to know about L'Oréal West:

L'Oreal West occupies a former Douglas Aircraft hangar from the Thirties, where planes for three wars were built. The original pulley that moved the planes through assembly was preserved by L'Oréal and hangs in the lobby. "Probably one of the things that I liked the most about the building, which we discovered after we signed the lease, was that it was one of the first places in the United States where women worked," Carol recounts. "It's a symbol of emancipation for women in the labor force because men were all at war.

Using California-based talent was important, so Carol teamed up with famed LA-based urban designer Riz Walker, formerly of Studio Blitz, who led most of the choices. [She filled every design meeting with] "tons of pictures of sunrises and sunsets from all over California," Carol recalled, so the team could develop palettes of browns, golds, and olive green and create an outside feeling for an office space.

The concierge, at first, appeared too good to be true, and almost no one used them. To get people to believe that, yeah, having a concierge was actually a thing for everyone, L'Oréal began publishing testimonials by happy early adopters in the company's internal newsletter. Ultimately, the car wash service became so popular, it's now offered every Wednesday. "I have a white Tesla and it's filthy all the time," said Carol. "You have to have a clean car in California."

L'Oréal requires staffers to work at least three days a week in the office, with the days up to their own choosing. "The best attended days are Monday, Tuesday, and Wednesday, followed by Thursday," Carol said.

During COVID, the company bought the only two lemon trees available in the state of California, Carol says. They now brighten up the complex's entryway.

Sixty-five percent of the space is dedicated to collaborative community space, with somewhere between 15 and 20 offices, as well as loads of content studios (one for each brand), two green rooms, and a production editing studio. "It was a big debate whether every brand really needed their own studio, but we wanted to make sure everyone could start shooting first thing in the morning," Carol explained.

The "entertainment cabana" is Carol's favorite area — an open concept, two-story space that serves as a meeting and gathering hub for town halls, celebrations, as well as a cool sitting area with a sight line of views of the entire building. "You can sit in banquettes and see everyone who comes into the building. It's a place where we celebrate achievement. We had a wonderful Halloween party there. There's also a catwalk that goes all around the top floor and creates a circular movement and a sense of freedom, friendliness, and social ambiance," Carol explains. "It's a very special place, architecturally."

Carol's office, which is adjacent to CEO David Greenberg's office, reflects her personal taste: feminine, confident, with pops of color. David's office has a clean, modern aesthetic featuring a natural palette.

A dog-friendly environment was a must, Carol says. They're just not invited to meetings and people-food zones. For times when that's where their parent will be, they can play in "The Barking Lot," L'Oréal's doggy day-care center.

A highly visual timeline of L'Oréal's milestones and acquisitions marks the company's more than 100-year history along one prominent hallway. As the company grows, the timeline can, too — around a corner wall.