Attitude has come a long way since founder and current CEO Jean-François Bernier launched the brand with non-toxic household products in 2006. Currently, the brand offers more than 500 SKUs that span the spectrum from home care to personal care, including hair and skin, for adults and babies alike. The Canadian brand's latest move ushers it into the color cosmetics category.
Well before clean became a personal care buzzword, Attitude was built on a foundation of safety that could be considered the highest level of clean. With a strict adherence to using up to 99.9% natural origin ingredients, avoidance of any potential cancer-causing chemicals or endocrine disrupters, and an unwavering commitment to sustainability, the entire line is vegan and certified by the industry watchdog group Environmental Working Group (EWG). In recent news, EWG introduced a category of EWG Verified Sunscreens that includes only 12 products — six of which are from Attitude.
According to Julie Ramos, Attitude's Vice President of Marketing, "Since our launch, the brand's expansion into new categories has always been based on need rather than market analysis or research. We started with household cleaners, but when employees started to get pregnant, we knew we had to get baby products on shelves." Customer demand drove the introduction of Oceanly skin care, as well.
From there, "It just started to get bigger and bigger, especially as people started to understand that what you put on your skin goes into your body," Julie recalls. "Our goal is to create products that leave no trace on the body, or the planet." To this end, Attitude focuses on biodegradability when it comes to its formulations and packaging while planting a tree for every product sold.
To ensure the brand stays true to its roots, Attitude develops, tests, and produces all products in-house at their 120,000 square-foot facility outside of Montreal. "This allows us to be creative and push boundaries," Julie says — and provided the means to create the new 100% plastic-free line of solid, stick-based color cosmetics.
Attitude's initial makeup offerings include foundation, concealer, blush, tinted oil, bronzer, highlighter, and lip gloss, which are priced from $20 to $35. Julie says it was important that the foundation sticks covered the spectrum from pale to dark skin, and that the lightweight formulation allows each of the six available foundation colors to adapt to three distinct skin tones.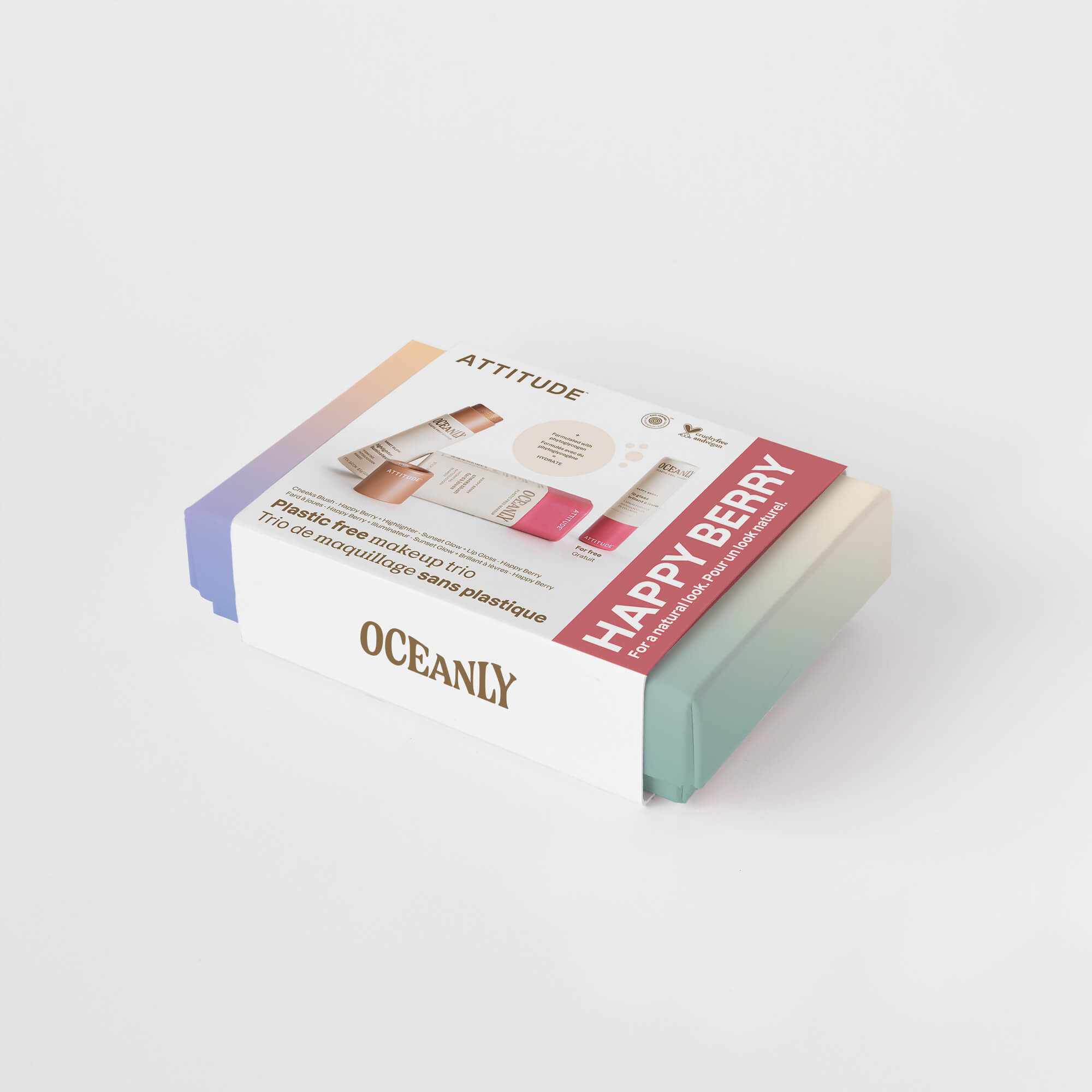 "Although we successfully developed and launched our Oceanly line of solid formulation skin care, we had to create a totally new line of production for the makeup range. For example, the temperature needs to change while blending these sensitive formulas, and putting a hot product in cardboard-based packaging isn't always easy," Julie explains.
While minimal-component packaging may look simple, it's actually more complicated. To guarantee biodegradability, AttitudE exclusively uses FSC-certified cardboard that is layered to absorb product without compromising the tube. All of the packaging's vegetable-based ink is biodegradable, as is the outer coating. According to Julie, "When you finish a product, you can cut it up and put it in your recycling or compost bin, depending on where you live."
Formulation-wise, Attitude had to address the biggest challenges associated with naturally-derived color cosmetics. In order to create vegan formulas, the brand steered clear of carmine, a red insect-derived pigment that is a mainstay in traditional cosmetics. "We did all of the color with iron oxides," Julie says, and Attitude also avoids titanium dioxide, opting for a non-nano zinc instead. The foundation, concealer, tinted oil, and lip gloss formulas also feature vegan collagen for plumping benefits.
All of Attitude's cosmetic products are dermatologist-tested, fragrance-free and formulated with non-comedogenic ingredients — and suitable for sensitive skin. The formulas also offer skin care benefits thanks to phytoglycogen, a non-GMO, plant-based active that has been shown to provide visible improvement in fine lines, wrinkles, and discoloration as well as skin texture, firmness, and radiance within six weeks of use.
Julie adds, "We're all about playing and not taking ourselves too seriously. We wanted to create lightweight, easy-to-use makeup that doesn't require brushes, lets your skin breathe, delivers healthy-looking skin, and allows everyone to embrace their natural beauty."
Attitude remains privately held and is sold in more than 60 countries through direct-to-consumer distribution, retail partnerships, and Amazon. Although the new line has yet to launch with retail partners, according to Julie, the brand projects it will generate $12 million in sales in 2024.
"We have coast-to-coast distribution in Canada, and everyone knows us here. This latest launch focuses on makeup basics, and we're already working on phase two and expanding the Oceanly skin care line," Julie says. "We did body and skin care and now cosmetics. We're not going to stop."