Luxury CBD is emerging as a category in its own right as premium cannabidiol brands and upscale retailers are differentiating themselves with a range of lifestyle, experience-driven products and approaches. CEW Beauty News spotlights who's going luxe with CBD.
The High End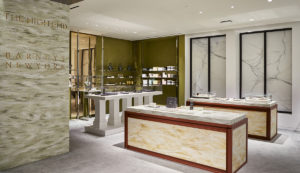 The High End is a luxury cannabis lifestyle and wellness shop that opened in Barneys New York's Beverly Hills flagship in March, featuring a curated selection of prestige cannabis accessories, jewelry and wellness products including gold rolling papers, custom-blown glass pieces, sterling silver grinders, limited edition silver vape pens, and a broad selection of CBD-infused beauty. The assortment includes high-end brands such as Vertly, The Good Patch, Saint Jane, Body Vibes, Lab to Beauty and Foria, with products that regulate sleep, alleviate pain, calm inflamed skin and combat aging. The High End also includes a partnership with luxe cannabis brand Beboe, known as the Hermès of marijuana, founded by former Yoox president Clement Kwan and tattoo artist Scott Campbell. Beboe offers a wide range of sophisticated cannabis products, with a sub-brand, Beboe Therapies, that features a High Potency CBD Face Serum containing 300-mg of hemp-derived CBD, and a High Potency CBD Face Mask with 50-mg of hemp-derived CBD. Barneys New York plans to expand The High End to additional locations.
Heretic
Heretic, by definition, goes against the grain and does things differently. The natural fragrance brand just launched Dirty Grass, described as a functional fragrance that features the calming and relaxing benefits of CBD oil, and is meant to be absorbed transdermally. (The fragrance reportedly enters the user's bloodstream). Each 50-ml bottle contains 500-mg of full spectrum, hemp-derived CBD oil, giving the fragrance a deep green, earthy personality. Dirty Grass's other natural ingredients, such as vetiver root extract and oil, and galbanum resin oil, are said to ground the mind and center the spirit, stimulating the root chakra. Heretic's other handcrafted fragrances also feature natural essential oils, concretes and absolutes that enter the realms of homeopathy, ayurveda and herbology.
Recess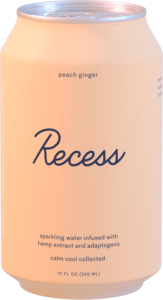 Recess is a sparkling water infused with hemp extracts and adaptogens aimed at replenishing the body's endocannabinoid system which regulates mood and promotes a balanced state of mind. Variants include Blackberry Chai, Peach Ginger and Pomegranate Hibiscus. The brand explains that the body produces its own range of cannabinoids (which assist with a range of physiological processes including inflammation, pain, appetite, mood and memory). The hemp in Recess' products replenishes the cannabinoid system, redressing these imbalances. The drinks also include American ginseng (a natural adaptogenic herb that stimulates the brain and boosts energy), L-theanine (an amino acid believed to ease anxiety), and Schisandra (an herb believed to improve mental performance). Recess opened its first brick-and-mortar store in New York earlier this year, with plans to expand into other wellness categories. The neon-lit Noho store, complete with a lounge area where shoppers can relax, is a space where customers can feel like they are walking into Instagram, according to Recess's founder, Ben Witte.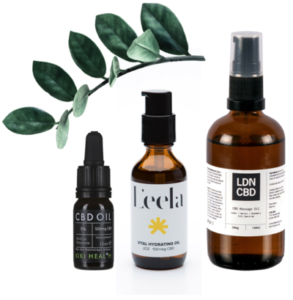 The Chillery
The Chillery is a UK-based e-tailer that offers a curated selection of premium CBD wellness products, and aims to educate customers on the benefits of using CBD beauty products. The wellness site, which launched in April, specializes in five key areas: Beauty, Sleep, Stress, Pain and Intimacy. Products span massage oils, face masks, serums, balms, salves, creams and candles. Brands include LDN CBD, L'eela, Hora Skincare, Yuyo Botanics, Kiki Health, Ohana CBD and Wunder Workshop. The Chillery undertakes a thorough vetting process for its brands assuring that CBD is derived from the cannabis sativa plant, production is certified organic or adheres to organic standards, brands bear Lab Reports or a Certificate of Analysis (COA) for the source of CBD or finished product, and all products feature less than 0.2 percent of THC (as per European law).
Kana

Kana is a Los Angeles-based skin care brand that combines recipes from Korea with vegan-based, paraben-free skin care. The brand's Lavender Hemp Sleeping Mask features organic, full spectrum, hemp-infused lavender with 28 active botanicals that work in synergy to heal, hydrate and brighten skin during sleep. LIT Premium Facial Oil Blend contains premium hemp phytocannabinoid together with a 16 plant-based oil blend. The oil, which is packed with omegas, can be used alone or mixed with a sleep mask or moisturizer. Kana's founder, Janice Buu, is a former child behavioral therapist who witnessed the therapeutic benefits of cannabis in her profession. This spurred her to create the popular lavender sleep mask.
Dr. Kerklaan Therapeutics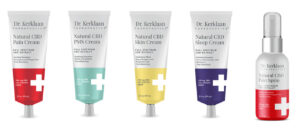 Dr. Kerklaan Therapeutics is a natural, CBD-based, non-psychotropic line that delivers pain relief in tandem with soothing botanical benefits. There are four pillars: Pain, PMS, Sleep and Skin. Topical products include Natural CBD Pain Cream (with 180-mg of U.S.-grown hemp), Natural CBD Pain Stick (combining full spectrum CBD with eucalyptus and peppermint), Natural CBD Skin Cream (full spectrum hemp-based oil calms irritated and inflamed skin), and Natural CBD Sleep Cream (combining CBD extract with citrus and lavender). Dr. Kerklaan has more than 20 years' experience in pain management and patient care as a chiropractor, which has shaped his ingrained belief that the best approach to optimal health is most often a natural, non-invasive one. He has also studied the role that the body's endocannabinoid system plays in overall wellbeing, observing that near identical molecules are found in the cannabis or hemp plant. Dr. Kerklaan's products are free from fragrance, GMOs, parabens, sulfates and phthalates.