Makeup legend Bobbi Brown has launched Jones Road, an edited collection of makeup designed for all ages, skin types and skin tones. The new line marks Bobbi's foray back into cosmetics since leaving her eponymously named beauty brand in October 2016.
Jones Road is positioned as a clean, high-grade formulation line to help women achieve a no-makeup makeup look. The line is sold exclusively on jonesroadbeauty.com, and is priced from $22 for a lip gloss, to $38 for Miracle Balm, the line's hero product.
"I created my original brand in the 90s. Things are different today," said Bobbi explaining that the definition of beauty has changed. "Women shop differently; there's a new definition of what beauty is. Imperfect is beautiful. Jones Road celebrates that. It's the ultimate no-makeup makeup."
Formulated for both ease of use and performance, Jones Road products are made from a combination of natural ingredients and synthetics that have been vetted for safety and effectiveness. Jones Road's code of clean beauty means that all products adhere to standards even more stringent than those set by the European Union and are made without 2,700 potentially toxic ingredients, including parabens; phthalates; sulfates; polyethylene glycol [PEGs]; cyclic silicones; industrial chemicals [BPA] and chemical binders [EDTA].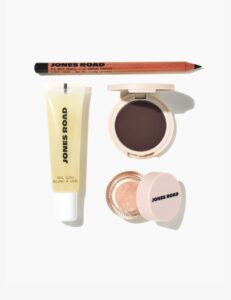 The collection includes Miracle Balm, a light-reflecting balm that imparts a soft-focus glow, such as on cheekbones and the forehead. With the help of nourishing skin-boosters such as argan oil and vitamin E, Miracle Balm combines makeup and skin care in one and is available four shades. Then there is Cool Gloss, a softening gloss designed to plump and awaken lips with natural peppermint, available is five shades. There's also The Mascara; Just A Sec eye shadow, a luminescent lid tint; The Best Pencil; and The Best Eyeshadow, a high-pigment eyeshadow.
There is also a Start-Up Kit that includes Cool Gloss in Original, The Best Pencil in Black, The Best Eyeshadow in Dark Brown, and Just A Sec in Golden Peach ($68).
The name for the line about in a surprising way.
"We had worked with some copywriters and were racking our brains on the name for weeks and nothing was sticking. Then one day, my husband and I were driving somewhere in the Hamptons and I was navigating.  I looked down and there it was on the Waze navigation app: Jones Road.  I immediately loved the name and so did my husband and the team.  We checked to see if it was available and it was, so the brand became Jones Road.  I'm also obsessed with all things British so I liked that it sounds a little U.K.," Bobbi said.
Most recently, Bobbi launched EVOLUTION_18, a line of wellness and beauty ingestibles. She has also created justBOBBI.com, an editorial platform that offers a look into the world of Bobbi, and has with her husband built The George, a design-minded boutique hotel in Montclair, NJ. She is also the author of nine best-selling books and host of iHeart Radio's Beyond the Beauty podcast.