The salon industry is uniting to provide support for the many stylists and colorists affected by COVID-19.
One such effort is being led by husband-and-wife team, celebrity hairstylist Michael Duenas and public relations executive Melody O'Flaherty, with Support Creatives, a 501(c)(3) nonprofit they created to support struggling artists in the salon community.
Support Creatives looks to offer services including financial assistance, mentorship, online education and tools and product support to supplement artists' toolkits once they return to work. The duo is utilizing a grant writer to facilitate the funding aspect process with the government.
"To be considered, artists need to apply on our website www.supportcreatives.org. Applications will open on May 15. We then review the applications to see if someone is eligible, and then we will distribute the finances based on certain criteria the applicant falls into. We want to make sure the funds go to the people who need it most," said Michael, President and Chief Giving Officer for Support Creatives. Melody and Michael are also seeking donations to distribute to the neediest artists.
Support Creatives' effort supplements the various GoFundMe campaigns being spearheaded by the salon industry. GoFundMe campaigns show who has donated, and to what cause. A recent example of a GoFundMe campaign launched this week by Virtue Labs, specifically to help hairstylists and salon employees in the Virtue community who have been impacted by the economic fallout.
"We're kicking it off with a $5,000 donation," said Virtue Founder and CEO, Melisse Shaban.
The GoFundMe is live on the company's website. An appeal to donate has been sent out to Virtue's consumer community via a letter from Melisse.
The salon industry's trade association, Professional Beauty Association, has announced the creation of the PBA COVID-19 Relief Fund under its Disaster Relief Fund umbrella. The fund is designed to help support licensed beauty professionals who have not been able to work and are experiencing financial hardships due to the COVID-19 outbreak.
"These funds will help pay bills, put food on the table, buy supplies, and while not necessarily large in size, will be another important part of their financial support during this crisis," said PBA's Executive Director Steve Sleeper. "Perhaps most important is that this fund signifies that the industry is rallying, uniting and doing whatever it can to support our own."
The PBA COVID-19 Relief Fund is administered by the PBA Foundation, a 501(c)3 organization, and all donations are tax deductible. Their goal is to raise over $2.5 million dollars.
While efforts by Support Creatives, Virtue Labs and PBA look to help artists in need, some savvy salon owners are getting creative in order to drum up revenue in light of their salons closing.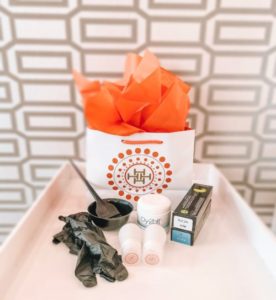 After non-essential businesses were ordered to close in New York, salon owner and CEO Lia Hakim of Totally Hott Salon in Rye Brook, NY swiftly reinvented her entire business model in order to continue to serve her customers. With a total of four locations and more than 40 employees, within 24 hours she and her team launched Root Rescue Kits. "I rolled them out with the help of my amazing branding, marketing and management teams. I ordered all the supplies and figured out a delivery system. Immediately the response from customers was completely overwhelming and incredible," said Lia.
Aimed at helping customers maintain their color, Root Rescue Kits range in price from $65 to $75 and include a client's custom color, developer, application brush, disposable bowl, gloves, shampoo, conditioner, stain remover wipes, and a virtual appointment over Zoom or FaceTime. "I wanted to make sure we were still offering a service. I had to make our pricing make sense to the customer, so that's where the virtual piece comes in," said Lia. "If you're our client, you make an appointment for a virtual application where your stylist walks you through the application process. If you're new to us, you first do a virtual color match where the stylist asks you to stand in good lighting to see your hair. They ask a series of questions as well to get a better understanding of your hair needs. It's not exact, but it's a stop-gap during this period."
Totally Hott has already seen a influx of new customers who've been left without recourse since hair salons were ordered to close. And, feedback on the kits has been so positive that Lia plans to make them a permanent offering even after her salons reopen. "There's a whole market of underserved people that are buying box color at Target or CVS. Maybe they can't afford to come in for a salon visit every four weeks, or just don't want to. We can invite people to experience our salon in a different way, and get professional color at a lower price point."
Beny Molayev, CEO and Founder of Hair Bar NYC, which operates seven locations in New York and Florida, has also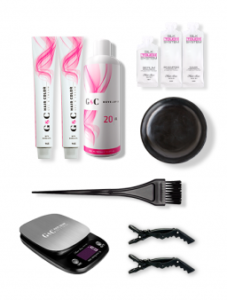 opened new sales channels by offering at-home hair kits not just to customers but to other professionals as well. "I'm going forward to help other hairstylists and owners do what we're doing. We have a website just for professionals where they can purchase our kits, and everything they need for 50 percent off. They can continue to service their customers using our products and our ordering platform." Beny currently offers three kits for coloring, conditioning and keratin treatments that range in price from $60 to $130, with imminent plans to expand. First-day sales saw more than 60 orders from new and existing customers in eight different states.
Pivoting their business in a period of crisis was less about revenue and more about customer relationship management. "We're not making much money right now, but we're moving forward as a company, and continuing to serve our customers and maintain their loyalty," Beny said. "A lot of salon owners think by offering kits they will lose their clients, but I think the exact opposite. You have to be open-minded. We're giving our clients a service where the stylist guides them from A to Z."