Today's beauty consumer is fresh off a two-year pandemic and is currently trying to avoid catching the sixth COVID-19 wave that's rolling across the globe. Total retail sales are steadily declining, as is consumer sentiment. But beauty is recession-proof, according to experts and brands, and during lean times today's shoppers will lean towards wellness-inspired beauty options, not just lipstick. The question is which category is primed to win when she has to choose her favorite form of self-care?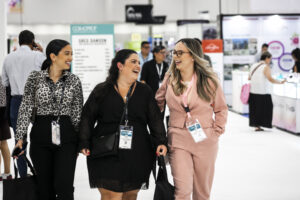 That was the general opinion at Cosmoprof North America's 19th annual beauty trade show, taking place for the first time at The Las Vegas Convention Center West Hall after more than a decade at The Mandalay Bay Convention Center. The expansive new setting served as a fresh space for scores of new brands to tell their stories and look for distribution. Throughout the three-day event, held from July 12 to July 14, more than 32,000 members of the retail, distributor, investor, brand, supplier, and press community connected with more than 1,100 exhibiting brands to discover new product launches and facilitate business.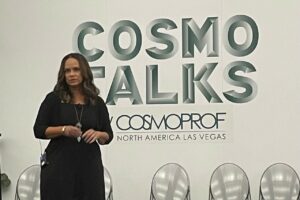 Larissa Jensen, VP, Beauty Industry Advisor, NPD, said that not only does the Lipstick Index apply to today's declining consumer sentiment and total retail decline, but it represents something broader.
"This is not just lipstick. It's actually beauty. Tied to this is the shift in the definition of wellness," said Larissa in a presentation kicking off the event. "We are not yet feeling that inflationary pressure that other industries are feeling, but the pressures are there."
Headwinds, such as global uncertainty, COVID, inflationary pressure, and supply chain issues, "could stall the bounce back of our industry. And it's something that we're watching. But we are going to focus on the positives," Larissa said, citing things such as consumers returning to experiences, wellness redefined, and beauty consumers in general. She also pointed to the Beauty Index.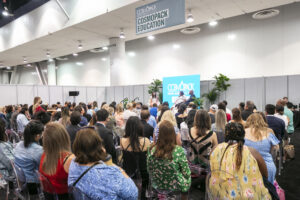 "Consumers are traveling more. They're going to events more. All of this is really leading to that strong growth within beauty. That's leading to the rise in what we're calling the Beauty Index. This is bigger than the Lipstick Index. I spoke about the Fragrance Index all last year, but this is bigger. And a lot of it is being driven by this redefinition of wellness," Larissa said, referring to consumers' new mental wellness state. "We're in a really good place to capitalize on that." The evolution of prestige beauty's core categories—Hair, Fragrance, Skin Care, and Makeup—has accelerated in 2022, with U.S. prestige beauty sales reaching $5.3 billion in the first quarter, a 19 percent increase over the first quarter a year ago.  Hair care continues to be driven by innovation and premiumization; fragrance by luxe, unique blends; skin care by Gen Z shoppers and the democratization of premium ingredients; and makeup by creative looks. Makeup clocked in as the fastest growing category in the second quarter showing significant signs of recovery over the past two years. Most notable is that beauty is the only category out of 14 discretionary categories tracked by NPD that is growing in units.  Lipstick sales alone were up 44 percent in the first quarter of 2022, followed by face and eye makeup.
On the show floor spirits were high, and so was a new level of innovation.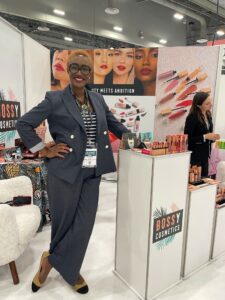 In Discover Black Beauty, a new area created as a resource for Black-owned beauty brands and to support retailers looking to execute their commitment to the Fifteen Percent Pledge, brands were optimistic about the future of beauty. Aishetu Dozie, CEO and founder of Bossy Cosmetics, said today's beauty consumer is craving experiences that deliver joy.
"Beauty and wellness are resilient. After the past two years, beauty has become a daily regimen and a spiritual part of someone's day. That's not going away," Aisha said.
Bossy Cosmetics, which launched lip and eye products in February 2020, is sold on Amazon and QVC, and uses lipstick names such as Unapologetic, Outspoken, Feisty, and Purposeful to appeal to consumers seeking powerful messages. Aisha said her business doubled in 2020 and grew 10 times in 2021.
"Last year was a big year. People really embraced us. In these difficult and different times, people are really attracted to brands with a powerful message. Traditionally beauty has been recession-proof, but these days people are attracted to it as they cling on to moments of joy."
Seven-time Grammy Award winner Toni Braxton attended the beauty fair, pitching her luxury body care line, Nude Sugar, a nine-item DTC collection that ranges in price from $18 for a shower gel to $45 for a hydrating cream. Items are highly fragranced with warm creamy sugar notes. Manning the Nude Sugar booth was brand co-founder Nicole Ostoya, who agreed that beauty will find its way when times become more difficult.
"We saw beauty shift during the pandemic. I don't see anyone giving up the beauty product that they love," said Nicole.
Sean K Lim, President and CEO of K-beauty brand Touch of Sol, said that while beauty is recession-proof, shoppers are indicating that their spending patterns are changing to products that are delivering more value.
"We are seeing a shift into products that deliver multi-purpose benefits like our Pretty Filter Glassy Skin Balm that is a 3-in-1 product: a moisturizer, a primer and a glow creator, and our No PoreBlem Hybrid Primer that delivers moisture to the skin while improving the skin's texture for a smoother poreless look. Looking into 2022 and 2023 we are creating a series of vegan formulas that are multipurpose and priced right to appeal to the mood of consumers who still want to play with new beauty products but are watching their wallets," said Sean.
Touch of Sol  attended Cosmoprof touting a new addition to their iconic No Poreblem collection with No Poreblem Eye Primer. The airy smooth primer looks to prevent oily lids so that makeup stays put and allows for more even application, thanks to lotus flower for elasticity and cameillia sinesis seed oil for moisturizing and antioxidant properties.
Ingestible plant-based gummy brand Imarais Beauty by Sommer Ray was exhibiting in the Discover Beauty area of the show floor. Sommer is a 25-year-old fitness model and social media influencer with more than 40 million followers. She partnered with the maker of Imarais Beauty to create two types of beauty gummies, Glow, which is meant to brighten skin, and Grow, which has been formulated to grow hair and nails. A one-month supply retails for $49. The brand launched online in 2021 and is now sold in Saks Fifth Avenue, Nordstrom, and Selfridges. Imarais employees see beauty as recession-proof, too, especially those that promote wellness.
"People always want to look and feel good. Wellness is blowing up. Consumers are more informed than ever. We created a list and checked off every box. This is a farm-to-face product. The formulations are great; vegan, plant-based, sugar- free. We made something sophisticated and elevated for this category," said Robert McGee, SVP, Sales and Training.
Elevated beauty abound at Cosmoprof, with innovation coming from all categories.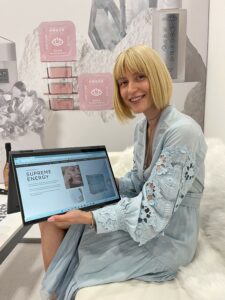 In skin care there was Ameōn, a New York-based brand founded by breast cancer survivor and architect Alina Mehrle. Formulated in Germany, Ameon fuses biotechnology with natural ingredients to disrupt skin care, most notably by introducing cryotherapy into the delivery process. Special packaging allows serums to be frozen and dispensed individually as ice cubes. Each Glow Manifesto or Supreme Energy serum ice cube is placed in a mesh sachet and then rubbed on skin, in what Alina has termed skin icing. Ingredients include tephrosia purpurea seed extract, an active botanical that promotes the release of neuropeptides; potassium azeloyl diglycinate, a water-soluble derivative of azelaic acid to hydrate skin, fruit acids and tourmaline.
A pop-up experience at Saks Fifth Avenue helped Alina learn more about consumers' skin care needs, which led to a partnership with Equinox spas. The line, which also includes serums and creams, is planning four new items for 2023. Alina believes beauty brands with a strong DNA that emphasize and improve the wellness of their customers are recession-proof, especially if they have a reasonable price point.
"When times are tough self care is one of the easiest and most inexpensive ways to improve quality of life.  Even small, daily self-care rituals help keep you grounded, strong and ready to overcome major challenges in life.  I know this is true because I lived it.  Ameōn was born from my journey to heal and restore not only my skin but my entire emotional and mental world after a devastating breast cancer diagnosis at the age of 30. Today, as a society we're dealing with challenges unprecedented in recent times, and those challenges may soon include a recession. When the world around you is scary and unstable, you lose structure and balance in life. Simple daily rituals like maintaining healthy eating habits and pampering your skin won't change the world but they will change and improve your life.  So thoughtful, sincere and creative beauty brands that help people love themselves will always thrive," Alina said.
In makeup there was La Bomme, founded by Brandie LaBomme, which launched in May 2022 and includes lip, face, and eye products with some innovative twists. Angel Baby eyeliner pen, for example, employs a tip that rotates 360 degrees and flexes at every angle.  LaBomb is a single-dose loose highlighter that uses ultra-fine pearl pigments in a mess-free application package, with any excess easily sifted back into the container.  LaBomme lip products use mousse-like matte formulas.
"I fell in love with YouTube beauty videos over the past couple of years. But I thought about doing a line that was more problem solving," said Brandie, who added that she feels beauty is recession proof. "We've seen time and time again that we all want our beauty products. Even throughout Covid we witnessed [DIY] beauty products sell out, the products were in high demand as consumers tended to their beauty needs first hand. We change with the times and even when you might be tight with money, we all love a little pick me up and sometimes it can be as simple as a new lipstick or coffee that can brighten your day."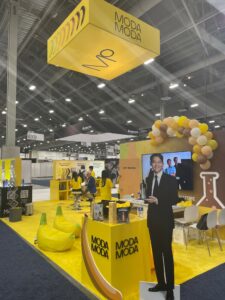 In hair care there was Moda Moda Pro Black Change Shampoo, a brand hailing from Korea that uses fruit polyphenols to darken gray hair over time. According to brand reps, the shampoo will darken grays within four to six weeks and work the way bananas brown over time. "Polyphenol, commonly found in fruit, reacts to oxygen, and a browning process occurs," said a brand rep. No chemicals or color is deposited on hair, the science is strictly through the formula's fruit polyphenols. Results last until hair grows out. Currently sold on Amazon, caveats include highlights and lighter hair will also be darkened.
Scalp care, one of the fastest growing segments within hair care (while the category is small at $27 million, NPD reports that sales of scalp care have grown 44 percent year over year), was one of the most buzzed about categories at the show. Showing some of the most potential in the category is Arielle Brown from Bea's Bayou. The former social worker created scalp products in August 2020 to help solve her own scalp needs. After a successful store on Etsy, she created her own website and partnered with Shopify to begin DTC. Helping her along the way have been several wins and recognitions by accelerator and pitch competitions, the most recent of which awarded her $100,000 by the Aveeno & Essence Skin Health Accelerator Pitch. Bea's Bayou products include Scalp Solution, Scalp Oil, and Good Biome Toning Mists.