A spike in online beauty shopping, along with a reduction of sampling in stores, has opened the door for digital beauty concierges. NPD said online prestige sales rose 90 percent in the second quarter of 2020, a huge jump for a category that had been dominated by in-store purchasing for years. And, at the same time, testers are sealed up in most physical doors.
To personalize the online shopping experience and get samples into the hands of consumers, launching this month is Swan Beauty, a virtual beauty consultant.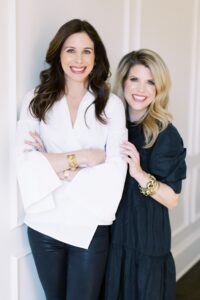 "The idea behind it is to make shopping for cosmetics and skin care easier, especially online," said Leigh Humphrey, who created Swan Beauty with beauty expert, Lindsey Regan Thorne.
Lindsey, a blogger and founder of makeup service Be Pretty Charlotte, typically has a waitlist of 1,000 people. That impressed Leigh, and solidified the need for a site. It was pre-COVID, but the concept became even more viable as stores shuttered, the duo said.
"You can't go to Sephora and test out samples. Like many, I went crazy and ordered too much [during quarantine] and didn't know the right shades," said Leigh, who has worked in the fashion industry, with roles at Saks Fifth Avenue, LVMH Moet Hennessy and VF Corporation. Her experience harnessing data in fashion convinced her there's a place in beauty for using artificial intelligence to help with selections.
Beyond consumer demand, out-of-work makeup experts are looking to use their creative talents. "It's a great time to get talent, and we train them on all the brands. We've had more than 1,000 people apply for one position. We can pull in the best associates," Lindsey said.
Swan combines the emotional quotient of beauty with science to match shoppers with makeup and skin care personally suited for them. Customers create a quick profile using an interactive beauty quiz and by uploading a selfie. "They can hone preferences, such as cruelty free, or whether they want makeup or skin care," said Leigh. The computer does an initial analysis then the customer's profile is turned over to a hand-selected beauty expert who matches full-size products to preferences.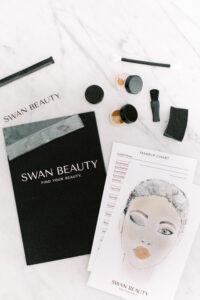 It also can curate a personalized makeup bag and detailed makeup tutorials, as well as a personalized face diagram mimicking those used backstage at fashion shows. "We really want to enhance the experience," said Lindsey. "The detailed instructions from the expert tell why they selected the products and how to apply it. There are so many questions like, 'When do I apply serum?' or 'Do I put sunscreen on first?'  It's like having a makeup artist or aesthetician in your pocket."
Shoppers pay $25 for the service (which is credited towards any products purchased) and shop from a wide range of items priced from $25 to $550. Each package comes with a full face of drammed samples to test prior to committing to full-size products. Shoppers can keep what they like and send back what they don't want—much like clothing subscription services. If they buy an entire selection, they get a 15 percent discount.
Swan's goal is to be relatable, the founders said. Instead of perfect models in lavish settings, instructional videos feature every-day women in all sizes, shapes and skin tones. "We strongly believe in every brand and we vet them through experts for best in class and a variety of price points," Leigh explained. Swan also tapped brand consultant and former Neiman Marcus veteran, Kelly St. John, to help curate the assortment.
The site launches with 24 brands including Chantecaille, Augustinus Bader, ReVive, Lilah B., Tata Harper, Kevin Aucoin, Indie Lee, St. Jane, Vapour, Joeur and Maya Chia.
Although heavy into skin care, Lindsey believes the site can help foster sales in makeup. Items in the men's, fragrance and hair categories are also in the pipeline. While conventional wisdom suggests fragrance can be hard to sell without sniffing, Lindsey noted that you can't go into a store and spray and spritz." The goal, the founders conclude, is to be a full beauty service concierge.