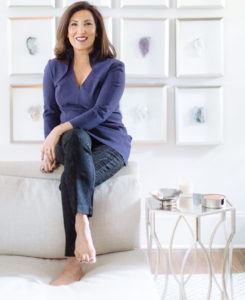 For more than  two decades, Anisa Telwar Kaicker has manufactured beauty tools for top brands such as M·A·C, Sephora and Real Techniques. Now, she's branching out on her own with the release of a namesake collection of makeup, skin care and cleansing brushes. Designed to simplify beauty routines, Anisa Beauty features sleek, purple-hued tools divided into three collections: Present ($28-$40), which features three brushes for make applications; Protect ($18-$32), which includes six brushes designed to maximize the benefits of skin care formulas, and Purify, due out later this month, to feature face and brush cleansers. The self-funded, direct-to-consumer venture is committed to raising the bar on responsible and sustainable product development, manufacturing all products within its own facilities in China, where the company has full control over their supply chain process. Here, Anisa discusses the brand's point of difference, marketing strategy and upcoming launches.
CEW: Why did you decide to launch your own line?
AK: A big driver in launching ANISA Beauty was to get closer to the consumer. The B2B side of my business provides very little data points on what's motivating the end user to purchase and what she/he is really looking for in their decision to buy brushes. We wanted to use this launch as a means to have a direct conversation with consumers and to use the information we collect to also fuel our offerings and innovation for the B2B side of the business.
CEW: With so many brushes on the market, describe the brand's point of difference.
AK: A primary differentiator is our focus on skin care brushes. We are leading the conversation around why skin care products deserve to have their own set of application tools and have specifically designed fibers to enhance the efficacy of products. We will be rolling out additional education around these brushes and are excited to introduce products that will elevate the every-day process of caring for your skin. There is also a great deal of distinction in how our products are manufactured. In Q1 of 2020, we will be opening our new LEED certified manufacturing facility and will be having more in-depth conversations around our commitment to responsible manufacturing.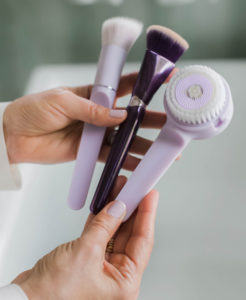 CEW: Who's your target audience?
AK: Our audience expands beyond millennials and is intended also reach the Gen X demographic. Women and men of a slightly older age group are significantly overlooked in the beauty space – and our intention is to provide products that are intuitive enough to eliminate the intimidation factor. As we begin to create more educational content, our hope is that all of our products will provide a level of confidence that leave consumers feeling empowered by the tools they use.
CEW: Talk about key features of the website and the e-commerce strategy.
AK: One of the key features of our site is the brush finder. It gives users the ability to select any product they are currently using (for both skin care and makeup) and it pairs that product with the perfect brush for that specific application. This is an initial step that takes the guess work out of which brushes pair with the products you are already using. Our e-commerce strategy is based on educating consumers around the benefits of using brushes to apply skincare and helping consumers feel confident in their application routines.
CEW: Describe your marketing/communications plans.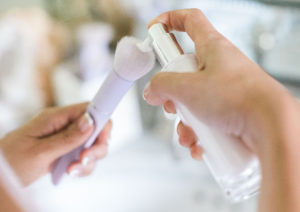 AK: We launched the website in September and have intentionally designed a gradual build in our marketing/communication plans. We are new to this space and taking the time to learn how to best engage with our audience. We launched with a robust internal "Friends & Family" campaign and you can expect to see greater reach and partnerships as we move into the new year.
CEW: Are there plans to launch additional SKU's?
AK: Absolutely. This is only the beginning. Our next launch will focus on cleansers and we will include various products that have been carefully designed to cleanse both your face and your brushes. You can expect to see more on this in early 2020.