Earlier this week, Garnier hosted an event for beauty editors at Alison Brod Marketing and Communications offices in New York City. Boasting a bevy of newness in the next few months, here's what's launching in the brand's hair care, hair color and skin care portfolios — plus a charitable component for the brand.
Skin Care
Garnier SkinActive Water Rose Micellar Cleansing Water
This micellar cleanser aims to remove makeup while hydrating skin thanks to micellar technology. Micelles capture and lift away dirt, oil and makeup without the need to rub the skin, leaving it clean and never dry. This new addition to the brand's popular micellar water franchise is formulated with rose water and glycerin and features a fresh rose water scent. It retails for $9 and is available beginning as of last month at garnierusa.com and select CVS stores, and nationwide at drug, food, and mass-market retailers beginning this month.
Hair Care
Garnier Fructis Hydrating Treat with Aloe Extracts
This new hair hydrator can be used in three ways — as a conditioner, a leave-in treatment and as a one-minute treatment. It yields nourishment for the hair, moisturizing dry strands thanks to aloe extracts. It features a vegan formula that's 94% biodegradable, and free of silicones, parabens and artificial colorants. It retails for $4.49 for 100ML and $7.99  for 400ML and is available beginning January 2020 nationwide at drug, food and mass-market retailers and garnierusa.com.
Garnier Whole Blends Almond Milk Nurture Shampoo & Conditioner with Almond Milk & Agave Extract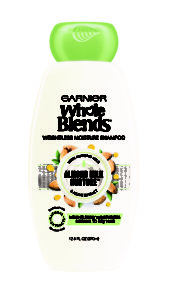 Combining almond milk for hydration and agave extract for softness and shine, this new cleansing and conditioning duo provides twice the moisture without the weigh down, leaving hair feeling hydrated, nourished, and shiny. It's formulated with sustainably-sourced ingredients, is paraben-free and packaged in 30% post-consumer recycled plastic. It retails for $4.49 (12.5oz); $6.99 (22oz) and is available beginning January 2020 nationwide at drug, food, and mass-market retailers and online at garnierusa.com.
Garnier Whole Blends Holiday Kit in Support of UNICEF
Fifteen cents a day helps educate a child in a developing country. To that end, Garnier USA is partnering with UNICEF to help support a child living in an emergency situation by donating $1 from every purchase of a Whole Blends Holiday Kit between November 1st and December 31st, as part of a three- year commitment to donate a minimum of $3.9 million from February 2017 through December 2019. Donations will support UNICEF's work and Garnier's worldwide support could fund up to 5,600 of educational and play-based activity kits, reaching up to 300,000 children. The funding will also support UNICEF's emergency response program.
The holiday kit includes the Whole Blends 10-in-1 Miracle Nectar Leave-In plus a shampoo and conditioner in three blends: Repairing Honey Treasures, Smoothing Coconut Oil & Cocoa Butter, and Strengthening Ginger Recovery. This kit retails for $9.88 and is available beginning November 2019 exclusively at Walmart and walmart.com.
Hair Color
Garnier Nutrisse Color Revivers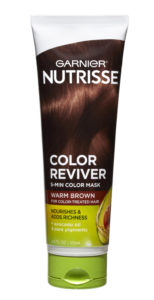 This color mask is the first to hit the mass market that instantly refreshes color while imparting softness, smoothness, and shine in just five minutes. No gloves necessary, the mask is recommended for use 14 days after a hair color application. It's designed to extend the radiance and shine of your color treatment while enhancing the hue and neutralizing the tone. Featuring a vegan formula, the mask features pure color pigments and avocado oil — all without parabens or silicones. Garnier Nutrisse Color Revivers are available in five shades: Warm Brown, Vibrant Red, Vibrant Copper, Golden Blonde, and Cool Blonde. It's recommended that consumers choose a color that's as light as the lightest part of the hair. These in-shower masks are available nationwide at drug, food, and mass-market retailers and online at garnierusa.com beginning in January.