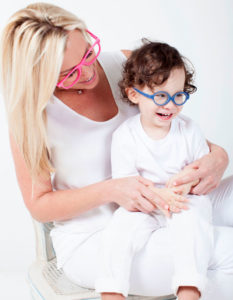 Victoria Watts is aiming to pioneer a new inclusivity standard for the beauty industry—and beyond—with the development of a new raised symbol system for consumer goods packaging. The entrepreneur, who created natural, multi-tasking skin care product line, Victorialand Beauty, re-evaluated the brand's launch after her fourth child, Cyrus, was born with a rare genetic eye disease, Familial Exudative Vitreoretinopathy (FEVR), leaving him legally blind.
"After Cyrus was born, I started to think about how he is going to take a shower by himself? How is he going to be able to determine which is the shampoo versus the body wash? And, when I started to research what was out there, I only found a handful of brands that put braille on their packaging," she explained. "Then, after more research, I discovered that only 10 percent of the visually impaired and blind population read braille either because of screen readers or because of how complicated it is to learn, so it's not the best solution for this group of consumers."
Victoria took matters into her own hands and developed the The CyR.U.S. System, a proprietary tactile recognition system comprised of a set of raised symbols to facilitate product identification by touch. To develop the symbols, she partnered with a blind individual from The Lighthouse of Collier, a non-profit based in Naples, Florida that offers programs and services to help the blind and visually impaired.
"I felt that it was important to have someone who is visually impaired in the decision-making process, instead of guessing what is needed," she said. "For example, he pointed out that the community scans QR codes to get information but they are tricky to find on packaging so he asked us to emboss it, something I never would have thought about."
According to World Health Organization, more than 1.3 billion people live with visual impairment, 36 million of whom are blind. "This group is largely ignored when it comes to consumer goods but it's also a buying segment," she said. "I've been spending a lot of time in focus groups trying to educate myself about their needs and how they shop and I learned that they are frustrated that they are don't have easy access to the same products as everyone else."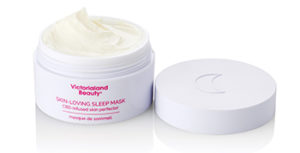 To date, Victoria has created 11 trademarked symbols, three of which have been released on cartons and bottle caps of her self-funded line, which donates 2 percent of sales to the Boston Children's Hospital's Pediatric Ophthalmology Department, where her son seeks treatment. A rain drop symbol represents face oil and is seen on the brand's Skin-Loving Elixr ($80), which is packed with botanical oils and extracts designed to reduce wrinkles and hyperpigmentation; a wave indicates moisturizer and is used on its Skin-Loving Moisturizer ($75), a blend of hyaluronic acid and plant oils that aims to lock in moisture on the neck and face areas; and an upside down triangle indicates eye/lip treatment and is featured on its Skin-Loving Treatment For Eyes and Lips ($55), featuring argireline, which is said to have Botox-like properties, with the goal of preventing the development of skin wrinkling. A fourth symbol, a half-moon to connotate night cream, will be released in March when the brand drops Skin-Loving Sleep Mask ($90), an overnight treatment infused with full spectrum CBD, a magnesium complex and soothing essential oils.
"The system will evolve and I'm hoping this will become a widely adopted standard for the beauty industry," she said noting that when brands take on the symbols, the licensing fees will go to funding a nonprofit named after her son, The Cyrus Institute. The organization, which is in the process of obtaining its 501(c)(3) status, will collaborate closely with the visually impaired and blind community to develop symbols for consumer-packaged goods across all industries and encourage adoption.
"This is only going to be successful if the symbols are universal," she said. "My gut tells me that 2020 is the appropriate year for all of this."