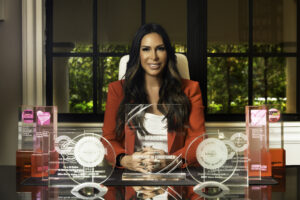 With several brands under her belt, most notably global hair care line, It's a 10 Haircare, Carolyn Aronson has no plans of slowing down. In fact, in anticipation of her continued growth, the 53-year-old powerhouse entrepreneur, who is pregnant and expecting a girl in February 2021, recently solidified her empire with the launch of It's a 10 Enterprises, a parent corporation developed to unify her growing number of brands which includes It's a 10 Haircare, It's a 10 Hair Tools, He's a 10, EX10SIONS by Carolyn, and more.
The beauty mogul's journey began in 1998 with the launch of It's a 10 Haircare's Miracle Leave-In ($19), which developed a cult following and reportedly sells 14 million bottles every year in the U.S. The brand is now available in more than 30,000 doors worldwide; 25,000 professional independent salons; and 15,000 professional salon chains, including Ulta Beauty, Regis Salons and Hair Cuttery. In 2017, Carolyn bought out her partner, making It's a 10 Haircare one of the only Hispanic, female-owned, independent professional hair care brands in the world. Forbes recently reported that It's a 10 generates $500 million in annual retail sales. A serial entrepreneur, Carolyn entered the color cosmetics space this past November with Be a 10 Cosmetics, and in Q1 2021, she will debut two more brands: Coily Collection, a hair care line for curly hair, and Tiny 10s, a line of gentle hair care products for toddlers. When asked if she would ever sell her company, she said, "I've learned to never say never, but I don't think anyone could afford me. I love what I do, it's priceless."
Here, Carolyn spoke to CEW Beauty News about balancing time with her blended family of four kids, the company's ecommerce business, innovative activations that have worked best to engage consumers, and advice for those looking to start a business.
Beauty News: Congratulations on your pregnancy. How do you balance motherhood and running a business?
Carolyn Aronson: Thank you. This pregnancy was something that my husband, Jeff Aronson, who is President of It's a 10, and I really hoped for, so we were thrilled with the news but certainly weren't surprised at all. To balance motherhood and running all of my businesses, I end up working odd hours to make sure I can spend time with my family when they're around. I focus on work at times when my kids are sleeping, doing homework and activities, or when they're at school. Sometimes that means I'm up late at night finishing work, but I'm so grateful for my family and want to soak up every minute with them that I can.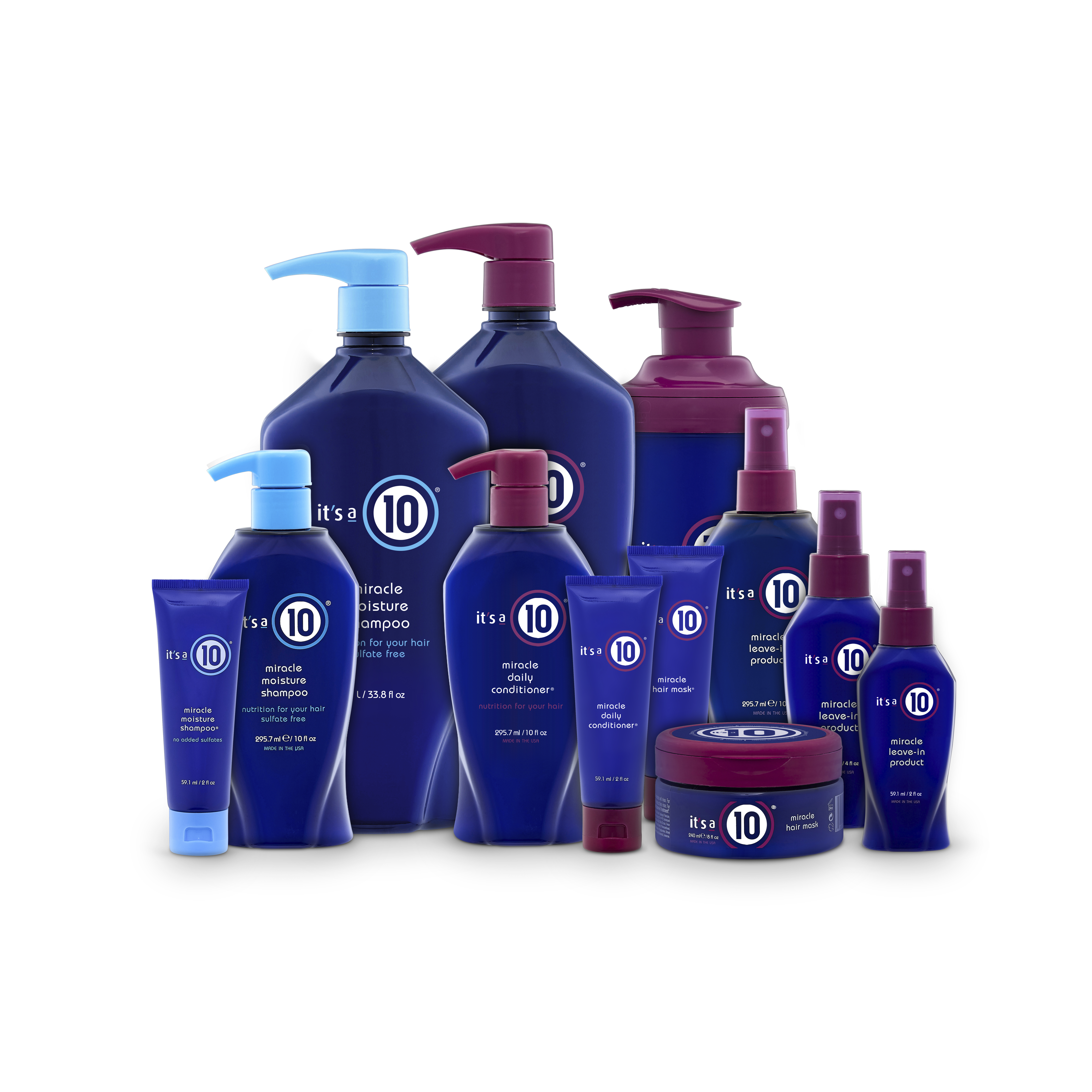 BN: Can you share some insights into your most successful marketing strategies?
CA: Jeff has ideated and executed some incredible marketing and communications activations throughout the years, including creating an It's a 10 blimp to fly over Coachella, an incredible Superbowl commercial about diversity, launching Be a 10 Cosmetics at Miss USA 2020 and activating the It's a 10 Grant program. We've interacted with our consumers outside of the traditional beauty space to engage with them on a deeper level.
I am especially proud of National Love Your Hair Day, an official national holiday that we created annually on 10/10 to inspire everyone to celebrate their natural, beautiful hair. We started by giving out 100,000 product samples the first year, then we gave away 500,000 samples and took over the iconic NASDAQ billboard in Times Square the following year and it continues to flourish every year.
We did an incredible segment with "Good Morning America" where we honored deserving Hair Heroes, hairdressers doing inspiring things during the pandemic, with $10,000 grants each. It's a 10 has always been more than just a brand, it has a mission to give back to others and make the world a more beautiful place, and we love to convey that on an ongoing basis.
We also love to work with industry professionals, celebrity stylists and beauty influencers, to introduce them to the latest products, learn about the latest trends and develop authentic relationships with the best-of-the-best.
BN: Talk about your ecommerce business.
CA: Our ecommerce sales through our own distribution as well as major distribution partners, such as Ulta Beauty and Salon Centric, have seen quadruple-digit percentage growth year over year. By the time the pandemic hit, It's a 10 had a solid ecommerce platform that we've been developing for years, so I think we were a bit ahead of the curve. Also, some of our distribution partners were building up their ecommerce experiences simultaneously, so it was a natural progression for us, our partners, and our consumers. In exciting news, It's a 10 was just named the number-one selling brand at Ulta overall and the original Miracle Leave-In was the number-one selling brand during Ulta's 2020 Black Friday/Cyber Monday sales, breaking all previous shopping records.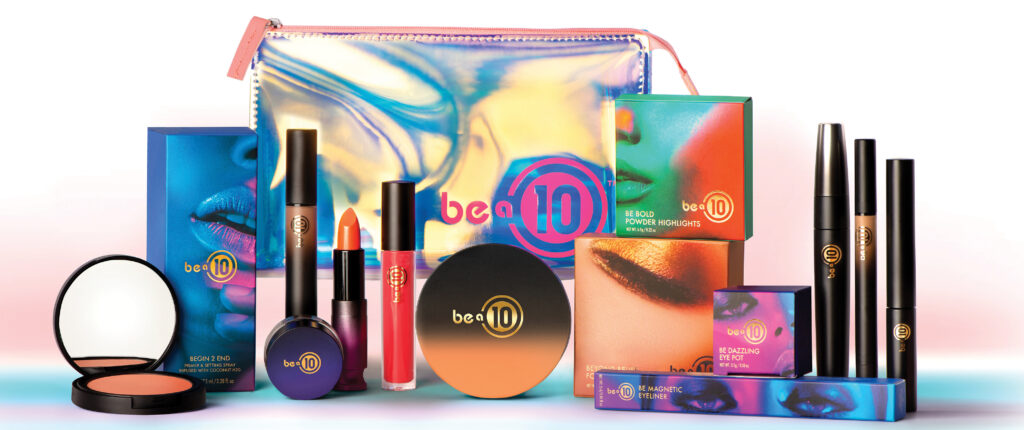 BN: How was the brand impacted by the pandemic?
CA: The pandemic has been a rollercoaster ride for us. We went from having a buying frenzy and hoping we had enough in stock to fulfill all of the orders, to working through supply chain issues with our vendors and manufacturers and needing to air-freight bottles due to shipping delays. Every day is a new fire we need to put out. Luckily, I'm surrounded with a seasoned team that has been sharp, supportive and dedicated throughout this entire time, and we've come out of every hurdle wiser and stronger.
BN: What's next for the brand? What's in store for Q1?
CA: We're so excited for 2021 because it'll be another thrilling year of new collection launches, international expansions and large-scale lifestyle activations. Coming up in Q1 will be the launch of our brand new Coily Collection, which took 13 years to develop and is specifically formulated to nourish and moisturize hair and to reduce frizz and fly-aways without being too heavy. We also plan to launch Tiny 10's, an innovative line of simple, multi-functional, and clean hair products for kids ages 0-10. We're also dedicated to expanding our national and international distribution to make It's a 10 global within the next few years.
BN: What is your proudest achievement so far?
CA: My proudest achievement to date has to be not only surviving the buyout of my partner, but transforming this company into the successful, cult-favorite brand it is today. Even though this sounds like a professional accomplishment, it's so much more than that. It's personal because I'm a double minority – a Hispanic woman – who's making strides in a male dominated industry. In just three years, it's become more successful than I've ever imagined, and I've inspired so many people from beautiful, diverse backgrounds to pursue their entrepreneurial dreams as well.
BN: What advice do you have for someone starting a brand?
CA: When people come to me for business advice, one of my biggest takeaways is that you can't just dip your toe into the entrepreneurial world, you have to dive in. If you're inspired to start a business, you need to be willing to put everything on the line and possibly lose it, willing to start small and grow slowly, and willing to wear every hat and fill every role to accomplish your goals. Being your own boss is a bigger responsibility than most people imagine. The fate of the company is in your hands, for better or for worse, but if you have a strong idea, an open mind and a willingness to learn, you'll persevere. Even after being in business for over 15 years, I'm willing to put myself and my business on the line every day in order to reach new heights, but I believe in myself enough to know I'll pull it off and it's worth it.