Launches featured in June 2022 Product Watch are all about making the most out of spending time in the sun. From pearlescent and primer-focused sunscreens to a bronzing oil for the face and body, protecting the skin while imparting a faux glow is on-trend. In the hair category, there's a gray-toned shampoo formulated for blondes to keep hues bright, as well as a frizz spray that aims to keep humidity at bay. Two beauty brands, Isle of Paradise and Peace Out Skincare, worked together to offer a limited-edition kit that gives back to the LGBTQIA+. And Maybelline debuted its Green Edition Collection, a vegan cosmetics line. Here, June 2022's glowing beauty launches.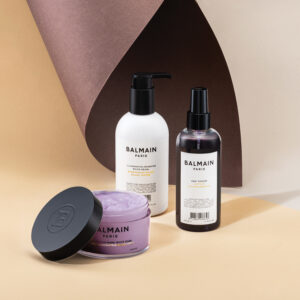 Balmain Hair Care Set
Waitlist Worthy: Balmain Hair Couture differs from other products due to "its Strengthening Complex, consisting of silk protein, cashmere protein, and quinoa seed oil, which works to deeply repair the hair from inside out and can be found in each Balmain Care product," according to Balmain Hair Couture's International Education Manager, Kasper Heemskerk. The hair collection will include five product lines, each fortified with the Strengthening Complex, as well as its own complex combination to address specific hair needs, such as volume, moisture, revitalizing, hair growth, and color-treated.  In addition to the complexes, Kasper said Balmain care products have been created with the lowest possible pH levels.
Marketing Plan: According to to Sander Theeboom, International PR Manager at Balmain Hair Couture, "We reach our consumers physically in select salons by in-store imagery, booklets, and posters but most of all by our professionally trained hair stylists. The strategy lies in the Balmain Hair Couture salon experience and by word of mouth. We believe in collaborating with artists, stylists, and content creators that match with Balmain Hair Couture naturally, without necessarily paying them for promotion. Our influencer strategy matches this, where gifting comes organically, and no launch is forced on anyone. Our online strategy is set up so that it shows our products, launches, or best sellers, that match the viewers' interests and needs without overromanticizing. No muss no fuss. We believe in the high quality of our products and the luxury that comes with it. From our packaging to the scent to the product itself."
Availability + Price: Items are available on balmainhairus.com from $18 for shampoos and conditioners to $21 for the Leave-in Conditioning Spray. A limited-edition neoprene cosmetic bag contains the Leave-in Conditioning Spray (50 ml), Argan Moisturizing Elixir (20 ml), Texturizing Salt Spray (50 ml), and a velvet scrunchie and will be sold on the brand's site and in Saks Fifth Avenue for $65.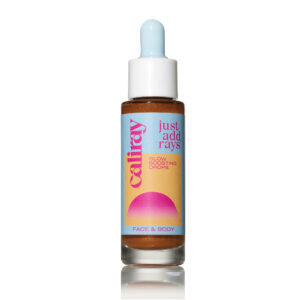 Caliray Just Add Rays Glow Boosting Drops
Waitlist Worthy: This bronzing oil is a lightweight yet nourishing face and body oil that can be applied onto the skin directly or mixed in with a favorite skin tint, primer, or body care product.
Marketing Plan: "We used a mix of levers to launch Just Add Rays Glow Boosting Drops—from influencer seedings and PR events to juicy content and SMS updates," said Jenna Dover, Caliray's Co-Founder. "Hitting potential shoppers from multiple touch points with fun, summer-ready creative that shows off what the product can do, why it's special, and how to use it. There's always a Caliray quirk or bent to our visuals and tone of voice because we want to create something that people can connect with, feel, and dream about."
Availability + Price: Price: $34 at caliraybeauty.com
Dune Suncare
Waitlist Worthy: Dune Suncare is the first fully invisible, skin-tone inclusive gel SPF line in the U.S. The product features skin care benefits, is dermatologist-approved, and hydrates the skin for up to 72 hours. The brand is launching with three sku's: The Mug Guard, the Bod Guard, and The Lifeguard.
Marketing Plan: "Dune Suncare is launching June 8 on dunesuncare.com and in some of our favorite specialty retailers and hotels all summer long with launch parties in both L.A. and New York," said Emily Doyle and Mai Kwok, Dune Suncare co-founders. "Keep your eyes peeled for some organic influencer love and (hilarious) custom content on social throughout the summer as well. All SKUs will be available to purchase the first week of July on Amazon."
Availability + Price: $25 to $28 at amazon.com
Fleur & Bee Youth Fairy Retinol Moisturizer
Waitlist Worthy: Formulated to reduce the risk of irritation, this product is ideal for beginner retinol users. Along with a small dose of retinol, 0.03 percent, the cream features anti-aging and nourishing ingredients. It is also 100 percent vegan and cruelty-free.
Marketing Plan: "Leading up to the launch we posted articles on our website covering the science behind retinol," said Matthias Hug, Fleur & Bee founder and CEO.  "This was then turned into more digestible content for social media. We were also super transparent about our formulation process, the ingredients we used, and why we included them. Our goal was to provide our community with as much information about retinol and Youth Fairy as possible to help them make informed decisions."
Availability + Price: $35 at fleurandbee.com and amazon.com
GXVE Xtra Sauce
Waitlist Worthy: Not in 30 years has Gwen Stefani ever revealed her signature shade of red, until now. GXVE rounds out its collection of high-performance, transfer-proof red lip formulations with the launch of Xtra Sauce, a liquid, extreme long-wear liquid lipstick with a vinyl finish that lasts all day. It is kiss-proof, sweat-proof, and mask-proof.
Marketing Plan: "We couldn't be more thrilled that GXVE's next brand launch is all about lips," said GXVE CMO Erin Sale. "We'll be adding new nudes and brights to our existing lipstick lineup, with each shade linking back to a period in Gwen's life—like Stomp Box, a gorgeous rosy/mauve shade named after No Doubt's old Orange County practice studio. While known for her signature red, Gwen has always experimented with color, and it's been fun to switch up her look and get nostalgic. She recently teased the new shades at the Met Gala, where she did her own makeup and paired a nude lip (featuring Tragic Me, a beige/peachy matte) with her neon dress. With this launch, the goal is to highlight our lip category and offer more variety of high-performing products, shades, and finishes. Our community has been begging for more shades, so we cannot wait to see new expressions of GXVE makeup through them."
Availability + Price: $24 at Sephora and on Sephora.com
Isle of Paradise & Peace Out Skincare Limited Edition Kit
Waitlist Worthy: The Peace Out To Paradise set features best-selling Self-Tanning Butter and Acne Dots. The kit was curated by Isle of Paradise and Peace Out Skincare founders, Jules Von Hep and Enrico Frezza respectively, who are proud members of the LGBTQIA+ community. Together, both brands will be donating 20 percent of kit proceeds to The Trevor Project, a nonprofit organization dedicated to providing crisis and suicide prevention services to LGBTQIA+ youth.
Marketing Plan: "We are so excited to be partnering with LGBTQIA+ creators to celebrate the launch of our IOP x Peace Out collaboration, and support our donation to The Trevor Project," said Stephanie Griffin; Senior Marketing Manager at Isle of Paradise. "We will be working with micro-influencers and our content team to create engaging assets that will be incorporated into all digital touch points." One initiative is to partner with Isle of Paradise in order to support the Trevor Project, added Junior Pence, CMO at Peace Out Skincare. "We will be promoting this initiative on our website, seeding a variety of influencers and creating social content for TikTok.  Our content will be centered around being proud in your skin and we couldn't be more excited for it to come to life in order to support the LGBTQIA+ community."
Availability + Price: The Peace Out To Paradise Set retails for $40 ($57 value) at TheIsleofParadise.com and PeaceOutSkincare.com
Luma & Leaf Fresh Lift Moisturizer
Waitlist Worthy: This moisturizer has been formulated to revive and restore skin with coconut oil and essential fruit blends. Tetrapeptide promotes skin's collagen production, while tropical hibiscus delivers sculpting benefits to firm and tighten the skin. The Luma & Leaf proprietary Fruitfusion Blend boosts circulation and helps reduce the appearance of fine lines and wrinkles while giving skin a bit of a lift.
Marketing Plan: "The product will be exclusive to Anthropologie.com for about two weeks ahead of a broader launch on our DTC website and across additional retail channels, all of which are new to the brand this June," said Luma & Leaf Brand and Social Manager, Lindsey Meyer. "In terms of PR and social promotion, we will be conducting meetings and gifting to press. On the social front, Fresh Lift Moisturizer will be the star of our social media channels for several weeks, in which we will highlight the product's proprietary Fruitfusion Blend, inclusive of firming ingredients such as coconut, hibiscus, and passionfruit. Additionally, throughout all of our marketing efforts to support this launch, we will be championing the idea that aging is a beautiful, natural process."
Availability + Price: $26 at lumaandleaf.com
LYS Beauty No Limits Bronzer Stick
Waitlist Worthy: This creamy, sculpting bronzer helps define facial features and provides a radiant finish to the skin. The rich formula is buildable and doesn't crease or provide unwanted shine.
Marketing Plan: "Since we're launching just in time for National Best Friends Day [June 8], we're playing into this messaging throughout promotional efforts," said Tisha Thompson, Founder of LYS Beauty. "Cosmetics are such a sensorial experience, so we like to put our efforts into channels that showcase people interacting with the product and showing its magic! To support the launch, we will activate both paid and organic social strategy for TikTok and Instagram—both major channels for connecting with our customers. We will also leverage our Confidence Crew, or brand ambassadors via affiliate programs, for content creation and word-of-mouth marketing. Diversity and representation are non-negotiable for us, so we hand-select brand ambassadors that show the product on different skin types, textures, and ages. These efforts have been impactful in encouraging product discovery following previous launches."
Availability + Price: $19 at lysbeauty.com and sephora.com
MAËLYS Limited Edition Summer Collection
Waitlist Worthy: This limited-edition tanning collection includes a tan accelerator, cooling body wash, after sun restorative mask, and body-perfecting camo. "This limited-edition collection came to fruition as a result of our data-driven approach and ongoing dialogue with our fan base that showed us there was a strong appetite for seasonal products. We're excited to offer our loyal and new customers something that continues to highlight our ethos of creating power-packed formulas while offering fun, bespoke products for the summer," said Rom Ginzburg, CEO of MAËLYS.
Marketing Plan: "We're executing a 360° digital and PR strategy to build awareness and drive customers to our brand.com. For social, we're working with a robust influencer squad to create custom content across Instagram, Facebook, YouTube, and TikTok," said Rom.
Availability + Price: $25 to $35 on maelyscosmetics.com
Maybelline Green Edition Collection
Waitlist Worthy: Maybelline New York's new Green Edition Collection features vegan cosmetics formulated without parabens, petrolatum, formaldehyde, silicones, BHT, and mineral oil, and is made with a minimum of 70 percent natural-origin ingredients. The collection includes the Balmy Lip Blush, Mega Mousse Mascara, and Superdrop Tinted Oil. Maybelline defines a naturally-derived ingredient as one that is unchanged from its natural state or has undergone processing but still retains greater than 50 percent of its molecular structure from the original natural source. The remaining ingredients in Green Edition products are included to ensure their performance.
Marketing Plan: "With the launch of Green Edition, we've taken a fresh approach to reach beauty enthusiasts who are eager to try high-performing makeup products that are also clean, vegan, and made with natural-origin ingredients," said Olga Schakler, AVP of Marketing for Maybelline New York. "Expanding beyond traditional social and digital platforms, we're also connecting with consumers via Spotify and with a feature on the Drew Barrymore Show."
Availability + Price: $10 to $12 at mass retailers
No Fade Fresh Metallic Silver Color
Waitlist Worthy: No Fade Fresh Metallic Silver is not a purple shampoo. Instead, it features a gray tone uniquely formulated to cancel out unwanted brassy yellow in hair, while also creating a metallic silver shade. No Fade Fresh Metallic Silver will launch as part of its popular line of 13 semi-permanent color-depositing shampoos and conditioners.
Marketing Plan: "We are promoting the launch with targeted strategies on Instagram, Facebook, and TikTok; including influencer-generated content, geo-targeted dark ads, contests, and giveaways," said Tammie Hunt, Vice President of Marketing for No Fade Fresh. "In addition, we are utilizing email and SMS campaigns to generate awareness. We have created rich media educational content for our website, as well as, our retailer sites, are conducting an extensive PR campaign to media and are sampling the product to consumers, all in an effort to build awareness."
Availability + Price: $15 each at nofadefresh.com, Amazon.com, and Rite Aid.
Saint Jane Luxury Sun Ritual
Waitlist Worthy: This is the brand's first product with SPF. It's also a pore-smoothing primer and a hydrating and nourishing moisturizer. It's formulated with natural flower and plant SPF boosters and a bouquet of flowers to nourish the skin, while protecting it from UV rays.
Marketing Plan: "We're supporting the launch with a focus on the extraordinary benefits of our floral-infused, meticulously clean formulation that's sheer on diverse skin tones," said Casey Georgeson, CEO and Founder of Saint Jane. "We're partnering with key influencers, beauty editors, celebrity makeup artists, and dermatologists to excite our clients about incorporating it into their skincare routine—my entire team at Saint Jane is beyond excited to share this exquisite formula with the industry."
Availability + Price: $38 at saintjanebeauty.com, Credo, and Goop in June and at Sephora in July.
Summer Fridays ShadeDrops Mineral Milk Sunscreen
Waitlist Worthy: This lightweight mineral sunscreen applies like a serum, while delivering SPF protection with skincare benefits. This reef-friendly formula helps shield skin from harmful UVA/UVB rays and leaves the skin soft and supple. Its naturally derived tint blends beautifully on all skin tones for a natural-looking finish.
Marketing Plan: "This is a special launch for Summer Fridays, as it is our first sunscreen and our most requested product," said Blair Badge, Summer Fridays Executive Director of Marketing. "It took us years to perfect this formula, so we've taken extra care in crafting a campaign that is both educational and allows us to celebrate this moment with our community. That said, it was important for our community to be a part of this campaign—which you'll see included in our content across social, demonstrating how ShadeDrops blends beautifully into all skin tones. In addition to our online marketing plans, we've invested in OOH placements in NYC and LA throughout the summer months."
Availability + Price: $36 at summerfridays.com and sephora.com
Supergoop! Glow Screen Glowscreen SPF 40 in Golden Hour
Waitlist Worthy: A new iteration of the brand's best-seller, Glowscreen Golden Hour is a makeup-gripping primer that provides sheer liquid illumination and a touch of bronze to even out skin tone and add an instant glow. Key ingredients include hyaluronic acid and niacinamide for an added dose of moisture and sea lavender, a powerful antioxidant to support long-lasting hydration, and cocoa peptides to protect the skin from blue light and free-radical damage.
Marketing Plan: "We're so excited to welcome a new, bronzy shade to the Glowscreen family," said Britany LeBlanc, Senior VP of Marketing at Supergoop! "As with all of our new SPF innovations, we have been implementing a 360-degree marketing approach to promote the launch including digital, influencer, IRL, and press to reach our audience where they are."
Availability + Price: $36 at supergoop.com and sephora.com.
Virtue Frizz Block Smoothing Spray
Waitlist Worthy: This weightless, humidity-fighting spray protects hair for up to 72 hours without losing effectiveness. Fortified with Virtue's exclusive Alpha Keratin 60ku technology, this first-of-its-kind spray address the causes of frizz both structurally and topically for long-lasting results. Formulated for all hair types, this lightweight, milky mist is alcohol-free, so it won't create build-up or dry out hair. It's also heat protective up to four hundred fifty degrees, and leaves hair healthy, soft, and free of frizz for days at a time.
Marketing Plan: "To celebrate Virtue Frizz Block, our most anticipated product launch for summer, we will be deploying an omni-channel campaign that proves out what is humanly possible in up to 72 hours," said Val Middleton, Chief Brand Officer. "The campaign will highlight the transformative product benefits but told in a way that only Virtue can deliver. We'll be putting Frizz Block to the test over the course of 72 hours with some of the strongest, most real, most resilient women that we know. From athletes to artists, business owners to parents, we'll let them take the mic and testify to the product excellence that holds up under the pressure and pace of their daily lives."
Availability + Price: $44 at virtuelabs.com