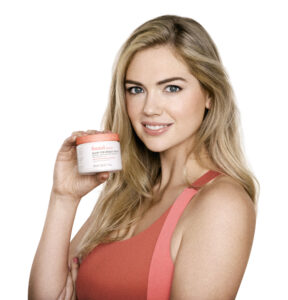 Kate Upton is expanding her interest in wellness and self-care with a collaboration with Found Active. Owned by HatchBeauty Brands, the clean beauty brand is launching several new SKUs with Kate, who joined as partner in March 2020. The partnership is a natural fit for the supermodel whose interest in wellness and fitness led her to team up with her personal trainer to launch Stong4Me, a 12-week fitness program designed for busy women. Just like her fitness business, the new products from Found Active were designed with women-on-the-go in mind, keeping convenience and ease of use at the forefront.
Among the lineup includes The Exfoliating & Cleansing Bubble Facial Pads ($18), designed to refine, retexturize and brighten skin. There are also four facial serums ($23 each): Rejuvenating Face Serum with Hyaluronic Acid, Brightening Face Serum with Vitamin C, Moisturizing Face Serum with Plant-Derived Squalane, a Restoring Face Serum with Retinol. As part of the partnership, Found Active will launch into supplements with two powders this week, Glow Powder for Brighter Skin and Reset Powder for Relaxation, which will retail for $23 each, as well as two gummies, Glow Gummy for Brighter Skin and Vibrant Gummy for Immune support, retailing for $18 each. The products will be sold direct-to-consumer on the brand's website, foundactive.com. Here, Kate spoke to CEW Beauty News about the new launch and shared insights into her supermodel secrets for glowing skin.
Beauty News: What aspects of the products do you personally connect with?
Kate Upton: I've always been active and on-the-go, so I'm really excited to be a part of Found Active, which focuses on this lifestyle as a main inspiration for the brand. Also, I've always wanted to create natural and high-quality products at an affordable price. For this reason, I've been so excited to partner with Found Active, a brand that puts transparency and natural ingredients at the forefront.
My main personal emphasis for this brand has been the wellness products and focusing on inside-out beauty. The wellness supplements enhance your life including important aspects such as energy levels, complexion, hair and nails, immunity and most importantly (to me) restful sleep so your body can recover from the long day.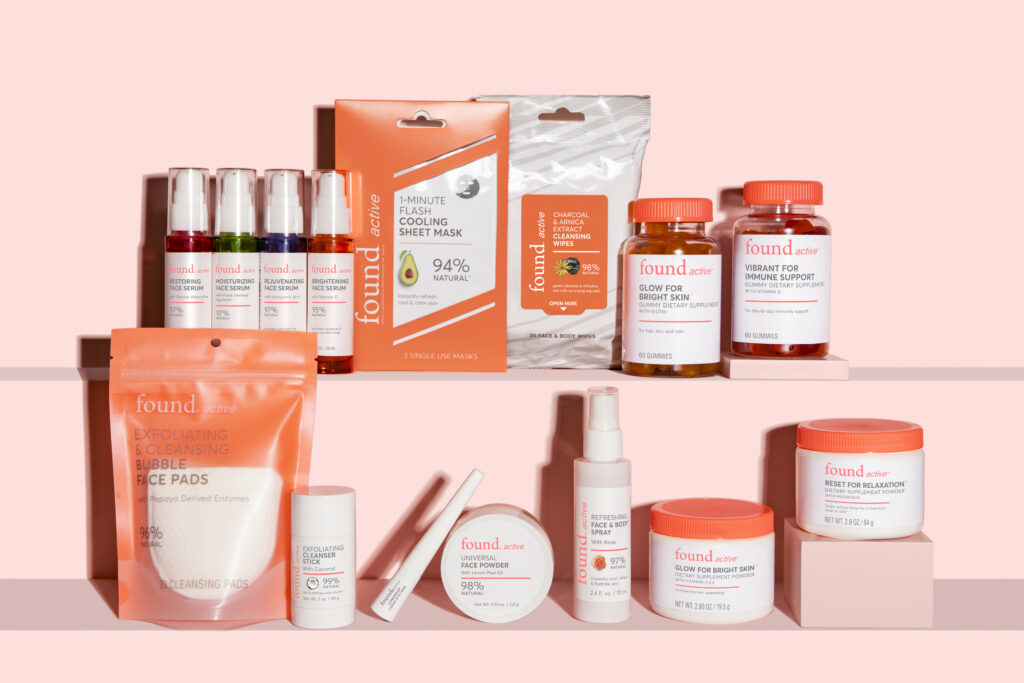 BN: What do you think today's consumer is looking for from a brand? 
KU: As a consumer myself, I'm looking for brands who 'get me' and align with my values. Found Active is designed for people who are juggling a lot but still want to make skin care and self-care a priority. All of our formulas are clean, easy-to-use and follow a strict 'not found' list. This allows consumers to just enjoy the products and not worry so much about what is in them.
BN: How will you help raise brand awareness? 
KU: I am always pushing to spread awareness for inside-out beauty. That's why I created Strong4Me Fitness because feeling confident in your own skin and body are one of the most important topics to spread awareness for women. With the trends of 'facetuning' and the pressures of social media I think young girls need a voice to empower natural beauty from the inside-out.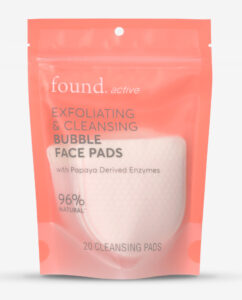 BN: What does your skin care routine look like? 
KU: It's extremely important for me to have an effective, everyday skin care and wellness routine. From the new collaboration with Found, I love exfoliating and cleansing my face with the Exfoliating & Cleansing Bubble Facial Pads – they are extremely portable and easy-to-use to help refine and brighten my skin. I also love the Reset Powder for Relaxation, which has hyaluronic acid to help hydrate my skin.
Outside of the brand I use Tammy Fender Plant Milk – this gives my skin a light layer of protection and it also calms any irritation and redness since I have such sensitive skin; this has been a game changer.  I also like Tammy Fender Clarifying Dermagel, an acne spot treatment which has been a huge need with maskne. Tatcha Sunscreen is great because you always need protection from the sun. Elizabeth Arden 8-hour cream can be used for anything, and I mainly use it for my chapped lips.
For my hair, I love Leonor Grey Masque Quintessence, which is a hydrating hair mask for damaged hair; you can just put it in dry hair before you shower. It's so easy!
At the end of the day, I always use the Found Active Reset Powder for Relaxation which has magnesium to help reduce stress and aid in a more restful night sleep for recovery.
BN: What's a mantra you live by?
KU: Family first. My whole world is my family and we've leaned on each other more than ever over the last year.
BN: If you were to write the note found in a fortune cookie, what would it say?
KU: Trust your gut.