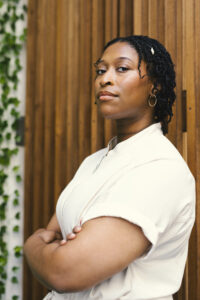 In an effort to celebrate and discover Black content creators, a new event has been formed by one of their own who saw a need for such a platform within the beauty industry. Quani Burnett, the creator of Beauty4BrownSkin, a platform advocating for equity amongst creators within the beauty space, is hosting the first Black Creator Brunch, to be held at downtown Los Angeles restaurant Manuela on June 26 at 10 a.m.
Quani, an influencer and writer who has written for publications including Essence, Byrdie.com, and Fashionista.com, said she noticed gaps between how Black and non-Black content creators have been treated at influencer and brand events.
"Personally and professionally, I saw the disproportionate number of Black creators at influencer and brand events. When Black creators are present, it is often the same macro-creators [those with more 100,000 followers]. [This] perpetuates tokenism and the idea that our value to brands is tied to our follower count. It is my experience that influencer events are often cliquish and exclusionary. I'd like to change that narrative," Quani said,
The Black Creator Brunch has gathered the support of sponsors including Paula's Choice, Supergoop, Briogeo, Klur, Kinship, Homebody, Indie Lee, and Versed.
Melanie Blender, President of Versed, stated, "As an ally brand and longtime partner of Quani, Versed is proud to support the Black Creator Brunch and its mission to increase inclusion within beauty. Through this event and more, we celebrate Black creators and the communities they represent, and commit to working towards the equity and inclusion that's so important for our society, our brand, and our team."
On the future of the Black Creator Brunch, Quani said, "My long-term goal for this brunch is to evolve creating consistent initiatives that center, celebrate, and advance equity amongst Black creators. Panels, intimate events, networking opportunities, and creator workshops that advance inclusion, are activities I'd like to hold."