Unimpressed with the options available on the market for menopausal solutions, seasoned brand executives Sally Mueller and Michelle Jacobs decided to create their own line of products. Launching today on their DTC site, Womaness offers accessible, affordable products addressing a range of menopause symptoms—from skin to body care, vaginal care and supplements. (The brand enters Target March 28.) Here, Sally, who serves as CEO, and Michelle, who serves as COO, talk about their brand journey.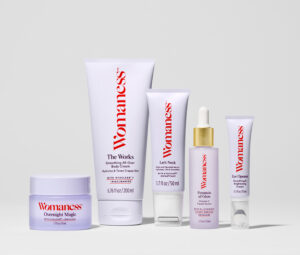 Beauty News: What's your brand story?
Sally Mueller: Michelle and I have created a lot of brands for women in all their different life stages, mainly, I would say, millennial women. I found myself at a doctor's appointment talking about vaginal dryness and, you know, really, private conversations and my doctor finally said, 'Sally, this is so common.' So many women have this issue as they're going through menopause and—I didn't even know I was in menopause, and I had no idea that the symptom I was experiencing or some of the issues, was related to menopause. I just felt really uninformed about the whole thing.
My doctor gave me a list of products for me to buy on Amazon and at the Mayo Clinic store and I looked at a list of products and thought, I am never buying any of these. I trust the Mayo Clinic, but they just didn't speak to me with strange names and very medicinal packaging. When Michelle and I started talking about this idea of disrupting the menopause space, we just got more and more excited about it. We felt like there are so many women like us that are just kind of left empty handed.
BN: What's Womanness' point of difference?
SM: Our number-one brand pillar is usefulness. The product has to work. We really created products that are beautifully designed, have the best ingredients for this design, for this woman in this stage of life.
Michelle Jacobs: We ended up creating a line with 13 products including beauty, supplements, feminine care and sexual wellness. One product wasn't going to address all the concerns. That's the differentiator of this brand: creating a category that didn't exist. We were pitching Target when Sally said to the team how they were there for her when she was graduating from college, when she got pregnant, when she was decorating her first house. Now that customer is in her 50s—and what is there for her? This is the time to speak to her about this.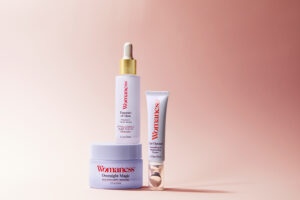 BN: What's your marketing and communications strategy for Womaness?
SM: We launched a private Facebook group and we're creating a lead-gen campaign to secure interest in the brand, but also to get women to sign up for their email because we ultimately want this direct relationship with our consumer. We're using digital media marketing through Facebook, Instagram, Pinterest, and other places where she is. We're also seeding product with influencers, but influencers for this brand are very different than the ones for a millennial woman. We're building intimate relationships with women, looking at women in the various markets where we're going to have presence. We're building out an ambassador program too. The women can become the amplifier of the message and build their own community with their own following. It's an incredibly authentic way to build the brand. So it's a variety of levers we're using. We're looking at affiliate marketing, because there's a number of partnerships out there that make sense for us. We're going to test and learn. This is marketing to a woman who is very time-pressed; she is not only online and increasing her time spent online—she behaves differently online and she's not super involved with social media.
BN: Do you have investors?
SM: We  invested our own money, well over $300,000. We felt strongly about putting our money where our mouth was, making sure that everyone knew that we believed in us so much that we put in our personal savings behind it. We started reaching out to investors after COVID hit and had a lot of support—investors introduced us to other investors so the net-net on it is Obvious Ventures came on board as our lead investor, followed by Unilever Ventures. They look at a lot of opportunities and choose very few, and they chose us because we had a clear vision of what we are creating and the difference we want to make in the world. And we fit very much into their platform.
MJ: It's been a really good combination of investors and then we have some incredible smaller investors and Sally's dad. Mom and dad were the first investors.
BN: What's your best lesson learned in creating this business?
MJ: Not to give up, if you really believe in your vision. All the experiences that Sally and I had prior—I don't know how a 24-year-old can build a company like this early on. Every job I've had, every experience I had has led me to this and I just am so grateful for the years of experience I had, and I feel so ready to jump into this. I am appreciative of the things we've learned along the way.