There's hardly a dearth of scalp products on the market—it seems the scalp is the hot new body part. But occasionally a new line comes along that breaks the mold. Enter Oxilogica by hair stylist Nunzio Saviano.
Oxilogica is a multi-step treatment designed to immediately detoxify hair from build-up and grime, unclog the scalp and reignite hair growth. Nunzio created the in-salon service and product collection with a Milan-based chemist to be used with an oxygen machine to deliver ingredients deeply into the scalp. The products that were created for the treatment use rare plant-based ingredients typically reserved for skin care products, and are available for sale for at-home use.
"We wanted to combine tricology into a service for my salon, so we created this treatment and collection," said Nunzio, who operates Nunzio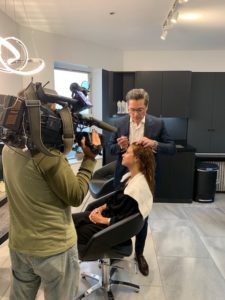 Salon located on 768 Madison Avenue. "It will be a matter of time before we see other salons create an oxygen treatment for the scalp and hair. But we are the first."
Two years in development, Nunzio's customized four-step treatment begins with a detoxification of the hair and scalp using 20 to 30 drops of Hair & Scalp Detoxing Drops. The all-natural drops use menthol, eucalyptus and chamomile to control and stabilize sebaceous glands; they are massaged into the scalp and left on for five minutes. Then hair is shampooed and lightly conditioned. The next step promotes scalp health with the use of Scalp Nourishing Treatment. Formulated with stem cells from the stella alpina flower, which is grown in the French Alps and rich in anti-aging flavonoids, ingredients are optimized with the use of an oxygen machine to push the serum deep into the scalp and to penetrate hair's cortex. For clients suffering from hair loss, the next step uses either Moderate Hair Loss Drops or Intense Hair Loss Drops, each of which uses saw palmetto extract. The serum is massaged and left on the scalp for up to 10 minutes. The finishing step uses Hyaluronic Hair Repair & Replenish, an intense repair treatment using centella asiatica to address poor scalp circulation, which again utilizes a professional oxygen machine to deliver highly concentrated oxygen molecules to the scalp. The treatment, which costs $150, concludes with a styling service.
The items used in the salon treatment are for at-home use to keep up the treatment's efficacy. Hair & Scalp Detoxing Drops sell for $90, Hyaluronic Hair Repair & Replenish retails for $110, Oxilogica Hair Loss Drops sell for $130 and the Scalp Nourishment Treatment costs $90.