Readying for the cooler days of fall, October product launches focus on skin care for the face and body. From a cold cream to a spritz-and-go serum to a one-minute facial must-have, here are the beauty launches to pay attention to now.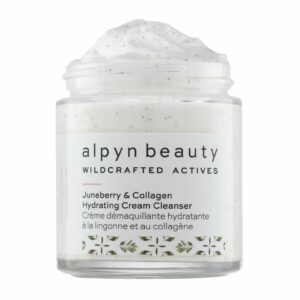 Alpyn Beauty Juneberry & Collagen Cold Cream Cleanser
Waitlist Worthy: Nostalgic in a Noxzema-esque way, this cold cream offers a flash of cool, followed by a deep cleanse that's designed to gently exfoliate the skin, and remove dirt, oil and debris, leaving skin touchable, soft and smooth. Founder Kendra Kolb Butler wanted to create her very own natural version of a cold cream with clean ingredients and wild juneberry. "This cleanser gives you that OG feeling of an invigorating, refreshing eucalyptus-filled cleanse," Kendra said. "It's formulated with clean and planet positive ingredients, such as antioxidant juneberry and plant-based collagen. Ultimately, I wanted to create a cleanser that made people want to clean their skin. This is such a fun and easy product to use but it's also full of incredible benefits."
Marketing Plan: "We have a multi-tiered approach for the launch of this next generation cold cream which includes robust sampling, consumer reviews, impactful education, digital advertising, and influencer seeding with a heavy focus on organic UGC content via social media, primarily TikTok," said Kendra.  "We've created a unique unboxing experience in collaboration with a popular home goods brand and plan a second wave of support for our Sephora launch on 10/19."
Availability + Price: $39 at alpynbeauty.com, Sephora and Credo

Evolvetogether Hydrating Body Cream
Waitlist Worthy: Featuring a built-in roller that allows consumers to waste not a single drop, this body cream boasts a creamy blend of vitamins and plant-based ingredients. It's created to be non-sticky and fast-absorbing and works to protect, hydrate, and soothe dry, sensitive skin. "We spent a lot of time perfecting a body cream that would leave even super sensitive and dry skin feeling smooth, soothed, and hydrated," said brand founder Cynthia Sakai. "We came up with this super hydrating cream-to-oil blend of plant-powered squalene and vitamin-rich argan oil (vitamin E), avocado oil (vitamins A and C), shea butter (vitamin E), and panthenol (vitamin B5) that absorbs fast so there's zero sticky residue. Plus, it has incredible slip so just a little goes a long way—and a built-in roller makes sure you get every last bit!"
Marketing Plan: "Promotion and strategy will be through email marketing, SMS, social media, micro and macro influencers, retailers and trunk shows," said Cynthia.
Availability + Price: $48 at evolvetogether.com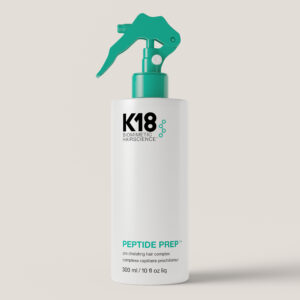 K18 Peptide Prep Pro Chelating Hair Complex
Waitlist Worthy: "This is a pro-strength demineralizing treatment clinically proven to reduce buildup from seven common metals and minerals to help reset hair for optimal color and chemical services, revive color vibrancy, and restore smoothness and bounce," said Michelle Miller, K18's Chief Marketing Officer. "This product is a spray-on, no-mix formula that works in just four minutes. The points of difference are huge. Competitors in this space require mixing, additional shampoos, and 15 minutes to 90-minute processing times. As the pros say, 'Time is money,' and this convenient, fast format is a game-changer in this category. With long processing times, most stylists saved demineralizing for the most extreme cases of buildup."
Marketing Plan: "Since this is a professional product, we are leaning into stylists on social media to showcase transformative before and after videos because the results speak for themselves," Michelle said.
Availability + Price: Launching October 11 for professional use only. Prices vary per salon.

Kosas Plump + Juicy Serum Spray
Waitlist Worthy: This new serum format is created to refresh, hydrate, smooth, lift, firm, and plump the skin. Formulated with vegan collagen, peptides, probiotics, proteins, hyaluronic acid, and more, it's designed to be a reset for skin in a spritz-and-go format. "My favorite thing about the new Plump + Juicy Spray is that it takes everything I love about a nourishing, effective serum and fast tracks the delivery so that the spray instantly soaks skin with pure, highly active goodness," said brand founder Sheena Yaitanes. The easy-to-use spray-on format aims to replenish and rebalance the skin's pH, making ingredients more bioavailable and effective. And since there are no oils, waxes, or emulsifiers—ingredients seep directly into skin with no barrier. We tested the mist engine over and over until we landed on the perfect application with ideal spray strength and radius."
Marketing Plan: "To tell the Plump + Juicy Serum Spray story, we will pre-seed the products to editors and content creators to encourage trial, drive product affinity, and garner noteworthy media coverage timed to launch," said Sheena. "We aim to drive brand buzz and product demand through mass influencer seeding and a curated influencer event—taking every opportunity to educate around the standout ingredient story (powered by skincare's biggest superstars), educate on the clinical results over time and create a halo effect for our Tinted Skincare Lineup."
Availability + Price: $48 at kosas.com

MERIT Great Skin Instant Glow Serum
Waitlist Worthy: This weightless bi-phase formula looks to instantly hydrate and plump the skin for a smooth, glass-like appearance. It's created to leave the skin calmer, brighter, and more even over time with zero residue. "The introduction of Great Skin is a pivotal moment for Merit: we've been perfecting the formula for years, and we're very excited to share it with our customers. It's instant gratification that lasts all day—as if you've just completed a multi-step skin care routine without the hassle," said Katherine Power, Founder and CEO of Merit.
Marketing Plan: "Our marketing has always been focused on social commentary — universal sentiments that drive consumer behavior," said Aila Morin, SVP of Brand, Growth, and Innovation at Merit. "For Great Skin, that's the overwhelming world of skin care and the ubiquity of many steps and conflicting information. Through our campaign, we aim to combine factual information with more visual, creative storytelling that connects with our community."
Availability + Price: $38 at meritbeauty.com and sephora.com in the U.S. and Canada. Available at all North American Sephora retail locations beginning October 14.

The Outset Exfoliating Caffeine Micro Polish
Waitlist Worthy: "With our newest launch, the Exfoliating Caffeine Micro Polish, we've created an energizing, one-minute facial that reveals fresh and bright skin, while being gentle enough for everyday use," said Kate Foster, Co-Founder and CEO of The Outset.
Marketing Plan: "We introduced this product at our first ever west coast event with press and influencers with a cocktail party hosted by founder Scarlett Johannson and me," said Kate. "We have also released a new campaign with Scarlett for our website and point of sale in Sephora (launching January 2023), as well as a suite of new social content which gives a behind-the-scenes look at the creation of this campaign and educational content supporting the product."
Availability + Price: $34 at theoutset.com
By Amber Katz