Beauty brands are celebrating Pride month with a number of vibrant products and meaningful initiatives dedicated to supporting the LGBTQ+ community. From charitable limited-edition collections to social media campaigns that inspire awareness and important conversations, here are just a few of the brands offering support. 🌈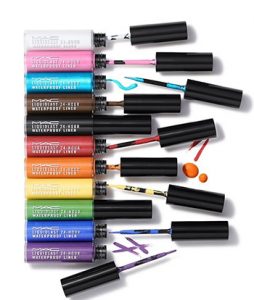 M·A·C Cosmetics – On June 23, M·A·C Underground will introduce an 11-shade eye liner assortment, Pride & Joy Liquidlast Liner Vault ($125). All sales will go to the Hetrick-Martin Institute (HMI) through the M·A·C VIVA GLAM Fund, which helps to fight for the empowerment of the LGBTQIA+ community. M·A·C VIVA GLAM will further fund HMI youth with direct services spanning arts and culture, health and wellness, academic enrichment, job readiness, counseling and case management, on-site pantry, outreach homeless services, youth Pride and more. The brand is also giving its best-selling product, Liquidlast 24-Hour Waterproof Liner, a bold makeover. The 11 shades included in the collection symbolize the LGBTQIA+ community flag colors: black and brown stripes represent marginalized LGBTQIA+ communities of colors, while pink, light blue and white represent the Transgender Pride Flag.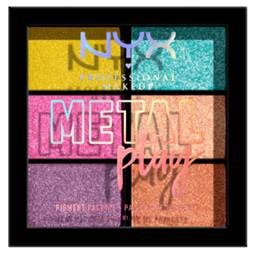 NYX Professional Makeup – This Pride, NYX Professional Makeup drew its inspiration from ballroom, the underground LGBTQIA+ movement powered by beats, expression, performance, and community. Beauty lovers can celebrate with a bold assortment of products in the Pride 2021 Collection ($8 to $15) which includes eye, lip and face offerings. To engage its community and further celebrate ballroom, NYX is hosting a global Instagram challenge, #NYXCosmeticsBall, in which contestants can compete for a chance to win $5,000 in the face makeup category. Guest star judges include HBO's Legendary Isla Ebony and ballroom enthusiast, Legendary Chloe West, who will judge and announce the global winner on June 28. Additionally, NYX will be donating over $100,000 to global Pride efforts including a donation to the L.A. LGBT Center.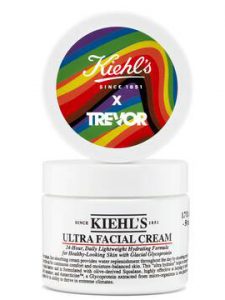 Kiehl's – For the second year, Kiehl's will partner with The Trevor Project with a minimum $120,000 donation. Part of the donation will be through the brand's limited-edition Pride Ultra Facial Cream, which will donate $2 from the sale of each cream to The Trevor Project, with a minimum donation of $20,000. On social media, consumers can join the brand on @kiehls channels throughout June to learn more about The Trevor Project and issues facing LGBTQ youth, as well as how to get involved and help. Additionally, through its partnership with OUT @ L'Oreal, Kiehl's will be donating $15,000 to Heritage of Pride (HOP). In partnership with HOP, Kiehl's Meatpacking Store will be part of the NYC Pride virtual parade map experience, from June 25th to June 27th, which will include pop-up sampling from NYC local businesses, Pride Flag inspired balloon window installation, Big Gay Ice Cream Truck, Drag Queen Appearances, Custom Airbrush Tattoo Artist, and entertainment from DJ Dawson.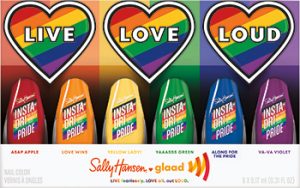 Sally Hansen – For the third year in a row, Sally Hansen is partnering with GLAAD and has launched two sets retailing for $25 each. The Pride Gift Set draws inspiration from the transgender, gender-fluid and non-binary flags, while the All-Gender set features six bold shades and will be exclusive to Ulta and ulta.com. Additionally, all Pride shades will now be offered in the ready-in-a-flash Sally Hansen Insta-Dri formula ($5.59). Sally Hansen has also made a monetary donation to GLAAD, and this year the brand will serve as Community Partner for GLAAD's Pride Unboxed program, its annual gifting opportunity.
Milk Makeup – This past March Milk began donating 1 percent of all milkmakeup.com sales to The Center in NYC, the brand's longstanding LGBTQIA+ partner. The 1 percent commitment will run 365 days a year. Through the partnership, the brand will connect with community members, support The Center's programming, and celebrate shared values with creative collaborations. This will include uplifting talent, establishing relationships, creating job opportunities within the company, and leading from the inside out.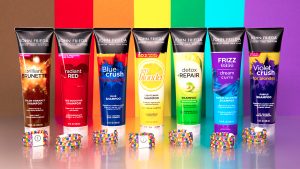 John Frieda Hair Care – John Frieda has aligned with GLSEN on a month-long, multi-faceted initiative to boost awareness, raise funds and help to make schools safe and inclusive for LGBTQIA+ youth. The "Tie Up Your Hair, Not Your Identity" campaign will be supported by a compressive social media campaign featuring members of the LGBTQ+ community, allies, and a student from GLSEN, who will share their diverse stories across the brand's platforms throughout the month. Among the notable participants is Leyna Bloom, the first transgendered woman of color to shoot for the iconic Sports Illustrated Swim Edition. The campaign will also feature rainbow-emblazoned "Tie Up Your Hair, Not Your Identity" signage and content at Target and Amazon, which will also be seen on hair teleties available as a gift with purchase.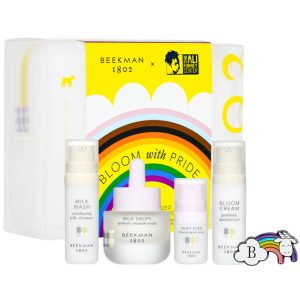 Beekman 1802 – Beekman 1802, is celebrating Pride this year with two limited-edition items. It's Bloom with Pride Skincare Kit ($59) features the brand's most popular goat milk skin care products, and 100 percent of profits will be donated to the Ali Forney Center to support homeless LGBTQ+ youth. The brand has also released a set of Rainbow Votive Candles ($40 for six pieces / $90 for 11 pieces). Additionally, on June 26 and 27, Beekman 1802 is hosting a Wedding Marathon on its farm in Upstate New York with the goal of accomplishing 100 weddings in 24 hours. The wedding initiative is a celebration of the anniversary of the Supreme Court's decision on marriage equality (Obergefell v. Hodges, June 26, 2015), as well as the wedding anniversary of the brand's male founders.
Eylure London – Eylure London has partnered with Triangle Community Center in support of their mission to empower, nurture and care for the LGBTQ+ community via group meetings, events and hotlines.  In addition to supporting Triangle Community Center with a monetary donation, Eylure London is driving home the Pride message in-store with celebratory, limited-edition rainbow packaging for their Line & Lash Kits ($17). Each kit features the brand's innovative eyeliner-meets-adhesive pen and a set of the best-selling Wispy 117 lash style.

Beachwaver – This month, Beachwaver will donate sales from its B1 Love collection to the It Gets Better Project. The collection features the classic Beachwaver in a limited-edition Pride-inspired colorway ($79.20), as well as accessories including a pouch, scarf, scrunchie and hoodie which can be purchased individually or as part of the full collection ($149).  Beachwaver has also partnered with Ranvier Villamil, a Filipino activist, philanthropist and Beachwaver ambassador on special content around the collection. Several influencers have also been tapped to participate in the campaign.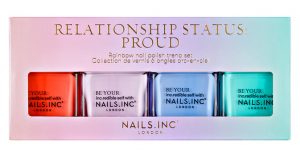 Nails.INC – In celebration of Pride Month, proceeds from Nails.INC's new nail polish quad, Relationship Status: Proud ($25), will be donated to The Stonewall Foundation. Shades include Shaftesbury Avenue (bright neon coral), Grosvenor Place (soft lilac), New Bond Street (cool cornflower blue), Buckingham Palace Road (fresh aqua). The quad is available at NailsInc.com and Sephora.com.
Everyone – For the month of June, Everyone is partnering with The Trevor Project to support their life-saving work and offer a limited edition "Share The Love" Pride Ruby Grapefruit Hand Sanitizer ($7), created by Everyone's internal LGBTQ+ group (The Sparkle Squad) and available exclusively on the Everyone website.

Exuviance – This year, Exuviance has joined the Johnson & Johnson Care with Pride program, which has raised over $1 Million for LGBTQIA nonprofit partners over the last 10 years.  For every limited-edition Exuviance Care with Pride Performance Peel AP ($14) product purchased, the brand will donate $1 to Family Equality, a nonprofit organization that advances legal and lived equality for LGBTQ families, and those who wish to form them.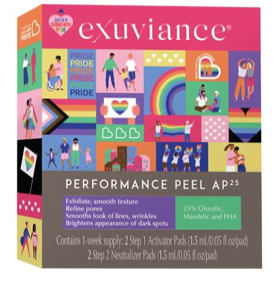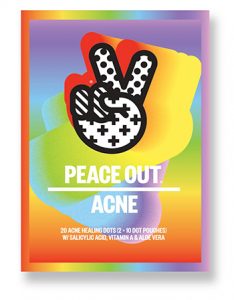 Peace Out Skincare – Peace Out Skincare is celebrating 30 days of Pride. The brand has an ongoing partnership with The Trevor Project and the SF LGBT Center. This month, limited-edition PRIDE Acne Dots ($19) in a rainbow sleeve are available for sale, and the brand will be partnering with LGBTQIA+ influencers for content on social channels. Additionally, from June 1 to June 14, 10 percent of all PeaceOutSkincare.com sales will be donated to the Trevor Project. For the first time, Peace Out Skincare will sponsor a trans exclusive model search, from June 11 to June 18, with SLAY Model Search, featuring 30 aspiring transgender models to be aired on Oxygen Network. As part of the program, Peace Out will host a dedicated photoshoot featuring each model with the brand's products, which will be leveraged and shared throughout the year to celebrate the campaign. Furthermore, from June 15 to June 30, Peace Out will release Pride Box, a limited-edition, co-branded box gift and rainbow tote bag in collaboration with other LGBTQ-founded brands. A donation of 20 percent of proceeds will go directly to the SF + Oakland LGBTQ Centers, and the brand will participate in a Clubhouse discussion on what it means to be a LGBTQ-founded brand.
Dr Botanicals – The London based, indie vegan beauty brand, will donate a percentage of sales from their Limited-Edition Pride Lemon Superfood All-in-One Rescue Butter ($20) to two organizations that help the LGBTQ+ community: AHF.org, the largest global provider of HIV/AIDS medical care and TrueColorsUnited.org, an organization dedicated to solutions to LGBTQ+ youth homelessness.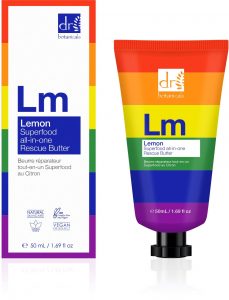 Kush Queen – Celebrating the shared history of cannabis progress, and the LGBTQIA+ communities, Kush Queen has released their limited edition 2021 Pride Collection, which includes a bath bomb, THC +CBD gummies and lube. A portion of proceeds will be donated to AsylumConnect, the world's first tech resource platform for those fleeing persecution due to sexual orientation or gender identity.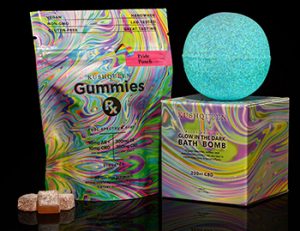 BH Cosmetics – On June 9, the brand will launch its Give Back Trevor Project 12 Color Shadow Palette ($19). A donation of $10 from every purchase of the palette will be donated to The Trevor Project.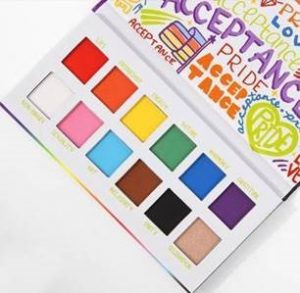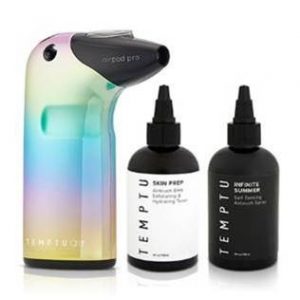 Temptu – Temptu will honor the creative and diverse members of the LGBTQ+ community with a limited edition Temptu Air in Metallic Rainbow, developed in partnership with The Trevor Project. A donation of $10 of every purchase will be donated to The Trevor Project, with a minimum donation of $10,000. The kit is sold individually ($195) or as a set with the brand's Self-Tan Starter Kit ($219).
Bathorium – Canada's best-selling premium bath care brand, Bathorium, will celebrate Pride by donating a portion of proceeds from all sales throughout the month of June to Born this Way Foundation, with a goal of $50,000. Throughout the year, the brand's founder, Greg Macdonald, opens his email inbox to anyone in the LGBTQ+ community who may be struggling and need someone to talk to – they can email him directly and he will provide personal support on LGBTQ+ issues, business mentorship tools, and more.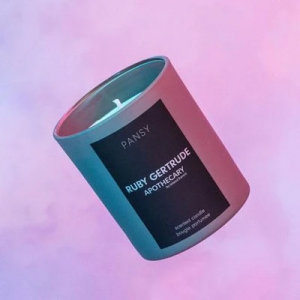 Leland Feancis – Leland Feancis is taking ownership of the word 'pansy,' one of the many names gay and queer people are called, and is using it to give back. On June 1, the brand launched its Pansy candle ($48), available on Thirteen Lune and lelandfrancis.com, and will donate net profits to GLSEN. The 100 percent soy wax candle features bright fruity top notes blended with an herbal heart of rosemary and clary sage, and accented with an underlying warmth of patchouli and vetiver.
Yelp – Yelp has introduced a LGBTQ-owned business attribute that will allow business owners to self-identify as LGBTQ-owned, with the goal of making it easy for consumers to support businesses in the LGBTQ community, and find safe and welcoming places to enjoy Pride celebrations all month long. People will be able to easily search for LGBTQ-owned beauty businesses and more, as well as businesses in those categories who have marked themselves as "Open to All" (non-discriminatory).
Eye of Love – Pheromone infused-fragrance brand Eye of Love will donate a percentage of all LGBTQ+ product sales for the month of June to the Trevor Project, a nonprofit organization focused on suicide prevention efforts among lesbian, gay, bisexual, transgender, queer, and questioning youth. Items include: Eye of Love Arouse Pheromone Spray ($24), Eye of Love Suave Pheromone Spray ($24), and Eye of Love Dare Pheromone Cologne ($39).
Allies of Skin & PSA – For the month of June the two sister brands will be donating 10% of proceeds from affiliate sales to Trans Lifeline, an organization run by and for trans people with a goal to provide trans peer support and care for the community.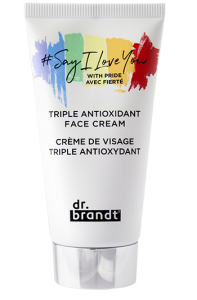 Dr. Brandt – Dr. Brandt has released its new Triple Antioxidant Face Cream ($64) as part of a partnership with Miami Beach Pride. A portion of proceeds from each sale will go towards a scholarship fund for LGBTQ+ youth in Dr. Brandt's hometown of Miami, as part of Miami Beach Pride's 2021 FACES OF PRIDE campaign.
IPSY – For Pride month, the subscription box service, which is a subsidiary brand of BFA, is launching its Loud & Proud Campaign, with the goal of empowering LGBTQ+ stories and amplifying the influence of the community. The initiative includes This is Me, which will feature a Get Ready With Me video series to showcase how powerful beauty can be in transforming individuals into their true selves. There is also Drag Schooled: Trivia, Tips, Techniques, which pays homage to  the drag community's contribution to beauty with  trivia and three video tutorials throughout the month. Finally, Do You,  is a social activation that invites the LGBTQ+ community and their allies to join the party through playing with color and celebrating the looks that let them express themselves.
Boxycharm – BoxyCharm, also a BFA brand, has launched a new campaign series: Boxy's Beauty Mark – the brand's commitment to making a positive mark on the beauty industry through celebrating the unique beauty of the BoxyCharm community. Boxy's Beauty Mark continues in June to celebrate Pride by hosting activations throughout the month that spotlight LGBTQAI+ brand partners and creators that make up the Charmer community.  Throughout the month, BoxyCharm will highlight products from a curated list of LGBTQIA+ beauty brand partners. The campaign's main goal will be to showcase the brand's stance as an ally of the LGBTQAI+ community, the unique but similar differences of the Charmer community at large, and Pride, for not only the LGBTQ+ community, but the entire Charmer community.