If anyone were to investigate the amount of research done by the founders of the new clean skin care brand for men, SELF/ish, they need only peek into their bathrooms.
"If you saw our medicine cabinets where we keep all our skin products, your jaw would drop," said Jason Cooper, one of the quartet of male founders of the Los Angeles-based brand, who said his mother introduced him to prestige skin care products at a young age. "We realized there wasn't a brand out there that was clean and targeted to men, that was simple, accessible and effective across a wide range of men's skin types, so you don't need a cabinet full of products."
After two years in development, SELF/ish bowed on June 15 on its e-commerce site, selfishskin.com and Amazon, launching with five SKUS and introducing two more later in the month. Joining Jason in the venture are his co-founders, Andrew Knox, Matt Young and Rob Sebastian, all of whom are veterans of the beauty, digital marketing and branding arenas.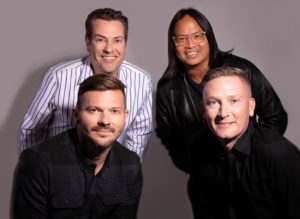 One of the group's top priorities was to ensure the cleanliness of its ingredients.
"There are 55 ingredients on our no-no list," said Andrew, whose previous roles included VP sales and marketing at Too Faced Cosmetics, President and COO of Pixi Beauty and Co-President of OUAI Haircare. "We wanted to come up with formulations that are effective without all the synthetics." Among the banned ingredients are unpronounceable things such as hydroxypropyl methacrylate and butoxyethenol, as well as all parabens, sulfates and formaldehydes.
"We wanted a formulation that would provide moisture and hydration, that wouldn't burn the eyes but could penetrate a man's skin, including stubble or beard. And if it didn't need a fragrance, we didn't put one in," said Andrew. "The formulations are predicated on complex active acids and vitamins, and the products come in streamlined grey packaging capped with blue.
Launching first are a cleanser, scrub, shave cream, oil-free moisturizer and eye cream, priced from $15 to $22. This will be followed on June 29 with hand sanitizer, $12, and exfoliating pads, $25. Andrew said that SELF/ish will expand to include body care and supplements. But foremost, said Andrew, was education and engagement.
"There are still a lot of men who don't know where to put a product or how to use it," he said. "We want to make sure that ours is a platform where people can ask questions and have the answers there for them, where they don't feel embarrassed about not knowing and where they can get all the product information they need."
Jason and Andrew said the combined decades' worth of experience among the four founders will prove invaluable in their new venture.
"I've been in the beauty business for 30 years in a variety of roles, it's been a passion of mine and I've worked for so many companies that people would say, 'Why don't you have your own line?'" said Andrew. Jason and Matt are co-founders of ReEvolve, a boutique digital marketing agency, and Rob is a media and tech marketing strategist specializing in consumer engagement and e-commerce who has worked with Sephora and L'Oréal.
To commemorate the launch, SELF/ish is collaborating with Movember, the non-profit organization dedicated to men's physical and mental health; $5 from each cleanser and scrub sold on selfishskin.com will be donated to Movember, for a minimum donation of $40,000.
Andrew said that it is not lost on the founders that the launch of the brand is coming at a tumultuous time.
"We are sensitive to everything that is happening in the world right now," he said. "That's one of the reasons we wanted to partner with Movember, to find a way to give back to the community. But people are still needing and buying skin care. They still need to take care of themselves."