Spring is coming, and as the world gently begins to take its long-awaited deep breath, aspiration and happiness is in the air. There is a promise of all that time lost, and in this very unique atmosphere, cutting-edge, bold pieces of beauty video are emerging. Some are marked by the limitations of the past year on traditional production, while others have found ways of creating something truly stimulating in a scope that may be physically smaller, and yet emotively more grand. 
Ulta Beauty: The Muse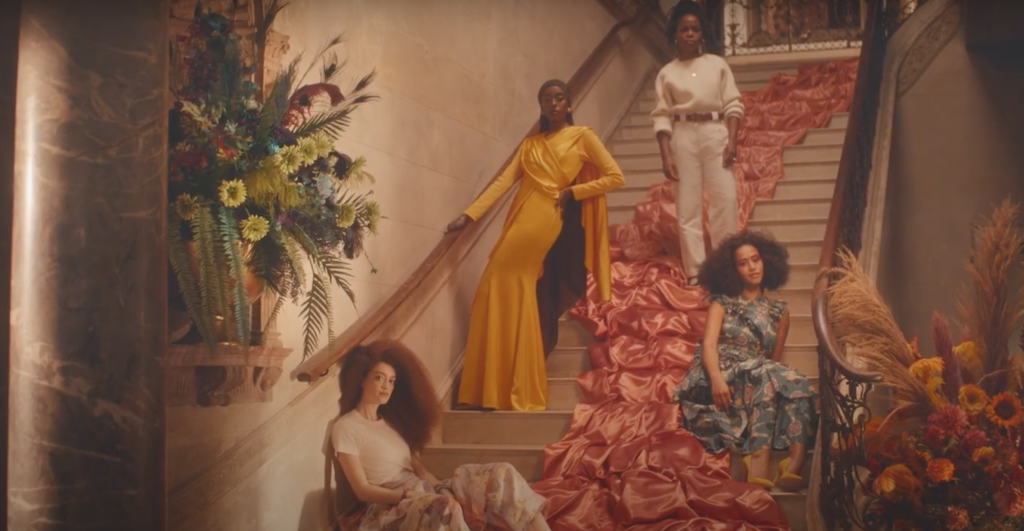 Of Ghanaian-American heritage, Ulta Beauty couldn't have partnered with a better director than Joshua Kissi for their ode and commitment to Black voices in beauty. The stunning narration of poet Jasmine Mans sets the literal tone throughout; it is evocative, strong, fierce, heartfelt. With clever alliterations and rhymes, the audio for this very special piece of creative speaks for itself, and serves the visuals harmoniously and eloquently. In the space of just a single minute, the listener can't help but be captivated – and that goes for the viewer, too.
Everything about these visuals is deep. Depth of tone; depth of meaning. From the gold that features throughout, to the endless volume of magnificent black hair, the imagery is vast. It holds the screen entirely, and allows for a pace that is as steady as it is disruptive – much like the beauty brand founders who have made the video possible. This isn't complicated at all, and yet it is so substantial, that by that final Ulta Beauty statement you are both uplifted and inspired.
Gucci: Fluide + Serum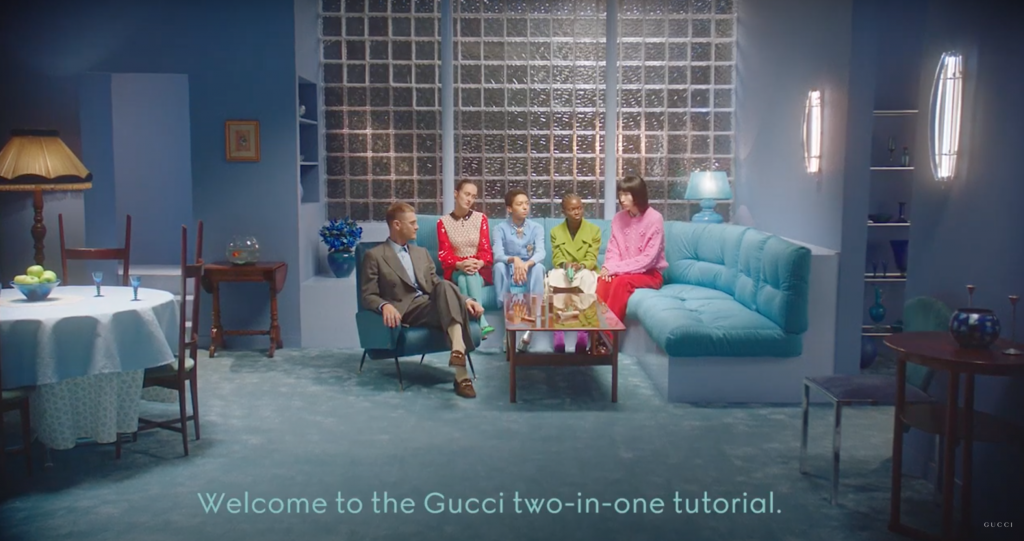 Tutorials grew immensely popular during 2020. Parallel to the staggering growth in skin care and a global focus and discourse surrounding mental health and self-care, beauty brands everywhere took to the educational stage. In their Fluide + Serum video, Gucci has taken an innovative and original approach to the video style that would shape an entire year – and made it inherently their own.
While the viewer is taught how to use Gucci's products, the informational component is also where the likeness to the traditional tutorial ends. This feels like a blast from the past; like you've stepped right into a late-'90's-early-2000's MTV production. Artist and director Max Siedentopf playfully gives way to pastel, a light-hearted and whimsical soundtrack, and a semi-distorted narrator's voice. It doesn't in any way draw from the purpose of the education, though visible are the products used on a variety of skin shades. This video is simply a successful exploration of how much stepping out of the box will do for brand and audience alike.
Burt's Bees: Truly Glowing Skin Care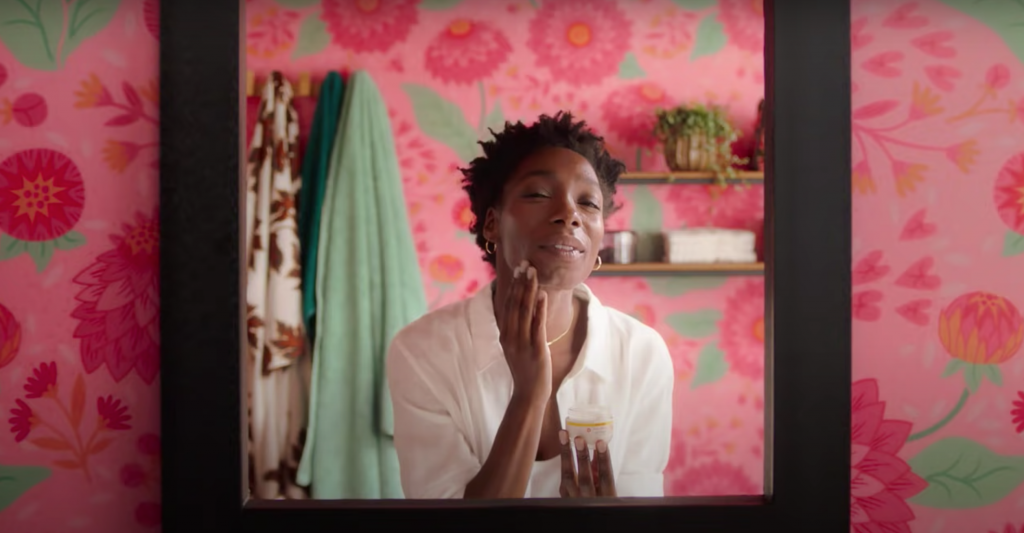 Tapping into both the growing market for skin care, as well as the worldwide focus on self-care, Burt's Bees is launching an entire line of natural products with an appeal that is as elegant as it is simplistic: Love Your Skin. This is a fresh, spring-is-right-around-the-corner piece of video that evokes the kind of warmth isolated communities across the globe are longing for. It features skins of different shades, all naturelle and all simply glowing. The pace is tempoed and the music upbeat, which creates an authentic and optimistic atmosphere.
And yet the piece manages to steer clear of the kind of aspiration many consumers have grown tired of – thus keeping to Burt's Bees branding and core values. This is simply four women, enjoying the sun, the feeling new beginnings bring, the energy of outside, and the feeling of well-kept, cared for, and happy skin.
La Mer: Sea Soft Renewal
La Mer's video for their new moisturizer is a particularly interesting campaign because it's entirely post-produced. Brands have had to come up with new production solutions throughout the pandemic, and using the editing process as more of a key production process has become a norm for many of them. In this video, only a few pieces of imagery feature footage of people – and even these aren't produced in the traditional sense. This is an elegant creative that showcases what skilled post-production can do.
The visuals are macro shots – close-ups of the things that make La Mer La Mer; the water, the seaweed, and near-magical water that swirls into the animated cream. Interestingly, this doesn't draw from the effectiveness of the video. It simply creates a different kind of atmosphere, one in which the audience is taken on a different kind of journey, to the depths of the Sea Soft Renewal's components. For a brand like La Mer, this works well, and evokes the same kinds of feelings close-ups of nature do.
To read more about post-production and video creative, visit MOSS.