Supergoop has repackaged and reformulated its 28-item lineup in order to ease to product discovery and to better address today's current sustainability concerns.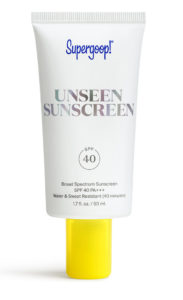 While the changes have been in the works for the past 18 months, the brand's Manhattan summer pop-up helped provide valuable consumer feedback, leading to many of the changes that will be seen in the first quarter of 2020. Consumers will first notice the updates beginning December 27.
"We did quite a few health panels and Q&A's at the pop-up, which led back to us learning that we could be clearer in helping the consumer figure out the right SPF wardrobe. But overall I felt like there was an opportunity to tie all of the product together so that the overall look of our brand became a little more unified and made the line easier to navigate. We have 28 items with varying different SPFs," said Holly Thaggard, Supergoop's Founder and CEO.
For example, Supergoop's water-resistant formulas have been rebranded Play, "because that's what they're meant for, a full day of fun outside, and being very active." For its daily SPF products, the brand created a Every Single Day logo lockup for the top of containers to reinforce to consumers they're meant for every day use.
The brand also went through formula changes, like becoming 100 percent reef safe, which means they're octinoxate free. The new packaging now communicates this across all sku's.
Product names are also changing, so Sun Defying Sun Screen Oil is becoming Glow Oil.
"The new name very clearly describes the benefit of the oil, which is to make you glow. It's also easier to remember and it ties back to one of our consumer favorites, Glow Stick, and how one is for on-the-go and one is meant for home," said Holly.
Another change is an updated logo.
"We gave it a bit of a makeover and this really goes back to my passion for handwriting," said Holly. "I've always loved handwriting and that was seen in our original logo, which we created in 2007. The new version will be introduced in Q1 and it's still very similar but it's a little more polished. We are also leaning into creating some fabulous 100 percent mineral formulas."
Holly said that the brand continues to see triple-digit growth in Sephora, where it's the number-one selling skin care brand with SPF, and fastest growing skin care brand. And, as a result of regulatory efforts, Supergoop is launching in Canada, too.