At the risk of losing her ever-growing clientele as a hairdresser at the esteemed Julien Farel hair salon in Manhattan, Shab Caspara's decision to take a hiatus to study trichology was not made lightly. Hairstyling was in her blood, after all, growing up watching her mother run her own hair salon and hair school in Toronto, Canada. It's where an interest in hair styling was sparked, and her curiosity about hair, and its health, was molded. Years as a hair stylist—washing, cutting, styling, and listening to clients' concerns about everything from hair thinning to scalp health—deepened her passion to become an expert who could provide answers for the growing demographic of consumers taking hair health into their own hands.
"I really thought I was where I was meant to be; the best position as a hairdresser in one of the best cities, thriving and building a really great clientele," she says. "The only issue was that I was looked at as this expert that people have to rely on and my clients were coming to me with all these different kinds of hair journeys that they were going through. They were losing hair all of a sudden, they're shedding it, [their hair] is acting out, and their scalps are all imbalanced. As the upper echelon of hairdressers, I was not equipped with what was required to help them with any of these issues."
In 2019 the Iranian-born trichologist (and current mom-to-be) received her trichology certification at the United States Trichology Institute. Trichology helped Shab go from teaching clients to mask their scalp and hair loss issues with styling products, hair extensions, and haircuts—which she describes as a form of art—to actually educating clients on how to treat and care for the scalp's microbiome.
Shab began to practice her newly gained knowledge with one-on-one, in-person, and virtual consultations. And from there, she homed in on growing her resume. In 2020, she was tapped as the official hair health advisor for Hair Club just as the brand was pivoting from HairClub for Men to HairClub, which targeted everyone. Then came consulting stints at the Inkey List, Augustinus Bader, and Tangle Teezer for their hair care and brush launches, respectively.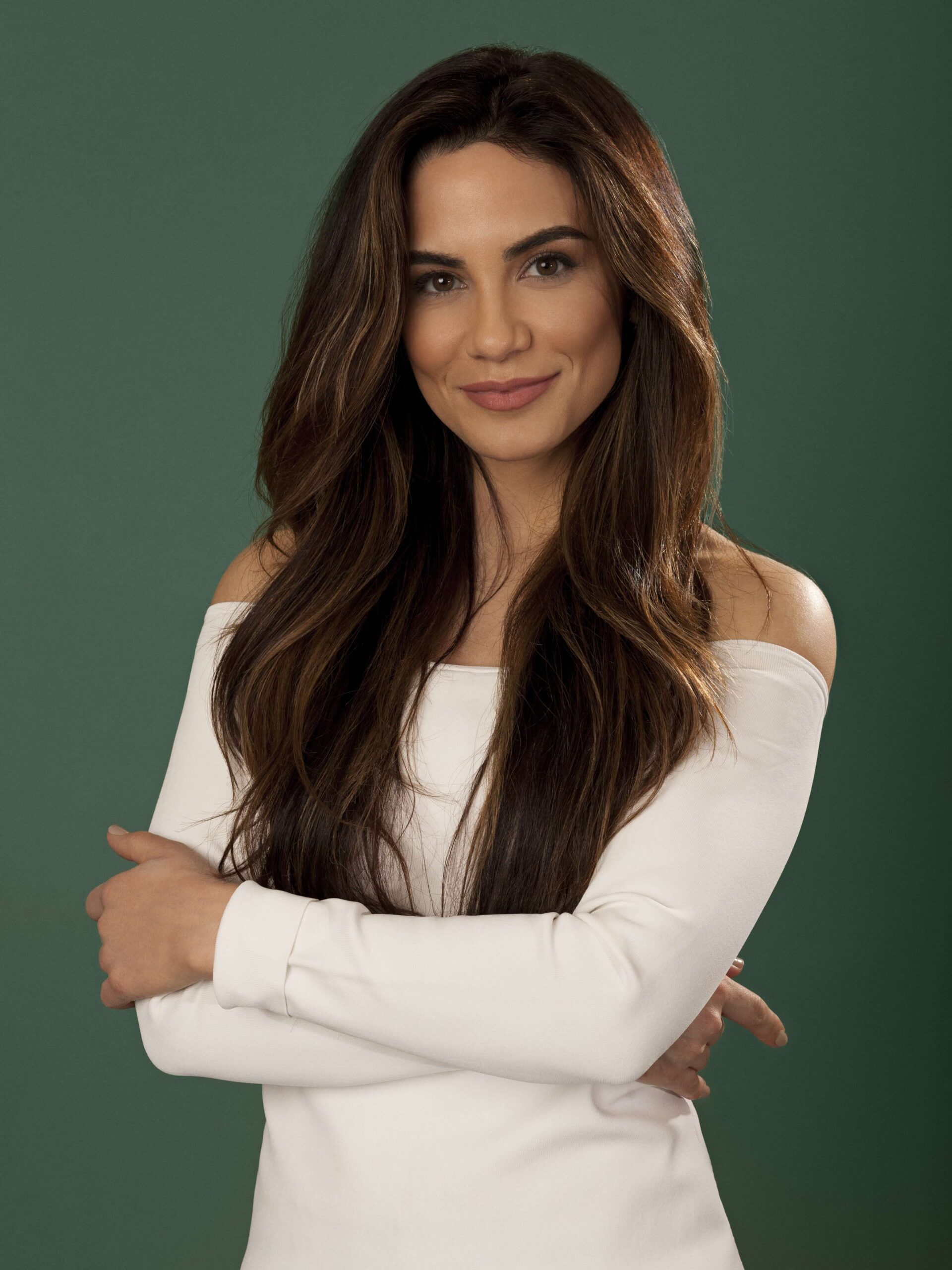 "Nobody was doing it [practicing trichology] then, it is so much more popular today than it was then," she mentions. The latter reached an audio medium through Shab's self-made podcast, the Hair Like Hers Podcast, which debuted in 2019. "We go places where no one else goes in hair." Streaming on Spotify, Apple Podcasts, Google Podcasts, Youtube, and Stitcher, the educational podcast touches upon women's hair health, medical and non-medical hair services, and the research and techniques out there today with expert guests who join Shab in conversation. The Hair Like Hers podcast features over 100 episodes today, with the very first expert brought onto the platform standing as Australian-based hair loss research doctor Dr. Sinclair.
This summer Shab brought her scalp and hair health knowledge to the masses with the launch of Leona, a site featuring 40 clean indie, innovative, and emerging beauty brands designed to address hair and scalp health—all of which were curated by Shab. Its proprietary AI algorithm, which took two years to develop, organizes the hand-selected hair, scalp, and growth products Shab evaluated with cosmetic chemist Valerie George according to scalp type, shampoo frequencies, hair goals, and needs. The algorithm breaks consumers down into different "buckets," based on the questions asked of the consumer at first entry into the E-tailer haircare destination. "Everything is really connected," she says. Shab worked with coders to take her knowledge and turn it into a quiz, leading consumers to discover the qualities of each product chosen to target their concerns through a directive routine.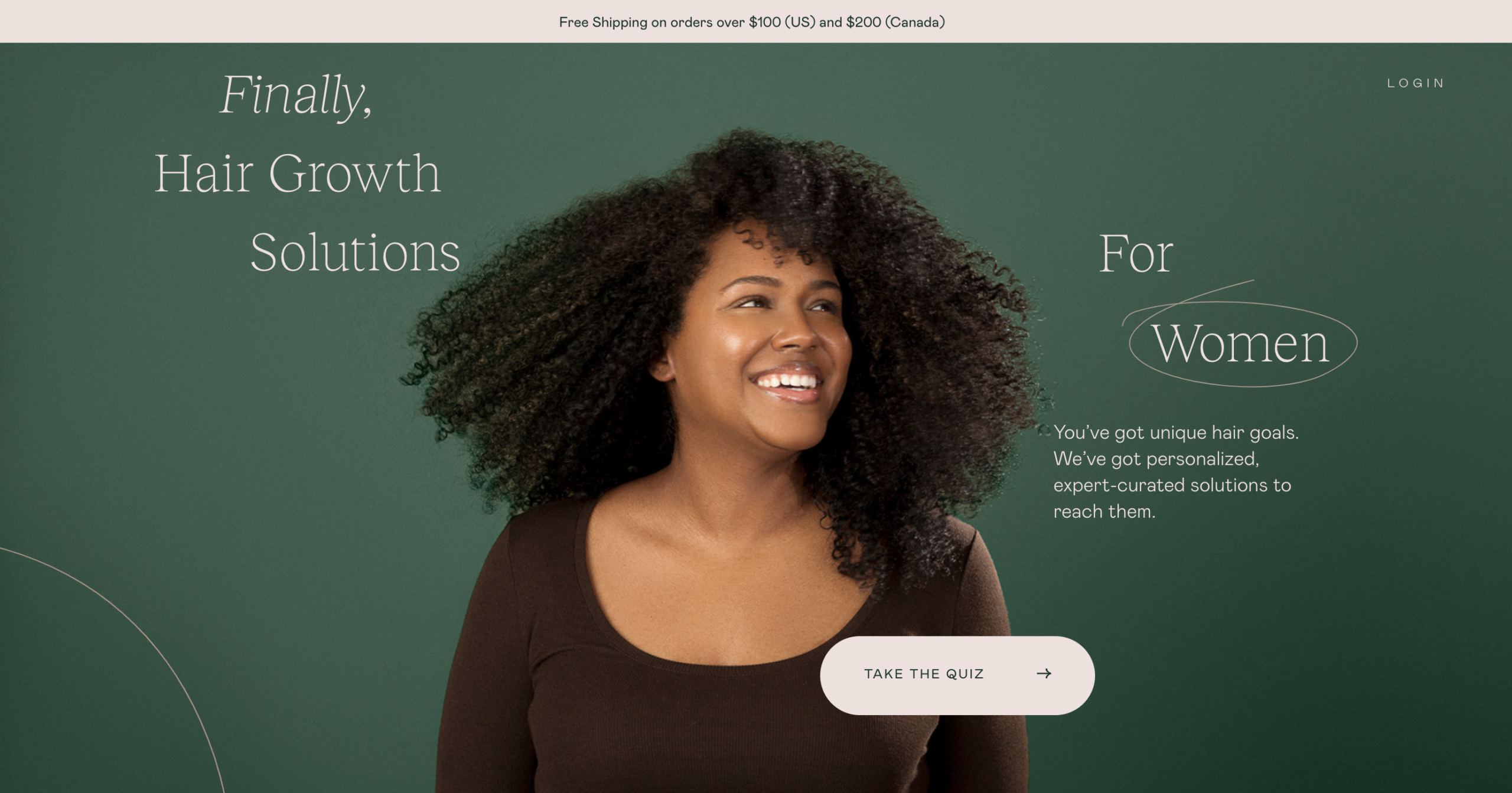 To do that, the user experience on Leona begins with a two-minute quiz that assesses one's hair profile by asking their age, how often they wash their hair, hair density, and hair type. "It's taken my brain and put it into an algorithm," she says about creating a site whose mission is to provide guidance and routines that outline how and why each product is picked to be a part of one's hair care regimen.
Across its clean brand line-up, Leona features brands like Evolvh, Hush & Hush, Abhati Suisse, Odjibik Hair Repair, Rare El'ements, and Rahua Beauty. It spotlights haircare products and even supplements, along with an added inclusion of topicals, laser devices, scalp derma rollers, and hair accessories that all meet specific standards. The mission-driven, high quality and research-backed brands on Leona.co have all been vetted by Caspara starting with firsthand conversations with brand founders. "I fell in love with every single founder. I wanted to be championing them, a lot of them are indie brands that aren't known widely, but they're doing exceptional work." From products that help balance the scalp, to daily haircare products one would use in the shower and hair preventative care products such as topicals, Leona looks at a formula's effectiveness and the impact it has on one's health and environment.
Naturally, Shab has (yet again) discovered white space while scanning all the hair care brands on the market, fueling her next chapter already in development: her own line that addresses products for hair health and growth.
Next on her list is to bring Leona to life by producing a hair health event in New York City that delivers Leona's educational foundation, her podcast's essence, and wellness, medical, and hair care expert advice in one spot. "Hair guidance and education is where it all begins and there is no single unbiased source that consumers can rely on. I want Leona and hair health events to be a trusted resource women have never had," she says.