Global sunless tanning brand Vita Liberata, which began as a skin care offering in Ireland almost two decades ago, unveiled new packaging in mid-May that looks to bring a unified and cohesive look to the products that didn't exist before.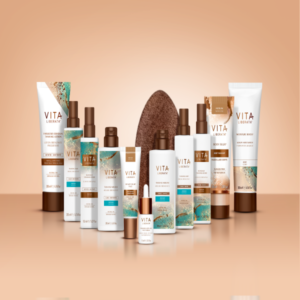 "A lot of the products didn't look like they hung together," said Lorraine Collier, Vita Liberata's Global Marketing Director. "We were looking at ways to effectively tell the story through a consistent brand identity."
The relaunch of the sunless tanning coincides with a few other fundamental changes for the company, which was started by Alyson Hogg from her home in the Northern Ireland village of Parkgate in 2003, and from where she grew it to a $50 million a year brand. In late 2017, Vita Liberata was acquired by Crown Laboratories, based in Johnson City, Tennessee. Crown also owns Strivectin and Keri. Alyson sits on its board of directors.
Alongside the repackaging, the brand has also winnowed its offering from 35 skus to 24, and will be launching U.S. and U.K. direct-to-consumer websites in September. Currently Vita Liberata is primarily sold through Amazon in the U.S. and in the U.K. and will be launching on the platform in Canada. Prices range from $20 to $44.
"We rationalized the range and simplified the wording, so it's clear if something is a mousse or a mist, if it's tinted or clear. We kept just our core products and decided that unless they met certain criteria, we would not continue with them," said Lorraine.
She added that many of the changes were instigated by the near-halt of the business during COVID, "when nobody traveled and the traditional occasions for sunless tanning were effectively wiped out.
"We started looking at how we could build back the category, and the brand," she said.
The new packaging is inspired by the aquamarine colors of the sea and coppery sand. "We wanted something to convey that but didn't want to go overboard on the beach inspiration," she said. "The reality is that there is a role for this brand all year round."
Formulations also had to be slightly tweaked. In 2021, the European Commission determined that DHA (Dihydroxyacetone) which is found in self-tanning products, needs to be limited to 10 percent concentration.
"Because these are global SKUS, we brought down the DHA levels to make sure we were compliant selling globally," said Lorraine. The products are known for being centered around clean ingredients, which include marula oil, aloe vera, shea butter, and raspberries.
Two new products are also being launched. There's a tinted version of the Clear Tanning Mist that launched in 2020, and an untinted Heavenly Tanning Elixir, which came out last year,  and is the first tanning product with encapsulation technology, allowing the tan to continue to develop over a few days.  The company has also introduced a dual-sided velvet mitt, slightly enlarging the size from the original, allowing for a more even, streak-free tan.
Lorraine added that Vita Liberata is now primed to capture a consumer market with very different priorities than years ago.
"This is about that natural look," she said.  "From the beginning, Alyson wanted to work against the barriers to entry in the category, where the look should be not orange, not streaky, and not smelling of (cookies)," she said. "It's also no longer about darkening the skin, but more about hydrating the body, hiding imperfections, and a general finish," she said. "We wanted to address that need of making our customers confident with that healthy glow year-round that they expect in the summer."