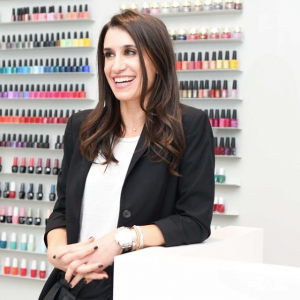 New York City-based nail studio, Glosslab, is thriving thanks to its unique waterless services and newfound financial support. Following its December 2020 raise of more than $4 million, the company announced it will open a Tribeca outpost on April 22, with plans to expand with at least four more brick-and-mortar locations throughout New York City this year. The company is also on track to launch a full line of products, which will include nail polish, hand and foot care.
Founded by Rachel Apfel Glass, a former hedge fund manager, Glosslab opened its first location in the Flatiron District in 2018, followed by another space in the West Village. Industry sources said that Glosslab exceeds more than $1 million in revenue per store.
Both locations temporarily closed during the height of the pandemic but reopened at reduced capacity in July 2020 with added precautions to keep employees and clients safe, such as required PPE, health checks, temperature checks, plexi dividers, masks and a ventilation system. Rachel is quick to point out, however, that strict hygiene measures were in place before COVID-19 guidelines were developed.
"I am a lifelong germaphobe, so hygiene was at the forefront for me in founding the business," said Rachel. "Since launch, we have always provided fully waterless services, used hospital-grade sterilization, kept our locations ultra-clean and have been completely cashless."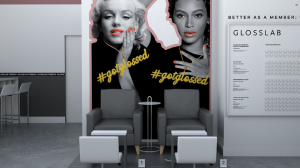 Individual manicures and pedicures begin at $25 and $45 each, respectively. Customers can also sign up for a $125 a month membership to receive unlimited manicures and pedicures as well as perks including a text line to book appointments, early access to new locations and product discounts. Currently, over 1,000 individuals are enrolled in the membership program.
In addition to in-person offerings, in spring 2020 Glosslab launched three kits for at-home DIY usage — nail tool, gel eraser and manicure rescue — ranging in price from $25-$35.
"By far our best seller is our gel eraser – it has a cult following," said Rachel. "We use it at our locations, and it is truly amazing. It applies like a clear coat of nail polish, and your gel polish bubbles off in five to 10 minutes without scraping, acetone or tin foil. We have sold out of it three times."
Glosslab is backed by Andy Stenzler, Co-founder of Rumble Boxing; Sean Rad, Cofounder of Tinder; Elliot Tebele, Co-founder of F-ckJerry; Ben Kaplan, F-ckJerry partner and creator of What do you Meme?, and serial startup investor M.J. Bas (Revolut, Elysium Health, Mural).