Groceryshop arrived on the grocery and CPG conference scene last year with an unprecedented set of speakers, topics and buzz. Given that Groceryshop was created by the team behind Shoptalk⁠—an industry-wide retail event that grew to more than 8,400 attendees in just three years—it's not surprising that Groceryshop is poised to become the new go-to event for leaders and innovators across all of grocery and CPG.
The inaugural Groceryshop event was held last October and was attended by 2,200-plus representatives from all parts of the industry. This year more than 3,000 are expected to journey to The Venetian in Las Vegas between September 15 and September 18.
Don't let the name Groceryshop fool you⁠—the event's reach extends far beyond traditional grocers, spanning representatives from established and startup CPG brands, as well as retailers from mass marketers, drug stores, supermarkets, c-stores, dollar stores, warehouse clubs, ecommerce sites, grocery and wholesale clubs, among others.
These retailers and brands join tech companies, real estate operators, investors, media and analysts eager to attend to learn about disruptive new trends, technologies and business models that they must now embrace to win in a rapidly changing industry.
Speakers slated for this year's event include Carolyn Tastad, Group President North America, Procter & Gamble; John Furner, CEO, Sam's Club; Tom Ward, SVP Digital Operations, Walmart; Jordana Kier, Co-founder and Co-CEO, Lola; Chieh Huang, Co-founder and CEO, Boxed; Zak Normandin, Founder, Dirty Lemon and Iris Nova; and Amy Shecter, CEO, Glamsquad.
On the agenda are top-of-mind topics such as digital transformation; the future of stores; delivery and logistics; and the evolution of brands.
Questions & Answers with Zia Daniell Wigder, Co-Founder of Groceryshop and Chief Content Officer for Shoptalk, on why Groceryshop should be on your radar.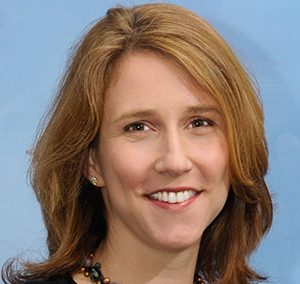 CEW: First, tell us the background on Shoptalk and why it hit such a chord with the industry?
Zia Daniell Wigder: We started Shoptalk with the thesis there was no single event that brought together all the different parts of the retail industry—from established brands to venture capital-backed startups, and from investors to industry analysts and research firms. A lot of events cater to a single group within the industry, but we knew it was critical to create a community that included all types of players. We had our work cut out for us to create something new and different. We've grown quickly: we had 3,000 people attend the first year of Shoptalk and more than 8,400 attend this year's show. We're not interested in exponential growth, instead we want to focus on creating a great experience.
Both Shoptalk and Groceryshop are true conferences rather than trade shows. We focus on building great content with engaging speakers and relevant information first and foremost, rather than on filling a large exhibit hall with lots of booths. We create engaging, immersive experiences across the entire event.
CEW: So, what's the genesis of Groceryshop? And is it just for those in the grocery business?
ZDW: At Shoptalk 2018 we held a track called Grocerytalk dedicated exclusively to grocery and CPG. The sessions were jam-packed; we came to realize there was huge interest in the topic, and not just from those who had grown up in the industry. There was widespread recognition that grocery was about to undergo the same industry-wide transformation we've seen in retail. We decided to launch Groceryshop but had to decide whether to pull together a large-scale event in just six months or wait until 2019 to have our usual lead time. We decided the industry was moving too quickly to wait another year, so we kicked off our inaugural event in the fall of 2018.
We use grocery as a very broad term that includes both food and non-food products.  Our event covers personal care, beauty, household products—it runs the gamut. And the event isn't just for grocery retailers, but also mass merchants, dollar stores, drug stores, ecommerce pureplays—really everyone. Our plan in year one was to  attract about 1,000 attendees, but we saw more than 2,000 people come to the show.  We'll probably have 3,000 to 4,000 attendees this year, with more than 300 companies exhibiting and sponsoring Groceryshop 2019.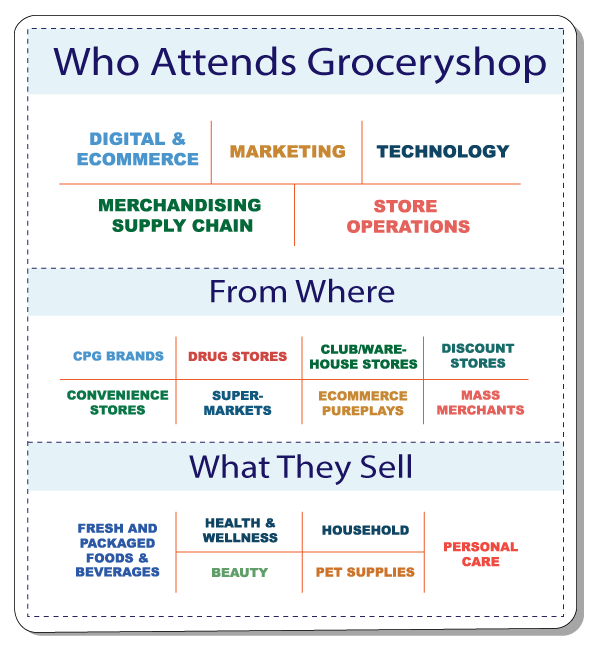 CEW:  What level executives attend? Who are the speakers?
ZDW:  The audience is very senior; we anticipate 300-plus CEOs to attend the event. Half of our attendees are VP level or above.
CEW: What are some other factors that distinguish your events?
ZDW:  We create highly-personalized experiences for attendees. Our technology enables us to match people interested in the same topics for Tabletalks, for example, and we pair thousands of brands and retailers with sponsors as part of our Hosted Program. In this program, brands and retailers receive a free ticket and $750 in travel reimbursement by agreeing to a series of 15-minute meetings with sponsors. Anyone who influences technology decisions at a brand or retailer can join. It's a win/win situation for sponsors, retailers and brands because they know they'll meet the right people. Ninety-three percent of participants last year said the meetings were worthwhile.
CEW: Will some companies attend both Shoptalk and Groceryshop?
ZDW: Yes. Some grocery and CPG executives will attend Shoptalk to see examples of innovation across all of retail. Many of these leaders also want an event that's built exclusively for them. That's Groceryshop.
For more information on Groceryshop, visit Groceryshop.com or contact [email protected].