Drinkable Forms Combined With Potent Formulas Unlock Collagen's Potential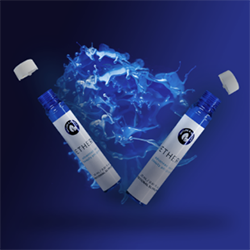 Fueled by support from leading dermatologists, the wellness movement and strong word-of-mouth approval, collagen gained momentum in 2020.
The protein is viewed as one of the keys to unlocking the potential of ingestible beauty in the U.S. The benefits of supplements for skin, hair and nails have long been understood by women across the globe, but acceptance in the U.S. has been a slow build.
That's changing, especially with availability of drinkable forms of collagen combined with synergistic ingredients that are clinically proven to produce real results.
In fact, there has been a 30 percent jump in sales of collagen products in the last year, according to The Nutrition Business Journal. Americans now clearly see that skin nutrition is just as important as a healthy diet.
Even as professional medspas and salons reopen after pandemic closings, supplements containing collagen are still of high interest among consumers because of the convenience and time savings. The sales surge is still only in its infancy and COVID-19 has accelerated the pace.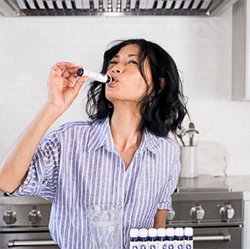 One of the most abundant proteins in the body, collagen comprises 80 percent of skin and works with elastin to keep skin looking healthy and youthful. Unfortunately, starting as early as age 25, bodies naturally start reducing collagen production, resulting in drier, duller and older appearing skin. That's driving the surge in interest in collagen supplements.
"It's much easier to talk about collagen in the U.S. now, but there are also many other ingredients that are needed for radiant, healthy skin, says Abili Falcó i Buixeda, the Chief Executive Officer of Biorganic Pharma, the Barcelona-based company behind a premium player in liquid collagen, called Aethern.
The other ingredients, he references, combined with the drinkable form, set Aethern apart collagen competitors.
Aethern: A Medspa in a Bottle
Not all collagen supplements are alike. There are myriad brands jumping into the burgeoning market with no expertise and unsupported claims.
Aethern was created six years ago borne out of the nutritional industry. With a parent known for nutritional supplements in liquid form, Aethern has the pedigree to take leadership in the booming market.
"We aren't just into collagen because it's trendy now," says Abili. "It's a proven solution for skin."
The bioavailability—the absorption of ingredients—is enhanced by liquid delivery of collagen versus capsules, tablets and topicals which merely sit on top of skin. A daily one-ounce shot of the drinkable anti-aging blend is all it takes to provide skin with hydration, radiance and firmness in 30 days, according to the company.
Aethern was introduced into the U.S. after two years of extensive clinical trials earning the approval from key opinion leaders, leading dermatologists and plastic surgeons. Professionals have been recommending Aethern to patients with noticeable results over the past four years, the company says. The loyal fanbase also includes a roster of celebrity devotees (Cate Blanchett has publicly stated her use).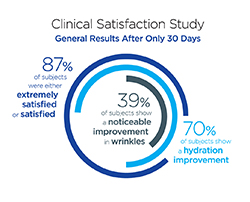 Two respected dermatologists—Dr. Zoe Draelos and Dr. Jeffrey Dover—put Aethern to the test. Both experts' studies show dramatic improvements in hydration, firmness and radiance.
Dr. Dover's study revealed:
Users saw results in only 30 days
87% were extremely satisfied or satisfied
70% noted hydration improvement
Almost 40% saw a noticeable improvement in wrinkles and 74% said they'd refer the product to a friend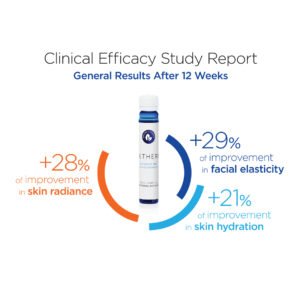 Dr. Draelos conducted a medically official, double-blind study that is unique in the industry and on par with standards normally associated with pharmaceutical tests.  Her study actually measured hydration, firmness and radiance, to show the following:
A 21% improvement in skin hydration
A 29% increase in skin elasticity
And a 28% boost in skin elasticity.
Users also noticed improvements in their hair and nails. Dr. Greg Buford, author of "Eat Drink Heal, the Art and Science of Surgical Nutrition," even calls Aethern "natural Botox," and perfect complement to other skin treatments. Aethern does not replace anything but enhances every other form of skin care. Consumers even indicate needing far less Botox injections since taking Aethern.  
Aethern is formulated to provide not only collagen, but a multitude of natural ingredients that add up to health and vibrant skin. There are 14 critical vitamins and trace minerals which work at a cellular level and play a crucial role in skin regeneration. The cocktail of super ingredients includes collagen peptides, hyaluronic acid, magnesium, carotenoids, polyphenols and antioxidants such as astaxanthin, which has been proven to be far more powerful than vitamins C and E.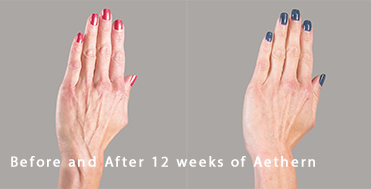 The "synergistic formula" is linked to treating other issues and several of the ingredients are associated with immunity —a feature top-of-mind in today's world. The same ingredients that promote healthy skin correspond to what it takes to improve overall health and a strong immune system. Additionally, Aethern's ingredients have also been proven to provide UV Protection.
Aethern is currently sold by some of the nation's leading dermatologists and plastic surgeons—and it is now available to everyone direct to consumer (Aethern.com). A four-week supply retails for $195; it costs $185 on a subscription plan, or $175/box  of an eight-month bundle. Prices include taxes and shipping.
Aethern is offering CEW readers an exclusive 15 percent discount. CLICK HERE to go the company's website and enter the code CEW15 in the checkout page to start your beauty routine from the inside out.
For any questions, influencer/ambassador/corporate partnership opportunities or to connect directly with the brand team, please feel free to contact Paul T. Vella at [email protected].