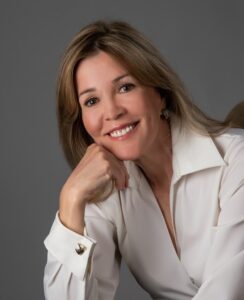 With a background that includes leadership roles at Murad and Perricone MD, Skinfix's new General manager, Jane Meredith, is poised to take the rising indie brand specializing in skin barrier health from strength to strength. Here, Jane talks about why the self-described nerdy skin care brand is ideally positioned in today's marketplace, resulting in triple-digit sales growth from 2019 to 2020.
Skinfix is a brand whose time is now, according to Jane Meredith, the brand's new General Manager who transitioned into the role at the start of the pandemic and oversaw triple-digit sales growth from 2019 to 2020, in addition to quadruple-digit sales growth for key hero SKUs.
"I've been in this industry 25 years and Skinfix is like a unicorn. It is a brand that no one would think would be possible, because it is clean, clinical, and endorsed by dermatologists. We want to heal skin. That's our ethos," said Jane, whose promotion from Senior Vice President of Sales for Skinfix and sister brand SweetSpot Labs was recently announced.
Indeed, the importance of skin barrier protection is at an all-time high thanks to COVID-19, with terms such as barrier repair and stress skin now part of the skin category lexicon. This phenomenon has Jane predicting that Skinfix will, at a minimum, double sales from last year.
Like a unicorn, Skinfix is steeped in history. Founder and CEO, Amy Risley, first encountered the brand, which dates back to the 1870s, in Nova Scotia, Canada, while consulting for the Canadian government. (Amy has a longstanding career in the beauty industry working for such companies as L'Oréal and Estée Lauder). At the time, the brand merely consisted of a single product, Targeted Body Balm. Amy fell in love with the idea of healing skin.
"All the products that we develop are based on that original Targeted Body Balm. Our heritage is British pharmacopoeia, which is based on science, and our mantra is first to do no harm. We develop products that are one step before prescription, addressing serious skin concerns. Our proposition is one of trust, efficacy, affordability," said Jane.
Today, the clean, clinically active brand vigorously stands behind its promise to promote optimal skin barrier health with clinical proof that its portfolio of products work.
"In this age of self-care, there is a desire for truth, clarity and transparency. We're not a sexy brand. We're a nerdy brand. Now, people want clinical advocacy more than ever. When we first entered the marketplace, an industry leader told us that we should rename our barrier collection because nobody understood what the skin barrier is. We chose to stay true to our DNA," she said.
The brand's Barrier+ collection includes the award-winning Barrier+ Triple Lipid-Peptide Cream that Gen Z skin care influencer, Hyram Yarbro, selected as one of his top 20 products of 2020. The 95 percent naturally-derived cream is made with a high concentration of actives, including three percent triple lipid complex, three percent peptide protein blend, three percent seaweed hyaluronate blend, and three percent lily root extract.
"We have a moral imperative that our products actually work, which is something that Amy says all the time," said Jane.
She cited a 28-day clinical study using a four-step regimen from the Barrier+ collection that increased the quantity of lipids in the skin barrier by 23.6 percent, or nearly a one percent increase in skin lipids each day. (Skinfix describes lipids, including ceramides and fatty acids, as the mortar that holds the skin barrier bricks together. The greater the variety of lipids, the better the barrier will function to defend against issues such as serious dryness and inflammation).
Jane said she is excited by the increased attention on skin barrier health and that skin care is no longer viewed as a vanity commodity that is focused on fine lines and wrinkles. "Skin care is healthcare and today clinical efficacy is essential. No brand addresses this more profoundly than Skinfix."
Occasionally the brand uses actives at an even higher concentration than the clinically active level in order to help heal the skin as quickly as possible. Skinfix's bestselling Eczema+ Targeted Body Balm uses clean active ingredients at supercharged levels to help restore healthy skin to those suffering from eczema, dermatitis and extremely dry skin. Actives include two percent colloidal oatmeal, seven percent sweet almond oil and 15 percent zinc oxide. Despite having no steroids in the formulation, Targeted Body Balm is clinically proven to be as effective as a 1 percent hydrocortisone cream.
"We are also a clean brand, working with dermatologists to take skin care to another level, eliminating a whole laundry list of allergens and irritants from fragrance to essential oils and acids that cause irritation. We really believe that clean is no longer a point of difference, but considered mandatory by most consumers," said Jane.
Skinfix's other collections include Resurface+ (helps encourage skin cell turnover), Redness Recovery+ (addresses facial redness) and Inked+ (for tattoo aftercare).
The brand is age agnostic with regard to its consumer base.
In addition to "getting a lot of organic love from influencers," Skinfix is focused on education on social media. The brand's podcast, Total Skin Nerds, is part of that endeavor.
Exponential growth at Sephora means that Skinfix is focused on protecting inventory. The brand is currently eyeing distribution in Australia and Asia, pending the right trade partner. "We want to be very careful and very selective," said Jane.
In late summer of this year, Skinfix will be entering a new category. "We have two new products that are very differentiated and we are really excited about them. Amy doesn't want to innovate unless we can differentiate. These two products may end up being 25 to 30 percent of our business. We have a moral imperative that they work, and I love that we continue to develop products that address curious skin issues. We can make outrageous claims because we have extraordinary proof."