Closing the Loop: Linking Backend Operations to Customer Experience for Increased Profitability
The recent pandemic forcing the closing of physical retail and an uptick in e-commerce amplifies the need for a firm handle on inventory at all times. What became clear is that businesses with strong, healthy foundations prior to the crisis, are best able to survive a seismic industry shakeout.
The process of grabbing a product off a shelf, or adding it to an online cart appears seamless to shoppers. They are unaware of the effort it takes for this to happen. In reality, the connection between backend infrastructures—planning, forecasting, sales strategy, etc.— and the moment of purchase is crucial for success. This became even more critical during COVID-19.
Overlooking the importance of solid infrastructures that drive sales, and ultimately impact the customer experience, can be devastating—especially for emerging brands. Getting an order from your dream retailer is only the beginning. Brands need to have a clear vision of how to meet sales demands, component lead times and a distribution strategy. Getting the order is only the first step: you need time to source components, which often have long lead times. Proper planning ensures you will be ready. Many businesses don't focus on inventory management—until there is a problem. Without a way to manage inventory, many startups and even seasoned brands will undergo painful periods of huge vacillations in inventory.
When a customer attempts to purchase, either in person or online, any out-of-stock seen, translates into a lost opportunity. The shopper can lose trust in the retailer and the brand, impacting not only short-term sales but long-term potential. In contrast, an optimized supply chain means the customer will get what they want, when they want it. Overstocks and out of stocks, coupled with returns, have been reported to total more than $1.75 trillion a year across all categories. Having the right product mix in the right place helps to reduce the financial burden companies take on due to poor inventory planning.
"Having the foundations in place ensures customers' satisfaction and loyalty," says beauty industry veteran Linda Ten Eyck, who founded Ten Eyck Business Solutions to help brands avoid the pitfalls of not having a 360-degree perspective.
The 360 Degree Perspective
Sales operations, planning and forecasting, are essential to running a stable business. "Many companies without a sales operation team expect the sales team to pick up many areas normally covered by ops. This is counter-intuitive: The qualities that make someone a great salesperson would typically make them less effective in sales ops. Rather than having your sales teams look at data, it's more cost effective to have them do what they do best … sell the product," suggests Linda. The key to a productive sales operations department is to have talent with skills in operations, as well as sales. "You want someone who when looking at a report, understands the impact the results have on sales," Linda says.
Forecasting is down to a science at Ten Eyck Business Solutions, thanks to a proprietary tool that can be used to forecast not only a brand's finished goods, but the components needed to support production. The company can assist on a short-term basis for projects spanning days; or long-term solutions for more complicated initiatives. Formal forecasting systems help brands determine the volume of finished products to produce, and the components necessary to create them. They also help to manage on-hand inventory, receipts, and coordinating shipments from suppliers. All, critical, suggests Linda.
"With over 25 years of experience in the beauty industry, we understand the challenges and complexities of balancing inventory needs with sales targets and are able to strike the delicate balance between the two–optimizing business performance and driving revenue growth," Linda says. Ten Eyck Business Solutions supports brands thorough sales strategy, inventory management, demand forecasting, supply planning and sales operations consulting.
Ten Eyck Business Solutions looks at a business through a sales lens. "Our approach to sales optimization is to take a holistic view of your business, identifying key cross-functional areas that will drive your business. We will support you in building a foundation for the future of your brand," Linda says. The company's client roster ranges from heritage brands to upstarts, including Clé de Peau, Surratt and Hampton Sun.
Questions and Answers with Linda Ten Eyck, Managing Partner, Ten Eyck Business Solutions
CEW: Why is sales operations important? How would a small business budget for these positions?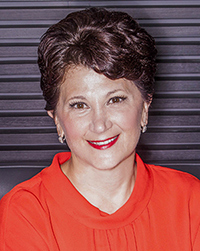 Linda Ten Eyck: Sales Operations is a link between all departments, providing information that facilitates critical strategy decisions for the overall health of the business. They are the connection between the development and execution of the sales and marketing strategy. Since Sales Operations is a support group and they work behind the scenes, they sometimes go unnoticed. Additionally, due to budget constraints, many assume the sales ops roles can be covered by the sales team. This viewpoint puts the business at risk because a good sales operations team does more than pull data. They make recommendations based on the data they have analyzed and evaluated, they compile a multi-faceted view of the market, and are able to identify risks and opportunities–both short and long term.
By including a sales operations resource early, a plan can be developed to scale the business and once they're planning further in advance and analyzing common components across products, brands will actually see a cost-savings. Brands don't need a full sales operations team in the beginning…all it takes is one strong resource to build the foundation, and as the brand grows, the team grows.
CEW: Why is inventory management important? What areas of a business does it affect?
L.T.: Many businesses overlook the importance of inventory management until there is a problem. Without a way to manage inventory and balance supply and demand, painful periods of inventory fluctuations will occur. This destabilizes the bottom line and jeopardizes customer relationships.
Sales Forecasting and Sales Operations affects sales deployment, financial planning, budgeting, operations planning, and marketing planning. Since sales forecasts have far-reaching impact, it's critical that the forecast information is as accurate as possible. The problem only intensifies as sales move from brick and mortar to ecommerce, as inventory will move at a much faster pace. When inventory is managed well, it leads to a better customer experience and long-term success for your business.
CEW: What makes Ten Eyck Business Solutions different from other companies?
L.T.: We are not simply an operations company; we are a sales optimization company. Our point of difference is our cross functional experience. Having experience in sales as well as operations enables us to look at problems from a 360-degree perspective. Our goal is to create solutions that optimize sales, are operationally sound and financially feasible.
As many brands do not have the budget to invest in forecasting systems, we created a proprietary tool to forecast finished goods and components.  Because we provide our clients with a monthly plan, they can financially plan their business accordingly. Sometimes, brands must make hard decisions. They might not have the financial support to produce all of their products. They need to make a decision based on lost sales and profit. Our tool provides a monthly view of the future on-hand inventory in unit and net sales. This enables sound, educated decision-making.
For more information: Linda Ten Eyck [email protected].