Hispanic Heritage Month kicked off September 15 and with that comes amplified awareness and celebration towards companies made by LatinX creatives, from fragrance to fashion. Here, Beauty News presents an array of Hispanic and LatinX-owned brands who are holding their own in the world of beauty and doing it "Pa'La Cultura."
Bésame Cosmetics
Founder: Gabriela Hernandez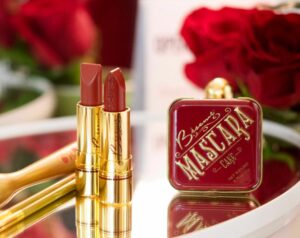 Launch History: After graduating from the Art Center College of Design with a Fine Arts degree, Gabriela opened her own design practice, where part of her work centers on product development for cosmetic companies. Gabriela was often left uninspired by the modern, minimalistic designs of makeup and missed the glamour of the beauty products used during her grandmother's time. In 2004, while working on a side project recreating her grandmother's antique beauty items, Gabriela designed a lipstick, titled Bésame Red, which ended up becoming the launch item for Bésame Cosmetics.
Biggest Lesson Learned: "It is very important to have family or a partner's support and look for people that see your vision but will also challenge it [your vision] if you go astray. I think it's almost impossible now to run a successful company without that. You fail so many times, you need to be picked up and shown that it's still worth it. Many times during your career you need that reassurance and that really comes from people who love you. I think the concept of family is important to other people as well and it's one of the reasons why people buy our products. We really take care to make products that our family can use, and I think that comes across to other families when they purchase them for their daughters," Gabriela said.
What's New?: Just in time for the spooky season, Bésame Cosmetics launched a Disney Villains-themed collection consisting of lipsticks ($30 each), nail polishes ($20 to $25 each), an eyeshadow palette ($115), a solid-perfumed filled ring ($129), and a makeup compact ($225).
Lendava
Founder: Priscila Fadul
Launch History: Priscila's love for skin care started from a very young age, stemming from her family's ongoing work in the beauty industry. For decades Priscila's family business, Perfumerias Rouge and Rouge Duty Free, has been distributing makeup, skin care, and fragrance products, giving her access to trying out the beauty industry's top designer brands and most coveted products. Priscila went on to get a degree in engineering but returned to working with her family and the beauty industry full time. Upon attending tradeshows and checking out launch after launch, Priscila quickly grew fed up with gimmicky marketing versus delivering efficient products. She commented, "In the skin care industry, [product]novelty is sold as a virtue. With so much conflicting information out there, the path to healthy skin can seem far from clear. So, I was inspired to break this cycle. It had always been a dream of my entrepreneurial spirit to launch a skincare line, but now I was driven with a purpose: to make skin care that prioritized the skin's true essentials."
Biggest Lesson Learned: "Believe in the power of word of mouth. "Priscila proclaimed, "We are creating a savvier, healthier approach to skincare and cultivating a community that really trusts our products. Quality over quantity in sales is the goal. Real growth happens when people re-purchase your products.  I envision the future of Lendava with innovation and educational content, making products that are unique to the market.  It may take longer, but the long-term upside is much higher and makes a brand more sustainable. We're not a Gen Z or TikTok brand.  We're building something much more powerful and timeless."
What's New?: On September 1, the brand launched two new products, BAREFACED, a gentle, oil cleanser and makeup remover ($32), and MOM, a body lotion for pregnant women that Priscila specifically formulated while pregnant with twins ($48).
Maude
Founder: Éva Goicochea
Launch History: Éva was born in New Mexico, a state she feels lacks proper access to healthcare and sexual wellness education, to a mother who works in the arts education field.  From an early age, she wanted to do something design driven that would make a positive difference in people's everyday lives. In college, Éva took an interest in public health working as a legislative aide in the healthcare industry, then leaned towards product creation while working as a brand and social media strategies for mission-driven companies like Everlane. She took her background in both fields and used it towards creating a consumer goods company that addressed the whitespace in the sexual wellness industry when it came to products that are safe, accessible, and inclusive to consumers of all gender presentations and ages.
Biggest Lesson Learned: "The sexual wellness industry has been monopolized for 100+ years by the same tired male-focused incumbents (Trojan, Lifestyles, Durex) which has given rise to hyper-feminine, trend-focused newer brands. Modern consumers view intimacy as an important part of everyday health, but the sexual wellness industry was fractured, focusing on speaking to one gender (and age) and positioning sex as clinical, a novelty, or a taboo. There has been so much room to create a brand for all," Eva reflected.
What's New?: To mark the end of Sexual Health Month, Maude launched their first internal device, an internal g-spot vibrator dubbed Spot ($79) on September 22. The device will be available in three colors (charcoal, grey, and green) and was developed with 5-speeds.
Nopalera
Founder: Sandra Velasquez
Launch History: Sandra Velasquez is a former professional musician with the group Pistolera, which translates to female gunslinger, turned beauty brand owner. While working as a musician, Sandra also held down a day job as a sales distribution manager for various food and beverage brands. Discouraged by the lack of financial stability as a musician, especially while raising a teenage daughter, Sandra decided to switch courses and began looking for a new direction. In 2019, her journey led her to visit her family's home in California and learn how to make soap. The recipes called for aloe vera, which she didn't have, but she did have plenty of access to nopal, a type of cactus commonly used in Mexican cuisine, and successfully substituted aloe vera with nopal. A lightbulb moment went off and Sandra began to question the way the clean beauty industry often overlooked LatinX-owned companies as luxury beauty brands. She wanted to fill the whitespace in the market and set about creating a lux, clean beauty brand that would honor her community. Sandra officially started her journey with Nopalera on November 2, 2020, to coincide with the Mexican holiday, Dia De Los Muertos-Day of the Dead, and focused on Nopalera as the highlight ingredient of the brand, an iconic symbol of Mexican culture.
Biggest Lesson Learned: Sandra encouraged developing entrepreneurs to, "begin with the end in mind. I apply this to all of life and business and this is my advice to other entrepreneurs as well. Decide what you want and where you want to go and then work backward."
What's New?: "I have a lot of momentum right now. I recently won two pitch grant competitions in 60 days: The Valde Latinx Entrepreneur Grant and the Tower 28 Clean Beauty Summer School. Additionally, I am a semi-finalist in the Black Ambition Prize. I am in the middle of my first fundraiser, and I am presenting to our dream retailers currently. It feels like everything is happening all at once. We [Nopalera] are ready for the next step," Sandra commented.
Reina Rebelde
Founder: Regina Merson
Launch History: Regina Merson first fell in love with the world of beauty while watching her mother apply makeup for a night out with friends as a small girl. Little did she know that she would one day create a beauty brand to honor and celebrate Latina women like herself. While working as a bankruptcy lawyer in Dallas, Texas, Regina found herself unfulfilled by her work and considered a round of layoffs at her law firm to be a blessing in disguise. A long-time beauty lover, Regina wanted to create a beauty brand that would speak to her and other LatinX individuals.
Regina recalled, "Reina Rebelde was the first brand in this space that was created authentically for our [LatinX] community, offering prestige quality products at an approachable price point. The prestige part is always controversial because there's a pervasive and frustrating assumption that our community is cheap, unsophisticated, and that we won't spend money on ourselves.  We [Reina Rebelde] set out to disprove these assumptions."
Regina is Mexican American, born in Mexico and moved to the U.S. when she was 10 years old, and everything from the brand name to the product packaging is inspired by her dual-cultural upbringing, such as how Reina Rebelde translates to "Rebellious Queen" in English.
Biggest Lesson Learned: "My biggest lesson has been to not compromise on quality standards even if it hurts your margin.  Once you've acquired a customer, you have to nurture them, and you must be careful not to start taking shortcuts or doing things to compromise the quality of the brand or product experience that got them to buy from you, to begin with," Reina emphasized.
What's New?: Regina promised, "We have several new categories coming out in the coming months from new lip products to our first complexion products!"
Shielded Beauty
Founder: Sonia Summers
Launch History: "Because my first company, Beauty Barrage, is all about in-store brand ambassadors, I found myself with very little to do during the pandemic quarantine when stores closed their doors. I had always known that I wanted to launch my own skincare brand but couldn't quite find the right 'white space' to fill in order to offer something truly unique. Given the increased importance of purification during the pandemic, I realized that there were no skincare or body care brands out there that focused on a healthy and purified microbiome. So, I set out to build an innovative product line with a patent-pending Guardian Complex that runs throughout each SKU – it's a fusion of natural antimicrobial ingredients combined with non-toxic actives," said Sonia.
Biggest Beauty Industry Lesson Learned: "As a [beauty industry] veteran, I thought I was ready, but, honestly, I was not ready for a pandemic – the supply chain issues alone were brutal. You really need to have an abundance of great suppliers that won't gouge you in a tough time. Relationships and working with people whom you can really trust is essential to building a successful brand," Sonia reflected.
Newness: Self Defense Eye Cream ($48) battles against environmental aggressors including pollution, free radicals, blue light, and airborne impurities, and upon application. The product immediately goes to work to depuff, firm, nourish and hydrate the under-eye area with skin-loving ingredients like Eyeliss and Citystem.
Sigma Beauty
Founder(s): Dr. Simone Xavier and Rene Xavier Filho
Launch History: A series of factors lead to the couple's decision to transition from the world of STEM, Simone has multiple degrees in veterinary science and infectious diseases and Rene was a civil engineer, to the world of beauty. When visiting relatives in their native home of Brazil, the two would often receive requests to bring over makeup brushes, which were priced extremely high due to Brazilian import tariffs. Simone, a longtime makeup lover, and her husband Rene, who at the time was working on creating paintbrush tools, set out to fill the white space in the market for affordable, quality makeup brushes.
Biggest Lesson Learned: Simone stated, "Doing the same thing repeatedly and expecting different results is the definition of insanity." I constantly police myself and our entire team so we don't waste our precious time doing the same thing twice. If it didn't work the first time, there is room for improvement. Even if it was successful, there is room for improvement. We [Sigma Beauty] cannot be stagnant. The cosmetics industry is an incredibly competitive market, and innovation and true newness are key skills to survive.
What's New?: "We have started investing a large portion of our research and development time on creating a new skin care line; the future of our brand is in complexion products and effective, approachable skin care. As we venture into these new categories, we will continue to offer the industry's best brushes and cleaning tools, along with annual spring, fall, and holiday color collections," said Simone.