The turn of the lunar year brings celebrations, well-wishes, beautiful decorations – and a whole range of special edition beauty products to bring in the new year. A cascade of color and aspiration, these campaigns infuse the viewer with positivity, hopeful sentiments and stunning design to evoke and impact emotions. Moss Studio + Magazine looked at five different beauty videos to uncover trends and insights into this very special time of year.
Common Themes for Lunar New Year Beauty Campaigns
February 12 marks the beginning of the Year of the Ox in 2021, according to the traditional Chinese calendar. In the astrology that it follows, this animal represents hard work, positivity, and honesty. The Estée Lauder brand has designed a stunning gold and red powder box with an ox adorning its lid, while Clinique has added an ox head to the top of their limited-edition iD Base container. Accompanying videos have been created for the different products, with both utilizing common visual themes Lunar New Year campaigns bring.
There's glittering gold and vermilion red across them all. The two colors come together to symbolize luck, joy, happiness, and prosperity; all core sentiments in traditional China, that are carried through into celebrations every year. Flowers are present, too; peonies and cherry blossoms, in particular, the latter of which holds deep meaning in Chinese culture, representing love. The peony is a symbol of wealth, and their curves and shapes are popular features in the Chinese New Year beauty campaigns.
Bobbi Brown: Stroke of Luck
Bobbi Brown has launched an entire special edition collection under the Stroke of Luck tagline. The signature brand logo is infused with red, as a pop-driven soundtrack with traditional Chinese undertones sets the stage for a quick-paced explosion of colors and design. Texture is essential throughout the campaign, as the viewer is taken on a close-up journey through lipsticks, powders, and bottles that have been adorned with golden brush strokes and flowery contours. The piece ends with a gorgeous end title card, of cherry blossom white, deep red, and golden tones, tagged, Welcome the New Year. Filled with energy and inspiration, the video feels like a New Year's celebration in its own right.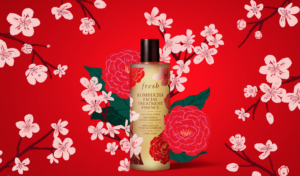 Fresh: Kombucha Special Edition
Kombucha Essence is one of Fresh's highest-selling products in China, and so for this Lunar New Year the beauty brand has designed a special edition bottle in honor of celebrations. Their video campaign is a soothing and uplifting piece of creative, to the sound of bird song and steel drums that create a captivating setting for visuals to play out. Gold leaf typography and a stunning red color plays to the bottle's hue. The tagline, Have a Bright New Year, uses visuals that highlight this sentiment of new beginnings. Peony and cherry blossoms erupt all around the centerpiece product; a literal and symbolic iteration of new beginnings.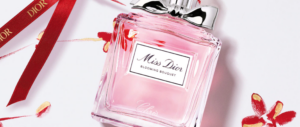 Dior: Blooming New Year
Dior has launched an entire collection for the Chinese celebrations, centered around blossoms and a flourishing future. Using bestsellers such a Miss Dior, Dior Prestige, and their signature scarlet lipstick, the brand paints an evocative and sweeping video, with sprouting flowers and their branches taking center stage. New Year banners decorated with golden Chinese symbols sway in the wind, adding a visual manifestation of the movement towards new beginnings. The music is paced, too, without feeling hurried; it isn't urgent so much as it is excited for the promises of a new year. It all wraps up as the branches solidify into gold, the Dior logo positioned gently at their forefront, and the red flower droplets dance across the screen.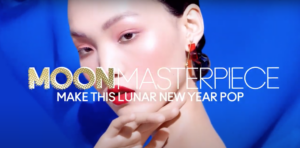 M. A.C Cosmetics: Moon Masterpiece
M.A.C has gone a different route to the traditional Chinese New Year imagery, and created a pop art collection campaign that's packed with pace and unconventional design. Painted with goldfish, which symbolize abundance and harmony, and clever taglines such as, A Wealth of Artful Shades, this sets a very different tone. Product colors are gold and red tones, and the texture imagery really pops against pink, yellow and turquoise packaging. The campaign's lead looks as enticingly ancient as she's rebelliously modern, and she embodies the balance M. A.C treads beautifully. Entitled Moon Masterpiece, this piece of creative is an original and dynamic take on the Lunar New Year.