Gail Federici has made a career out of developing pioneering problem solvers, including groundbreaking John Frieda Frizz-Ease and Color Wow's best-selling Root Cover Up and Dream Coat. "I've always had an ability to see holes in the marketplace; I call them BGOs or blinding glimpses of the obvious," says Gail.
Gail's eye for innovation was evident early in her career when she helped Zotos International develop the natural hair care line, Baine de Terre, long before green was a thing. But she truly established her place in hair care history when she joined forces with British hair stylist John Frieda in the late 1980s and developed the industry-disrupting Frizz-Ease serum, which sold a bottle a minute at its height in the '90s. Later, as the brand's co-founder and CEO, Gail steered John Frieda to a $450 million sale in 2002 to Kao Corporation.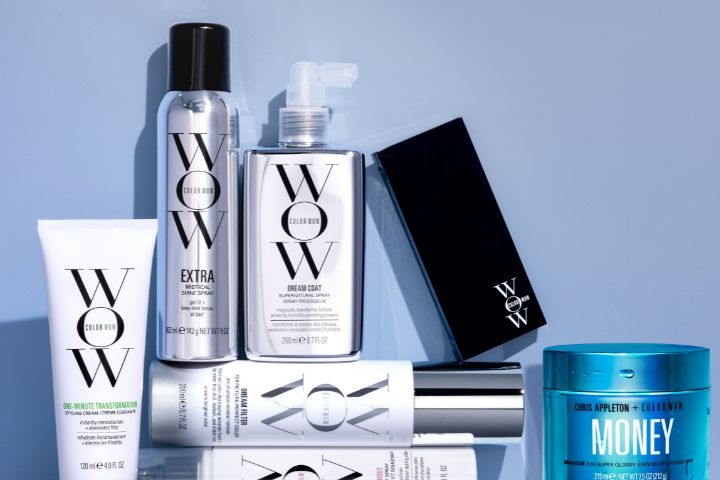 After a brief foray into the music industry (where she earned the moniker "Super G"), Gail returned to the beauty world in 2013 with Color Wow, a collection of products for color-treated hair. Two of the brand's standout successes, Root Coverup, a mineral powder that camouflages regrowth, and Dream Coat, a shine-enhancing, humidity-proofing styler, earned accolades for their innovation. And this spring, the brand added Extra-Strength Dream Coat to the lineup to tame dry/dehydrated hair, like Gail's own. "My hair is very, very, very, very dry. And it needs extra protection against humidity, so this was created, in part, for me," says Gail.
For many, these broad strokes of Gail's prolific career are familiar (she is a legend, after all). But Gail recently shared some lesser-known details of her trajectory (and life) that add more color to her celebrated story.
Gail has worked with the same chemist, Joe Cincotta, Ph.D., for more than 35 years — at Zotos, John Frieda, and Color Wow. "Joe is brilliant. He has a Ph.D. in organic chemistry, but it's his personality that makes our relationship work. He's open-minded and comfortable with a challenge," says Gail. "When we sold John Frieda, Joe wrote me a nice note that said his biggest fear was that people were now going to like his formulas the first time he presented them," says Gail, who believes the back and forth she has with Joe has been the key to some of their most groundbreaking products. "Joe doesn't get frustrated by pushback, by someone telling him the formula is not quite right. There are a lot of people who don't like to work that way, but he thrives on it. And I think that's how we've done our best work."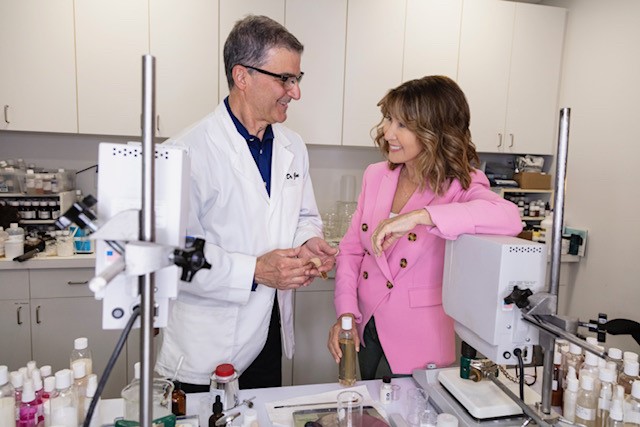 Gail's a two-time CEO with no formal business education. Gail earned a BA in English from the University of Connecticut, and she attended Quinnipiac Law School. And while that may not have been a traditional educational path for a business executive, Gail believes both experiences positively impacted her career. "The English degree probably helped my creative side, and I do a lot of writing in my work, even today. And the law school helped with critical thinking; I am able to cut through a lot of information to get to the heart of the matter."
She found inspiration in books as a kid. "I've always been an avid reader, even in elementary school. I remember we had this whole section in our grade school library filled with biographies on all the presidents and people like Knute Rockne and George Washington Carver. I read every single one of them. I was always curious about what motivated these amazing people. And I think reading what they'd done with their lives helped me consider what kind of impact I wanted to have."
She once appeared on the game show $20,000 Pyramid as Gigi Grant. "In my late twenties, I went to try out for the show with my sister. And I told my sister to say a fake last name because I didn't think they'd pick two people from the same family. But when they came to her, she said Lynn Federici. I was furious! So, when they came to me, I screamed out Gigi Grant. No idea where that came from," laughs Gail, who did, in fact, end up on the show as Gigi Grant. She didn't win big money, but she did walk away with a respectable $2,500, and "things arrived at my house for months afterward — cartons full of tennis balls and flavored drinks from the show's sponsors."
Gail's twin daughters Alex and Brit appeared in the original John Frieda Sheer Blonde campaign because they were willing to cut their hair. "When we were thinking about ads for Sheer Blonde, we knew we didn't want to have long blonde hair. Because that was L'Oréal, that was P&G. All the hair ads for shampoos at the time had long shiny hair. We needed to stand out," says Gail. The ticket, they decided, would be models with trendy haircuts. The problem? Most models were unwilling to cut their hair for a single ad. That's when Gail realized she might have a solution (very) close to home. Her teenage twin daughters, Alex and Brit, had just had their hair cut by Sally Hershberger (architect of Meg Ryan's iconic '90s shag cut) for a teen magazine. Plus, the girls were photogenic — and they'd work for free. Done. "I took the girls to see Sally the night before the shoot so they'd have fresh cuts," says Gail. "And when Sally took the first snip, I went white and had to walk out of the room. She cut Brit's hair so short. But of course, when Sally was done, the haircut was amazing, and the ad ended up unbelievable."
The first Sheer Blonde television commercial, featuring Gail's daughters, was directed by famed video music director Dave Meyers, who later won a Grammy for co-directing Missy Elliott's "Lose Control." When Sheer Blonde launched in 1998, "everybody was watching MTV," says Gail. "We had a limited budget, but it was cheap to advertise on MTV." So, they approached music video director Dave Meyers about shooting the ad. "He was doing everybody at the time but wanted to break into advertising — lucky for us," recalls Gail.
Her secret to staying engaged and energetic: never stop learning. "I would not be doing what I'm doing today if the world had not changed so much. That has forced me to keep learning. When I started in this business, there was no internet, there was no social media. So, I've had to work hard over the years to keep up — and that gives me energy," says Gail.
She once sang "Help Me, Rhonda" on stage with the Beach Boys. "We hired the Beach Boys for a big celebration sales meeting at John Frieda around the year 2000. And they pulled me up on stage to sing along with them," says Gail, who'd been a devoted fan of the band since she was a teenager.
Stylist Chris Appleton, Color Wow's global creative director, gave Gail a nickname the first time he met her. "From the start of Color Wow, I'd been looking for a stylist to work with us. I can't tell you how many portfolios I looked at, and none of them really resonated with me – until I saw Chris' work. It was cool…commercial, but with an edge to it, which is not easy to do. Sally [Hershberger] could do it, John [Frieda] could do it — and so could Chris. So, I said, let's set up a Zoom call," says Gail. "And he was really, really good in that interview. He could talk about products, and he was funny. He was also very comfortable with me, right from the start, and he started joking and calling me Miranda Priestly [from The Devil Wears Prada]."
She's a huge fan of Navy SEALs. "I'm obsessed with Navy SEALs and have read everything about them," says Gail. She even has framed quotes attributed to them in Color Wow's "war room" (where they go to strategize when the competition gets tough). Three Navy SEAL quotes Gail can recite from memory: "The only easy day was yesterday." "You're not here to survive this, you're here to take charge of it." "You've only got three choices: Give up, give in, or give it all you've got."