Beauty brands invest millions in marketing their products on TV. But how can they tell which ads are working after consumers view a campaign? Here, Laura Grover, Head of Client Services Solutions at EDO, discusses how EDO changes the game in media measurement by helping beauty brands make an impact, and what that means for the beauty industry.
CEW Beauty News: Tell us about EDO and your path to joining the company.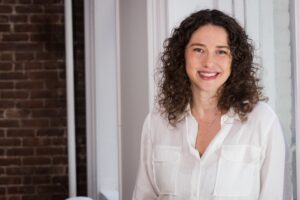 Laura Grover: My career has come full circle with EDO, which is a data, measurement, and analytics software company that enables measurement across audience and creative optimization, competitive insights, and media investment. I joined in May 2021, and it's been a seamless transition, in big thanks to our whip-smart team.
I've worked in media research for nearly two decades. My career started at IAG Research, which Nielsen acquired in 2008. I served as VP of Research, and later VP of Client Services, which provided an excellent opportunity to learn the ins and outs of media and measurement.
After several years there and earning my MBA, I felt drawn to the startup world and spent several years at Symphony Advanced Media. I then had an opportunity to join Initiative, a full-service global media agency, where I served as U.S. Head of Marketing Sciences & Business Intelligence. That's where I experienced firsthand the gaps in TV measurement and the lack of consumer behavioral data for digital media.
BN: EDO is a fascinating company with actor Ed Norton as a cofounder. Can you talk about what interested you in joining the company? What's it like to join an emerging business?
LG: I was immediately drawn to EDO's unique capabilities and the real-time impact on a breadth of clients across the advertising ecosystem. This includes buy-side advertisers (Kia) and agencies (Mediahub), sell-side networks and publishers (CBS, NBCUniversal), as well as AdTech platforms (OpenAP, Xandr). I particularly enjoy our work with organizations that have a meaningful ethos and purpose, such as SeeHer, which aims to portray girls and women in media as they really are.
When I was considering joining EDO, I was particularly impressed by their expansion into the Convergent TV space. I learned more about the product and was excited about the company's trajectory. I love the fast pace of small companies and the precision focus on responding to client needs, so it truly felt like the perfect fit.
BN: How can EDO help the beauty industry. What are ways companies can have better outcomes in advertising campaigns?
LG: I've worked with major beauty brands throughout my career. Beauty is a competitive and cluttered industry with newcomers launching consistently, especially given the proliferation of DTC beauty brands during the pandemic. While so much category activity can be challenging, EDO can help brands cut through the noise with competitive insights and immediate ways to identify the right placement, for the right audience, at the right time.
We help our clients understand the actions consumers take after watching their ads while campaigns are still running, so they can drive measurable actions and predictively plan the impact ads will generate. Over the last seven years, we've captured over 200 million ad airings across 120 networks, and we use this database to support clients with media and creative learnings, such as flighting recommendations, creative wear-out, and messaging analysis. We also provide recommendations around minimum investment weight and program selection to ensure their investment provides considerable value.
An interesting insight we've recently uncovered in the category is that ads that feature someone actually applying the cosmetic tend to drive stronger engagement than ads that focus more heavily on someone wearing the cosmetic or close-ups of the product.
BN: How does EDO differentiate itself from other ad measurement solutions?
LG: Reach and sentiment are how most TV campaigns are measured today. They play a role in the buyer journey, but the real action is in the middle of the funnel, where search and digital behaviors dominate. There's a huge blind spot for the measurable actions consumers take based on TV ads as they evaluate a purchase, upsell, or renewal.
EDO fills this gap with our behavioral measurement — such as consumer search — helping advertisers, networks, and agencies know what works. In fact, EDO research has found that Share of Search is a leading indicator of a brand's Market Share, correlating across several verticals 83% of the time.
Our goal is to create an independent measurement platform that redefines how Convergent TV advertising is planned, optimized, bought, and sold. We recently raised an $80 million growth investment from Shamrock Capital, with plans to use it to grow our world-class team, enhance our Ad EnGage Convergent TV analytics platform, and expand our partner network of data sources.
BN: Any advice to women looking to advance their careers?
LG: Embrace your individuality at work and feel empowered to show up in whatever way makes you feel most comfortable.
The days of women wearing ill-fitting, slightly more feminine versions of men's suits are over. My first boss at IAG research to this day still talks about how I wore an all-white suit to my interview with her back in the early 2000s. Apparently, I was being quite bold!
There's so much individuality in how everyone can show up for work, whether it's in a hoodie, going total glam for a meeting, or wearing that traditional suit. This goes for beauty products as well. I LOVE that women have embraced wearing bold lip color to work.
For more information on how EDO can help your beauty brand find what works, contact Laura and the EDO team at [email protected].