Chris Payne never planned on a career in beauty, but he "fell in love with the space" as he ascended from a cosmetics buyer for the now-shuttered Dayton-Hudson/Marshall Field's chain to the corner office within Jane Iredale.
Prior to becoming CEO of the professional makeup brand in 2019, Chris held high-level marketing positions at L'Oréal, Clarisonic (before it was acquired by L'Oréal), and PCA Skin, prior to its sale to Colgate-Palmolive. "Clarisonic is where I was introduced to the pro channel, which has a level of engagement that you just don't see in prestige. These consumers have really raised their hands to go to a professional for their skin care needs, whether that be a dermatologist, plastic surgeon, med spa, or salon," Chris shares.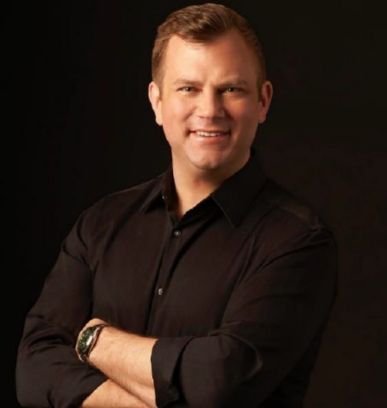 "By 2019, I had a good balance of 'big company' structure, training, and education, as well as extensive experience working with entrepreneurial brands. At this point, I really understood the pro channel and learned how to move the needle. I went to Jane Iredale because of its deep roots and genuine connection between the brand, its partners, and consumers."
Upon his arrival, Chris' initiatives included evolving the brand's look and feel without alienating its existing accounts or customers, and looking at its financial health "because the brand wasn't as profitable as it should be," he says, which he addressed by building a strong management team and revamping the company's structure.
Chris also evolved the company's sales team to better navigate the nuances associated with domestic and international partners, promoted employees from within to manage multi-door accounts, and created a head of operations position to oversee the supply chain. Another undertaking was separating the marketing and digital teams, which were previously under the same umbrella.
However, sitting at the helm of a professional brand during the early days of the pandemic (when most aesthetic offices were closed) certainly posed its challenges. During this time, Jane Iredale focused on supporting professional partners who didn't have their own e-commerce websites by implementing a drop-ship system. The brand also launched an affiliate marketing program so partners could earn commission on products sold via their own sites or social media, and digitized their education platform before offices reopened in the summer of 2020. "To this end, we kind of bootstrapped an e-commerce business for our partners," Chris explains.
Just four years in (pandemic included), Chris' work has had an indelible impact on Jane Iredale's bottom line. "We've improved our product margins by over 500 basis points and have basically doubled profits since 2019. We're on track to have our biggest year ever." In addition, the brand's pro channel currently accounts for 54% of new customer acquisition (which has seen an 18.8% increase year over year) and is up 21% compared to the first quarter of 2022. Jane Iredale now has more than 4,000 professional partners in the US and 3,000 global partners in more than 50 countries. The brand has also secured more new partners in the first quarter of 2023 than any quarter for the past 10 years, with 167 new points of distribution. Chris attributes this growth to "personalizing and customizing the professional support and product assortment for each individual account."
Although the professional channel is Jane Iredale's leading source of brand discovery and awareness, the digital realm (including the brand's website and third-party retailers, such as Amazon) has proven to be its most profitable and strategic. "A consumer may not want to drive back to their dermatologist's office to get another lip gloss, so our digital presence is all about being where the customer is at any given time. E-commerce doesn't replace the role of the professional, but it serves as an effective replenishment vehicle. This is why we made the digital team its own distinct department," Chris explains.
The brand's social media approach has shifted under Chris' watch as well. The once promotion-heavy content now focuses on storytelling and leveraging Jane Iredale's professional community to promote brand awareness and product benefits. On the influencer front, Chris says the brand "dabbles" with micro- and nano-influencers who convey why consumers should try Jane Iredale and what makes the brand different, special, and unique — as opposed to strictly promotional content.
Chris explains, "Both professionals and consumers are finally understanding that makeup plays a significant role in any skin care treatment protocol." Jane Iredale's "professionalization of makeup" mirrors the rise of medical-grade skin care — and the brand has a unique position in the market with a captive post-procedure audience and robust in-office presence for its roughly 380 SKUs.
To this end, Jane Iredale professionals offer a three-minute "After Glow" add-on service designed to help patients leave the office or spa feeling confident about how their skin looks so they can get back to their usual activities. Acting as both a customer acquisition tool and sensorial experience, it features the application of HydroPure Tinted Serum, PurePressed Base, Hydration Spray, PureBrow Brow Gel, Glow Time Blush Stick, and HydroPure Hyaluronic Acid Lip Gloss. This mini-makeover provides SPF protection and occlusive benefits that help calm inflammation and promote healing, while introducing consumers to a simple makeup look they can use every day. According to Chris, "It all goes back to helping the patient have a better experience, which helps professionals expand their business as well."
Although Jane Iredale has established a home in the medical makeup space, the brand is looking beyond the post-procedure consumer by tapping into other markets, including bridal makeup. Chris says, "In most cases, consumers are taking their wedding party to a spa or salon to have their makeup done — and we can tailor the product assortment for professionals who have a big bridal business while supporting and educating them with master classes." The brand has also leaned into the rise of "brow bars" by relaunching and restaging products for easy integration into these niche beauty destinations.
Looking forward, Chris alludes to a new complexion product later this year, as well as a "skin focused" lip product. Beyond 2023, he hints at a possible evolution of the best-selling Skincare Makeup System, since the brand's PurePressed Base Mineral Foundation, primers, and hydration sprays are responsible for more than 30% of sales. "Our retention rates on these products are through the roof, and once we convert a customer they don't really look back."
Chris says the main thing that won't change at Jane Iredale moving forward is continually focusing on skin-first formulations without sacrificing great makeup. "That's our true north star if you will."