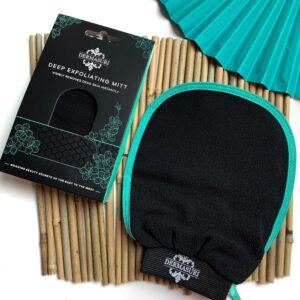 Founders and lifelong friends, Melody Akhavan and Susumu Tsuchihashi, applied the benefits of skin care and exfoliation of their respective ancestries (Middle Eastern and Japanese, respectively)—to create Dermasuri, a line of exfoliation tools. Their scrubbing mitts, such as the Deep Exfoliating Body Mitt and Premium Back Scrub, are made with a unique fabric texture dedicated to ensure deep exfoliation—during which one can see dry, dead skin sloughing off the body instantly. And, they don't require soap. CEW recently spoke with founder Melody Akhvan on how the self-care craze during COVID helped put body exfoliating on the map.
CEW Beauty News: Have sales of products changed due to COVID-19 and the lockdown? Talk about the brand's journey over the past six months. 
Melody Akhavan: During March and April, business slowed down a lot. Our business mix over the past two years has been 50 percent on Amazon and 50 percent in retail stores. We are part of the Amazon Premium Beauty (aka Amazon Luxury) Vendor program and purchase orders stopped for a couple months to allow essential items, such as masks and gloves, to move into their warehouses. Starting in May they placed new purchase orders and sales surged six times and have continued since. As consumers realized that the pandemic will be around for the long haul and retail businesses, such as beauty stores, salons and spas, continue shut downs, consumers relied heavily on online sales. Our brand has high sell-through and customer retention. At this period in time, our online sales have continued to be at 6x but now our distributor and retail network is mostly back in business and placing purchase orders starting September 2020.
BN: How are these products different from what is out there? 
MA: We pride ourselves on our dedication to two key differentiators. The first is visible exfoliation. Unlike loofahs or bath sponges, our products are made of a unique fabric texture that visibly removes dead skin instantly. The second is that we are eco-friendly and contain no chemicals. Our products do not even require soap—just fabric and water only. They can be re-washed and re-used.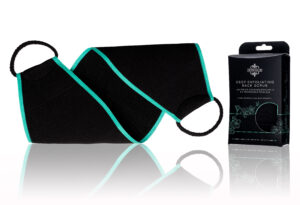 BN: As consumers stay indoors is there more of a need for this type of product?
MA: Need has increased exponentially, as spas remain closed in certain states and as consumers prefer to do what they can themselves at home while also being conscious of the money they spend. They are looking for premium products that actually work immediately and that they can reuse multiple times, being free of extra chemicals.
BN: How has your digital marketing strategy shifted since March and how are you acquiring new customers?
MA: We have decided to increase our online footprint on Amazon Luxury and have invested in expansion to Amazon Luxury Canada and are part of the Amazon Luxury pioneers growing in Australia. In addition, we have invested more in Amazon Marketing Services (AMS) which has allowed us to consistently acquire new customers. We are also looking at new online retailers worldwide and have invested in online advertising on their platforms. Our strategy is to advertise directly and mindfully to skin care shoppers.
BN: Have you moved more to e-commerce than wholesale/retail? 
MA: Our plan is to be 60 percent e-commerce and 40 percent wholesale/retail in the next year, with a focus on acquiring relationships with large retailers. Our OTC retail partners remain extremely important to us. Our distributors and retailers are long-term partners. However, our next goal is to work with large retailers in-store and online so our customers have instant access to order or pick up our products.