Dimitra Davidson didn't create Indeed Laboratories, but she's in the driver's seat. Most recently she shepherded the Canadian-based skin care brand back into the U.S. with its debut in 425 Ulta Beauty stores along with online availability at the beauty giant.
Ulta Beauty is carrying the top 10 SKUs in stores and a total of 19 items online. Prices retail from $11.99 to $23.99. Included in the assortment is cult-favorite, Nanoblur, the first blurring cream that sold at a brisk pace of one every nine seconds when launched eight years ago.
Indeed Labs was founded by the late Brandon Truax who left the company in 2013 to start Deciem. During his time, Indeed Labs was distributed stateside at Walgreens before the firm pulled the brand back.
Dimitra was one of the founding partners, and came armed to Indeed Labs with both a finance and retail background in 2015 and has been readying the company for growth, including a return to the U.S.
"Indeed Labs didn't come from me; it came to me for a reason," said Dimitra, who has big plans for the brand. "I want it to be far reaching."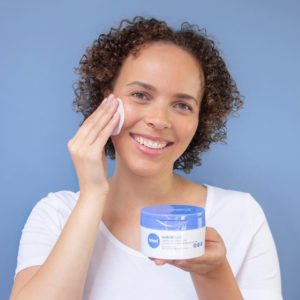 Indeed Labs is currently sold in Shoppers Drug Mart in Canada and Boots in the U.K. When it came time to revisit the U.S., Dimitra outlined her vision for Ulta Beauty—a retailer she feels is aligned with Indeed Lab's positioning.
As if a perfectly-written script, the Ulta Beauty team came to her earlier this year to put Indeed Labs into its Essentials masstige department. On shelves, Indeed Lab's portfolio competes with the giants of the industry armed with megabucks in marketing money. "We are formula-based backed with science. We were clean before that was talked about," said Dimitra. She pinpoints a gap in the mass market for performance brands at accessible prices that Indeed Labs fills. She also wants to be a brand that helps educate mass shoppers about the efficacy of ingredients like hyaluronic acids. "There is a certain amount of onboarding that needs to be done. Ninety percent of the mass market is still learning about skin care—they are not skin care enthusiasts. We want to be a conduit of accurate information."
To facilitate that, Dimitra spends time in stores watching how consumers shop. "We've been in the mass market 10 years now and we understand this shopper."
Building upon its reputation for high performance products, such as Nanoblur, Hydraluron and Snoxin, Dimitra is updating and expanding to stay current with skin care technology advancements. For instance, the facial powder exfoliator has been upgraded, now harnessing the power of pineapple enzymes, rice brand extract and hyaluronic acid; it's been renamed Exfoliator II. It also uses a DIY powder that can be customized based on the amount of water added. "Your skin is different daily and what works one day doesn't necessarily the next," said Dimitra.
Indeed Labs broadened Nanoblur into color correction a few years ago and has now added a peach corrector for all skin tones and concerns. Snoxin has also been tweaked and rebranded as Snoxin II that yields results in two hours. On the prowl for improved options, Dimitra was an early adopter of bakuchiol as a gentle alternative to retinol.
The latest launches include powerful boosters (collagen, hydration, Q10, radiance and mineral) for a customized skin care wardrobe; noAcids pads for those with sensitive skin; and a body lotion extension of the 10balm soothing cream. Under Dimitra's direction, the brand also is reviving Peptalash using plant stem cells to enhance natural lashes. For lips, there is a new Hydraluron Volumising Lip Treatment. In the pipeline is a mist with blue light protection—something she views as critical as SPF which today is a must have.
Despite the industry buzz about CBD, she's not rushing in. "We want to bring CBD to the market in a way that will be relevant topically. I'm not yet satisfied with clinicals. I want a product that will work with other ingredients, but I do feel CBD will become as mainstream as retinol."