During a trip to South Korea, Elorea co-founders and husband-and-wife duo Wonny Lee and Su min Park noticed a distinct absence of Korean or other Asian-founded fragrance brands in beauty stores. The two wanted to fill the white space with a Korean-inspired fragrance. Wonny and Su min created four distinct fine fragrances, which launched on saksfifthavenue.com on September 1, and will soon be available in Saks Fifth Avenue brick-and-mortar locations. Beauty News talked with brand co-founder Wonny, who serves as Chief Executive Officer, and co-founder Su min, who serves as Chief Creative Officer, about the idea for Elorea, how the fragrances were developed, and their long-term goals for the brand.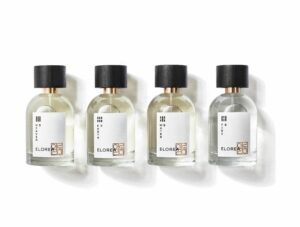 In researching the fragrance wheel, a tool that explains the relationship between innate fragrance preferences and fragrance families, Wonny and Su min noticed an elemental arrangement of scents in a way that reminded them of the trigrams featured on the South Korean flag. The four trigrams represent earth, fire, water, and heaven and are the names of the four fine fragrances Elorea launched in 2022.
Before launching Elorea, which is an amalgamation of the words "Korea" and "Elements," Wonny launched brands for Detail Provisions Co., an investment and operating platform focused on the growth of digitally native consumer brands. In 2019, Wonny and Su min took a trip to South Korea, exploring beauty stores in search of a product to bring to the American market. While inside a beauty shop, Wonny and Su min stopped in front of a wall of fragrances and noticed a distinct lack of Asian-founded fragrance brands.
Wonny recalled, "We went to the fragrance side of the store and realized [the perfumes] were all from Western brands, all products we could have bought in the United States. That moment was the genesis for Elorea. Elorea is our way of getting closer to our culture and our roots… Everything that we do, whether it's part of our branding, our campaigns, or even our products, we incorporate as much as can from the Korean peninsula."
Aside from the origin of the brand's name, Elorea showcases aspects of Korean culture and history in a variety of ways. Perfume bottles feature the name of the fragrance in both the Korean and English along with the corresponding trigram. Several ingredients used in Elorea's fragrances are specific to South Korea, such as the citrus fruits from Jeju Island or the jasmine sourced from Pocheon.
While the idea for Elorea sprouted towards the end of 2019, the brand didn't officially launch until January 2022 for several reasons. After the couple's trip to Jeju, Su min decided to delve further into the world of fragrance and took a perfumery course at Pratt Institute. The search to find a perfumer for a Korean-inspired fragrance was a bit tricky. Wonny recalled there were only three perfumers in South Korea to formulate the fragrance. (Even though South Korea has a booming color cosmetics and skin care market, the country's approach toward fragrance is traditionally weak due to lack of demand.)
With seed investment from Strong Ventures, a California-based fund focused on supporting and financing Asian-American entrepreneurs, Elorea launched their scents priced at $125 for a 50-ml bottle and $195 for a 100-ml bottle. Elorea has also released candles ($75) matching the scents as the fine fragrances and will be launching hand creams and soaps in the fall.
In addition to the brand's website, Elorea became available on saksfifthavenue.com on September 1 and is available in ByGeorge brick-and-mortar locations in Austin, TX and New Orleans. The brand will soon be available in the Saks Fifth Avenue flagship in Manhattan before arriving in other Saks brick-and-mortar locations. Wonny and Su min commented that there are long-term plans to open Elorea stores in America and South Korea.
In addition to selling beauty products such as body care, skin care, and eventually cosmetics, the founders' goal is for Elorea to sell a variety of high-end consumer goods, from fashion to beauty products, and become a major luxury house, similar to Christian Dior and Chanel. Wonny explained that his drive stems from his parents' generational shopping mindset, where European countries were viewed as the main producers of luxury goods.
"My parents' generation grew up in [South Korea], where it was considered poor due to coming off of war. All the luxury brands that were out there were from European or Western countries."
What's changed in the last 10 years to prompt interest in a Korean-inspired fragrance? A cultural phenomenon referred to as the Korean Wave where governmental efforts promote and export South Korean products. The wave started flowing in the mid-1990s in Asian countries such as China and Japan, and eventually landed in the U.S. in 2010. The wave launched the hyper-popularity of the 10-step Korean skin care routine, which eventually peaked in 2018. According to MarketWatch, K-beauty was valued at $10.2 billion in 2019 and is projected to reach $13.9 billion by 2027, growing at a compound annual growth rate (CAGR) of nine percent from 2021 to 2027.