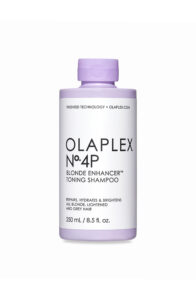 Tone is everything.
Known for creating the bond-building category, Olaplex has entered the realm of blonde shampoo with Olaplex No. 4P Blonde Enhancer Toning Shampoo. The toning shampoo has a purple hued launch and has been formulated to strengthen, soften and neutralize unwanted yellow tones for brighter blonde, lightened or grey hair. The new item will retail for $28 exclusively on olaplex.com.
"One in three women have blonde hair," said JuE Wong, Chief Executive Officer of Olaplex. "With the launch of our first scientifically proven and stylist-approved purple shampoo, OLAPLEX No. 4P Blonde Enhancer Toning Shampoo now expands the modern definition of blonde for noticeably hydrated, brighter, and more manageable hair."
The shampoo features Olaplex's exclusive, patented technology to relink the disulfide bonds in the hair to strengthen and repair while it cleanses, tones and protects it. Gentle enough to use for every shampoo, the highly concentrated, sulfate-free formula is clinically proven to deliver three times brighter results as compared to top purple shampoos. It also allows for customized toning in that the longer you treat hair, the brighter the results.
Celebrity hair colorist Christin Brown, who specializes in curly and textured hair, recommends using Olaplex No4P for those whose hair could use a little extra repair as well as a pop in tonality. "If you have highlights and would love that refresh of color in between seeing your colorist, OLAPLEX No. 4P Blonde Enhancer Toning Shampoo could be an amazing addition to your hair arsenal," she adds. "It's ideal for curls that have highlights or have been naturally sun-kissed.
Consumers who don't color their hair can also benefit from this new formula.
"Even natural blondes can benefit from a purple shampoo," Christin said, adding that seeing a colorist regularly for an action plan is recommended. "Olaplex No. 4P Blonde Enhancer Toning Shampoo isn't permanent but the benefits do last depending on how frequently one washes her hair," she said.