Sampling has long been proven to be a powerful, and targeted, tool for building transactions—even more so than in-store marketing.
Sampling Effectiveness Advisors reports 73% of consumers are likely to buy a product after trying it, and Euromonitor International puts samples among the top three motivators to get people to try products.
Sampling is moving to the front burner now more than ever with the rise of digital and the decline of foot traffic in stores. The personal experiences encompassing touch, taste, feel and smell have been lost.
Cover5 Creates a New Experiential Marketing Platform
Industry veteran and innovator Jean Zimmerman, former EVP of Chanel, has reimagined one of the pillars of legacy media as a new experiential marketing platform.
As Co-founder of Integrated Branding and Media Group (IBMG), Jean created Cover5, a patented immersive marketing platform that gives consumers the chance to try products at home by delivering samples on the outside of iconic magazines. Not only is the platform more impactful and less expensive than other advertising methods, it's truly Instagram-worthy, inviting beauty enthusiasts to share organically in the moment.
Cover5 showcases a brand's product samples in a custom ad-card Onsert, or "fifth" cover. It features the samples alongside brand imagery and graphics, engaging consumers and essentially guaranteeing a product experience even before they open the issue. The entire package is delivered in an attractive, custom branded wrapper that Jean says "surprises and excites" recipients upon arrival. The platform can accommodate multiple product samples in a variety of forms, including lipsticks, mascara, beauty supplements, and most certainly fragrances, all protected for home delivery.
"We've created a new media channel that takes sampling far beyond scent strips," says Jean. Cover5 offers beauty enthusiasts something they can actually wear and feel and use enough times to fall in love with it."

Cover5 Co-founder Mark Husmann says, "We connect real people with real product. We're delivering what digital advertising can't—a human experience."
Cover5 works with top-tier health, beauty and lifestyle magazines such as Elle, Harper's Bazaar, Cosmopolitan and Marie Claire to deliver generous samples directly to true beauty enthusiasts. Ever-expanding, the company recently added Real Simple, InStyle, Food & Wine, Travel + Leisure and Town & Country, among others, to the list. Already, beauty leaders such as L'Oréal, Coty, Estée Lauder and other major CPG brands have partnered with IBMG and the Cover5 platform for powerful campaigns.
Engaging Real People with Real Products
Cover5 goes straight to the source — the hands and homes of consumers. "Home is the ultimate marketing location. It's where consumers will eventually be using the product, and the experience can't be ignored, blocked or deleted," says Mark. "Instead of waiting for consumers to go to the beauty counter, we bring the beauty counter to them."
Working with the top titles in fashion and beauty, Cover5 can connect brands with the most active beauty consumers. "There are 100 million beauty consumers in the U.S. We can reach the top 20 to 30%," says Mark. This reduces waste and creates an incredible ROI, one that has far surpassed the marketing benchmarks of Cover5 clients.
Cover5 has created a brand-new media channel by combining two classics – sampling and print — at a seminal point in time. Overloaded, fatigued and leery of many social media postings, consumers are once again gravitating to print authorities. Increasingly, they are also depending on word of mouth from friends and influential sources. When a beloved, iconic magazine boasts a product sample on its cover, it's like an endorsement from someone they trust.
"If you can influence what consumers try, you will influence what they buy. We combine a brand's desire for awareness and a consumer's eagerness for discovery into a transformative marketing experience," says Jean.
Questions & Answers with Jean Zimmerman, Co-founder of IBMG
CEW: What makes you excited about your new business?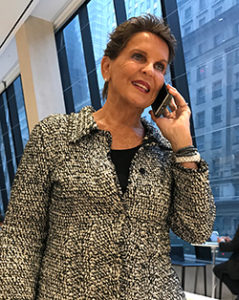 Jean Zimmerman: It's very upscale, impactful and beautifully branded. The samples are so popular, we've even seen them sold on eBay. There is also a social media value, because people share their experience opening the package and trying the samples. It's a win for everyone — the brand, the magazine, and of course, the consumer.
CEW: Why should brands be excited about the Cover5 platform?
J.Z.: Whether targeting by zip code, household income or shopping habits, we allow brands to execute a substantial in-home sampling program that is not arbitrary or blind. It's purposeful, thought-out, direct and strategic, and connects with real people that are actually open to receiving the product. With us, brands can market, advertise and encourage trial in a way that is authentic and really can't be ignored.
CEW: Are there product categories that are especially suited to the platform, and does sampling work for both established and new brands?
J.Z.: It's certainly for items where consumers can see immediate results or have an immediate reaction. For example, fragrances are very personal. A scent may suit your friend perfectly, but it may not be a match for you. The same goes for something like lipstick, where it's important to see how the color matches with your complexion.
As far as brands, this is obviously the perfect method for a new product launch because of how quickly we can get the product to market and how well it will translate into social currency. But of course, no matter when you launch your product, the best advertisement for a product will always be the product itself.
CEW: How do you deliver a meaningful ROI?
J.Z.: Working with print magazines, which have an established and reliable delivery method, is the most cost-effective and efficient way to get samples into the homes and hands of targeted consumers. The Cover5 platform allows for multiple product experiences in one package, and as it's often been quoted, "If you can get a consumer to try your product three times, they will become a buyer."
So, from a cost standpoint, we can deliver multiple experiences and dramatically increase the likelihood of a purchase, all for about the cost of postage of a direct mail sampling campaign. And the impact of the beautiful presentation inspires reciprocity, encouraging consumers to buy and share organically to a much larger audience.
Connect with Jean Zimmerman and find out more about Cover5.