From elevated intimate care, to skin care designed for that time of the month, to a wellness-forward makeup brand, here are the latest women's wellness launches.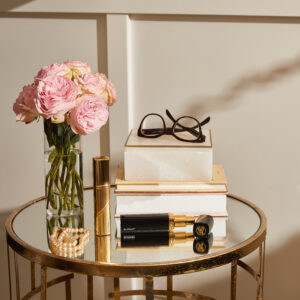 Glissant Intimate Care
This intimate care range was created by Dr. Karyn Eilber, a physician at Cedars-Sinai, specializing in female pelvic medicine, and entrepreneur Renee Garacochea. Renee has founded Fauna, a pet grooming line, and Knotty Girl, an all-natural hair care collection.
How did this new range come to be? Dr. Eilber heard from her patients that they avoid sexual activity because of pain due to vaginal dryness. She was thus inspired to create a natural lubricant without hormones or harsh chemicals, after finding that there was nothing she could recommend on the market.  "Women would come back to me and tell me that the lubricants they tried irritated them more; they felt like they got a vaginal infection after that," Dr. Eilber said. Meanwhile, Renee's 20-plus years of knowledge formulating products using natural oils and extracts perfectly complemented Dr. Eilber's medical and research background.
Glissant products contain carefully curated natural and organic skin care and aphrodisiac ingredients that offer a luxurious experience in addition to soothing and alleviating pain in the most intimate parts. The range is launching with a Sea Salt & Caramel Intimate Lubricant Spray and Intimate Huile D'amour Spray. The lubricant spray is water-based and compatible with natural rubber latex, polyurethane and polyisoprene condoms. As for ingredients, it contains L arginine, which is found in Viagra and increases blood flow. "It increases sensation and helps a woman lubricate on her own," Dr. Eilber explained. Hyaluronic acid and lactic acid are also included, which are also found in the natural lubrication of the vagina.
The Intimate Huile D'Amour Spray is infused with 100mg of CBD, CBG and formulated with botanicals that are said to enhance pleasure –– with natural and organic ingredients, no hormones and no harsh chemicals. This spray is not compatible with condoms, does not contain THC and contains nut products. Glissant's refillable packaging system is interchangeable between products. Each is $55, $35 for a refill. Glissant is available at glissantlove.com.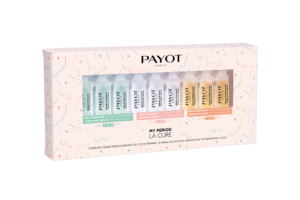 Payot Launches My Period Skin Care Range
Payot has created a collection of skin care called My Period to take care of women and help them as much as possible during their cycle. The treatment program consists of nine serums with custom formulas ($30 for the set) to limit the visible effects of the menstrual cycle on the skin.
The treatments are designed to be used nine consecutive days beginning with the first day of the cycle. It incorporates three formulas with botanical extracts inspired by Payot's apothecary expertise to pamper and rebalance skin during a period. Days one through three are for Payot's Purifying Serums, while days four through six 4-6 are for using the Soothing Serums, which feature jasmine extract to nourish and soothe skin. Days seven through nine are for the Energizing Serums, made with Chilean mint extract. This reduces and limits the appearance of imperfections in the skin related to hormonal spikes. The energizing serums also contain sweet orange extract, which replenishes the skin's energy, revives its glow and reduces the visible signs of fatigue.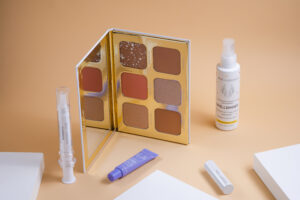 True + Luscious
True + Luscious is a new makeup-meets-wellness brand featuring cruelty-free and non-toxic products. Founded by Mehir Sethi, a beauty industry veteran whose longtime struggle with Polycystic Ovary Syndrome (PCOS) symptoms, motivated her to start a conscious beauty brand democratizing high-performance products that are safer for women.
"While True+Luscious complies with clean beauty standards set by big-name retailers like Sephora, the brand goes beyond just 'free-from' marketing claims," Mehir said. The recipe for the perfect product includes not only clean ingredients — but real science and safety, too, she adds.
The collection includes six products:
● Flowerdose Lip & Eye Serum ($34)
● Super Moisture Lipstick ($22)
● Lucky Glow Palette ($46)
● Spellbinder Makeup Setting Spray ($29)
● Angel Eyes Eyeshadow Primer ($22)
● Bronze, Blush & Glow Brush ($25)
True + Luscious is available on its website, Amazon and independent retailers and the brand's three-year sales goal is to reach $10 million in revenue across multiple platforms. "We are a privately held, bootstrapped independent brand," Mehir said. "But we have begun to explore more fund-raising options for growth."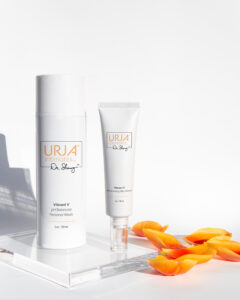 URJA Intimates by Dr. Sherry
Dr. Sherry Ross M.D., F.A.C.O.G. has been taking care of some of the most recognizable names in Hollywood, including Reese Witherspoon (who wrote the forward of Dr. Sherry's first book), Gigi and Bella Hadid and Jennifer Garner.  Now, she has partnered up with the team from holistic skin care brand URJA, to launch a CBD-based, OBGYN formulated three-step skincare regimen for  intimate areas. Products include: Vibrant V pH Balanced Personal Wash ($36), a cleanser which features extra virgin coconut oil, hyaluronic acid, probiotics and 100mg broad spectrum CBD; Vibrant V Moisturizing Silky-Serum ($75) , a blend of hyaluronic acid, 500mg broad spectrum CBD (THC free), bakuchiol and vitamin C; and, Intense Hydrating Lubricant ($52), designed with 300mg broad spectrum CBD (for comfort), schisandra berry (for performance), extra virgin coconut oil (for moisture) and passion flower (for circulation).
"My most compelling conversations happen with a woman's legs in stirrups," said Dr. Sherry. "The collaboration to create URJA Intimates was no different. My patient Molly Argue and her skin care guru aunt, Liz Bishop, had recently launched URJA,  a clean-clinical, holistic skin care line with all the important principles I look for in healthy, safe and effective feminine wellness. Our fiercely committed philosophies to clean natural ingredients, based on science, plus free of so many known 'nasties' perfectly aligned and URJA Intimates by Dr. Sherry was born."