Armed with the mantra "your scalp is smarter than you think" Boris Oak has arguably created one of the most innovative hair care brands to hit hair care aisles in recent years. Through a combination of intense research, international partnerships, and forging new formula paths, Evolvh's 30-item collection won't be flying below the radar for much longer. Here, Boris talks to CEW Beauty News about the company's newest range, Better Roots, and all of the science and clinically backed trials that makes each Evolvh item a hero product.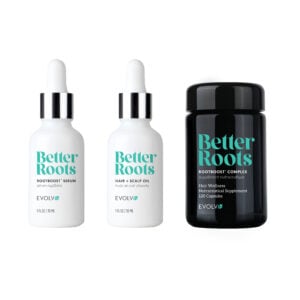 CEW Beauty News: What inspired you to launch a science-led hair care brand?
Boris Oak: I came from a very large, successful family-owned salon business in Fremont, CA. My mom opened it when I was 12. I grew up in the salon industry and then I went on and had my career in tech. My mom convinced me to get back in the family business, which had grown to about 40 hairdressers and a full spa department. We also had a very close relationship with a major hair brand, and we were very deep into retailing. I began to see a higher level of interest from our customers on learning what was in formulas and what all the ingredients were. I began to explore formulation and understand what really made these products work. That led me to meeting a cosmetic chemist who had transitioned to working primarily with natural actives for hair care, which led me to launch a clean hair care brand in 2009. We were one of the first clean brands, although the term clean wasn't around yet.
Beauty News: When and how did Evolvh land in retail?
BO: Initially I thought I was making a brand for the professional channel because that's what I knew. That's actually how we started, in salons. And then in 2011 we landed in Dermstore and that was our first entry into consumer retail. In 2015 I got an email from Annie Jackson [cofounder of Credo Beauty] asking if I could send her some samples. I had never heard of Annie or Credo but of course I sent samples.  We became one of the original brands at Credo Beauty when they first launched. Now we're also in Detox Market, Pharmaca, Free People, and smaller, independent retailers.
BN: What are Evolvh's clean standards?
BO: We've aligned very closely to the Credo standard. I would say it's a combination of avoiding anything that's petrochemical based. There's also the core baseline things like excluding parabens, and any ethoxylated ingredients. Although this has been sort of our standard from the beginning.
BN: How many products are in the line now?
BO: We're approaching 30 products. We grouped them based on collections for different hair types or needs. For example, we have a very strong curly hair focused collection. We also have a very strong focus on volume—our volume innovation is amazing. We also have styling and treatment. There's primarily one treatment product, a mask, called UltraRepair Reconstructing Masque. It employs a very specific amino acid to alter the hair's texture on a deep biological level. Every formula for every sku is customized. There's a lot of innovation in pretty much every product. It's like a line of 30 heroes. I like to say that even though we've been around for a while we're still one the best kept secrets in the hair care industry. A lot of people don't know about us.
BN: What's the brand's biggest news right now?
BO: We're tackling female hair loss and scalp care and we are doing it in an evolutionary kind of way. Personally, I've been aware of female hair loss for a very long time, going back to my salon days. It used to be a topic that nobody really liked to talk about. Like many salons, we had Nioxin on the shelf. That was sort of the go-to solution, even though it wasn't really a great solution, but at least it did something for some people. The drug options have never been good options for women as far as Minoxidil or Finasteride. And to be very frank, I just didn't know that we could do very much outside of those drugs.
BN: What direction did the brand take in this arena?
BO: When I began to see scalp care trending I was a little skeptical. So I started to have deep conversations with some of the most advanced labs in hair care active ingredients. That really enlightened me and made me realize that there's so much available now, many of which started off in skin, that we can use towards scalp care and root care to address the hair follicle. Essentially, we are using active ingredients that change how your cells function in the hair follicle. There are a number of different biological pathways that we can take with different active ingredients to stimulate those cells to return, maybe not to the same level of performance, like when you were 18, but we can turn the clock back quite a bit to where you can create new hair growth or reduce shedding and even affect melanin synthesis. So instead of starting to go gray at 38, maybe you can push it to 52 or 55.
BN: So Evolvh's newer items are addressing hair loss?
BO: Yes, we have launched a three-product collection called Better Roots with the idea of addressing hair longevity, the root cause of what makes hair fall out or go gray or change texture. There are two topical products and one ingestible. RootBoost Serum is the hero and is designed to absorb instantly without leaving any residue, to be used after showering. The serum is in a rose distillate base with 10 different actives, about half that focus on stimulating the hair follicle. We avoided putting water into the formula because water is not ideal for skin. The formula employs gene level messaging to signal hair growth. The other half of the formulation is focused on bringing skin longevity ingredients to the scalp. We have a plant stem cell that's been clinically proven to reverse damage from UV exposure on the scalp. We have another ingredient which is a mushroom derived beta glucan, a newer ingredient where beta glucans can go even beyond hyaluronic acid in their ability to hydrate. I believe we're the first brand to bring mushroom beta glucans to a scalp product. We're really trying to stimulate the follicle in the most profound way and nurture it as well.
There's also a Scalp + Hair Oil to moisturize the scalp. We realize people are afraid of oils on their scalp and on their hair but we're recommending using it maybe once or twice a week as an added treatment. In the oil there's a revolutionary ingredient discovered by a university in Germany that found another pathway to the hair follicle to stimulate growth. What they discovered is that the scalp has a sense of smell. So, there's an active ingredient in the oil that's been clinically proven to stimulate hair growth, an aroma molecule that looks a lot like sandalwood, and when the follicle is exposed to this molecule it stimulates a function that creates hair.
The RootBoost Complex could be the first hair growth supplement of its kind as many brands looking to simulate hair growth are going super heavy on biotin. We went a different direction. We discovered that heavy biotin usage can interfere with your thyroid readings. So the active ingredient we use is an adjustable version of the bean sprout extract that can create gene expression to signal hair growth. It's a clinically proven active for stimulating hair growth.
BN: Is it safe to say Evolvh is realizing the benefits of the premiumization of the hair care category?
BO: I think in the past premiumization used to mean more beautiful packaging, better fragrance, better texture. I think of Oribe, for example, that at the time was revolutionary in making their bottles look like high end fragrances. Today, premiumization is really being driven by active ingredients, and consumers are recognizing that and the significant performance and results difference.
BN: Why are consumers so much more aware about ingredients?
BO: In the past, the consumer got most of her information from her hairdresser. That would be maybe the only place she could get it outside of a marketing campaign by a larger brand. Now she can just go on TikTok or Instagram to get an endless pipeline of information and education. It started with skin care and the skinfluencer movement. The same principles apply to hair care.
BN: The formulas sound fascinating. Will they be available at your mom's salon?
BO: My mom sold the salon last year, so I'm not sure. Items have just launched at Credo Beauty. Beginning in September we will open the line to other retailers.