It's been a year since Saie landed distribution at Sephora, and in the past 12 months the clean beauty brand has grown more than 300 percent. This month, Saie is expanding their presence in 82 Sephora locations, including every new store opening this year. Most exciting is the brand's new displays, which use 70 percent less plastic than previous fixtures. (Most displays get thrown into a landfill every few months, but Saie's new displays can be reused over and over again.) This sustainability measure is vital to Saie in keeping with its values—especially as it is one of the only makeup brands to receive the Sephora Clean + certification. To support this expanded presence at Sephora, Saie is building an in-house field to educate shoppers in store. Here, CEW Beauty News caught up with Saie founder Laney Crowell to learn more about the expansion, how her brand has created viral moments inexpensively, and more.
Beauty News: Tell us how having a lean team is integral to Saie's success.
Laney Crowell: We love being really scrappy. In fact, so many of our viral moments were also our least expensive moments. I think about the photoshoot with my grandmother—that took place on her patio. There were outlets in India picking that up as news! It was a totally viral moment. I had to call my grandmother and say, Nonna, one more interview. It's GMA!
Another example of an inexpensive viral moment is Saie Vintage. That wasn't a huge investment for us, if you think about the types of investments that big brands do. But it was really impactful, and it really resonated. And it was definitely newsworthy. We're going to make Saie Vintage permanent. We're going to have a collection of sweats, sweatshirts and button downs. And they'll always be available on our site.
BN: I saw that TikToker Mikayla Nogueira posted about her Saie haul. How did that viral moment come to be?
LC: Mikayla posted that for Christmas, she gets beauty retailer gift cards from her family. And she bought Saie Sun Melt and Glowy Super Gel and posted about it. So we messaged her and said that we'd love to send her everything. And we sent her everything and she posted five videos in a row.
It's been on my bucket list to have her review our products. Just a couple of days ago, she posted that she was reviewing a bunch of products from a prestige brand and she said, honestly I think I like Saie Glowy Super Gel for highlighter.  It was definitely a pinch-me moment. Because, obviously, she's so big; to work with her from a paid capacity is really expensive. So I just never thought that it would happen. And especially not in that way.
BN: Let's talk about the Sephora expansion. That's so impressive, considering Saie is only in year two as a brand.
LC: We just had our two-year anniversary. We have our own bay, which is so exciting, as such a young brand to have that endorsement and partnership with Sephora. We're definitely "in the kitchen" with them on everything, including our expansion. And so we're going into over 80 doors, including every new location they're opening. And that's just for spring. We're hoping to have even more expansion throughout the next year or two. Our community is really excited to have everything in-store. I think the Sephora cast members are happy to have everything. To support the Saie bay, we now have our own dedicated field team.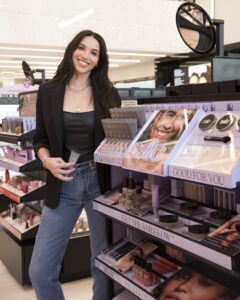 BN: Can you speak to the new fixtures at Sephora?
LC: We worked with Sephora on our fixtures, and they're very sustainable, which is something I'm really proud of. Something I didn't realize until I started working with them is that any time you update a custom fixture, you're throwing away the entire thing afterwards. In other words, any custom section that is updated is thrown away. So we worked with Sephora on some pieces that they created that are reusable, and refillable. So in the bottom three or four shelves you'll see that all of our products are in trays or cups. And those cups can be moved around and we can put a different product in there. The cups can be reused forever.
All of our images are in slides, so we can change our image out without having to throw that away. So I'm really happy with that. I mean, we're estimating that we're reducing that by 70 percent when it comes from plastic that's being thrown away.
BN: Can you talk about how you've managed such exponential growth with such a small team?
LC: We definitely live in a land of choices. And for us, it's really worked to focus on our Sephora partnership. So we're not being spread too thin. We're able to just go all in. We are available internationally through Cult Beauty. But in terms of physical spaces, it's really just Sephora. That's been incredible for us because being a lean team, and being able to focus on one thing is a huge advantage.
BN: What is the biggest opportunity you see for the coming year?
LC: I think even more expansion. We're going continue to grow. The one bay has only been up for a week and we've already seen incredible results. And because we have our own dedicated team, who we're able to support, I see that team growing as well.
BN: Anything you can share about updates with regard to funding for Saie?
LC: We're definitely not trying to over-raise. That's something I'm focused on. We are a super lean team, but it works well for us, like, we love working really closely together.